Aeklys One is a contactless payment smart ring that differentiates itself through its ergonomically unique non-circular design and innovative sizing smartphone app. We tested it for 30 days and learned that it's perhaps the best-fitting smart ring out there with the smoothest online ordering process. But, what else does Aeklys have for its users? Read our test report!
What is the Aeklys One smart ring?
Whereas its predecessor, the Aeklys by Starck smart ring, which provides you with several functionalities, including a smart public transit pass, digital business card, and smart key, Aeklys One, as the name suggests, only gives you one thing — and that's contactless payments. With it, you will no longer take out your wallet, phone, or card. All you need to do is hold out your hand at the point of sale to use it. The smart ring works free of charge anywhere in the world on all contactless payment terminals.
Innovative sizing app
Aeklys One could be the world's most innovative contactless payment ring. Its innovation starts already before you get to stick it on your finger – from how the product is ordered and measured via their online shop.
One of the biggest frictions in buying smart rings online is sizing. Typically most smart ring vendors offer you to order a sizing kit with plastic replicas. After waiting for the kit to arrive and testing the correct size, you can order the ring. And, after waiting some more, you will get what you ordered.
Aeklys, in my opinion, takes a bold, calculated risk and fuels the online buying process with a ring sizing mobile app! At the beginning of the buying process on their webshop, after the initial registration, you will receive an SMS on your mobile asking you to download the Aeklys mobile app. After downloading and starting the app, it fires a digital ring sizing feature.
Honestly, by the very first sight, the sizing app screen looked slightly strange, a bit difficult to catch what to do. However, after a few moments of pondering and trial and error, I got the idea of how sizing should be done. Eventually, I managed to measure my ring size (68), and it was a perfect fit for my index finger!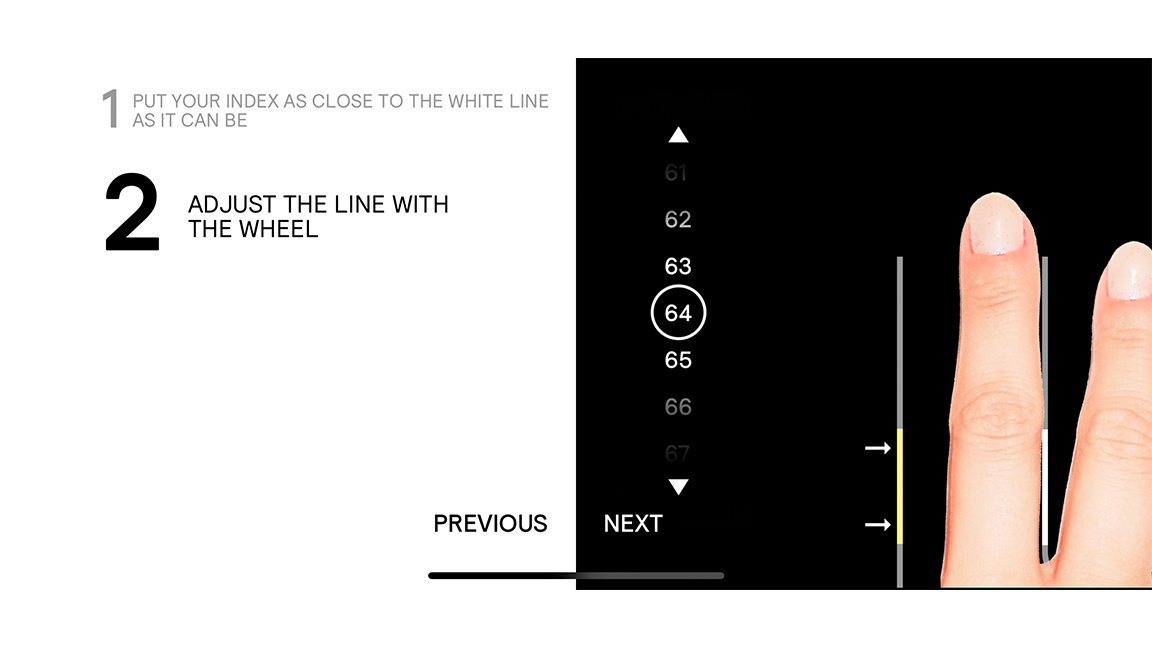 So, I think Aeklys' sizing app is a truly innovative way to remove friction from the buying process. It worked for me at the trial. I cannot say it will work for every customer for the first time, but compared to waiting for shipping sizing kits, Aeklys' sizing app is smart and functioning.
Design
This ring is neither a perfect circle in geometrical terms nor the crosscut of your index finger circular. Philipp Starck, the designer of the ring, got this one right! Aeklys One is designed to be more like a heavily rounded, elliptical triangle, and it perfectly sits and fits on an index finger (at least mine). If a ring can be ergonomic, this one is. The ring's shape works like a charm all the way when sliding the ring through your finger, and it managed the big bulky joint with ease before firmly sitting on my finger.
Aeklys One is super light, too. Ok, all smart rings are light, but this one is feather-light. Benefit? Maybe limited. But it feels nice to wear.
The material feels and looks more plastic than some competing contactless payment rings made of zirconia, which gives them a more elegant ceramic feeling. However, with Aeklys One, that "plastic-y" feel is not a problem. The surface is partly glossy and partly matte. That gives the ring a modern, friendly, functional, and smart look.
Button
Aeklys One features a tiny bump on its surface. That is a button to confirm payments, giving extra safety and control. Especially because the bump is placed at an optimal location, easily and quickly reachable with your thumb.
Smartphone App
All smart rings we have used, tested, and reviewed come with a mobile app. So does Aeklys. However, its app differs from the crowd in one way. Normally other apps are used for controlling the ring and viewing information, such as biometric data. Aeklys app starts to provide value before you even have the ring – from measuring and ordering the correct ring size.
Otherwise, the app user interface follows the same stylish, minimalistic look and feels like the whole world around Aeklys. It is easy to use, and you can do everything there.
Authentication before activation
Once you have received your Aeklys One ring and take it into use, the app asks you to authenticate. For this process, you will need an official ID such as a passport and some document that proves your permanent residence address (e.g., utility bill). You must photograph the documents, answer a few questions, and within 48 hours, you should get validation. All this happens pretty smoothly in the Aeklys app.
Security
Aeklys One boasts several security features. These include the proprietary anti-fraud system, accessible through the ring's side button, and an anti-theft system, which can deactivate the ring right from the app. Aeklys One's anti-fraud system called Wave Control is designed to prevent any undesired transactions and fraud risks. But you need to keep the button pressed while making a payment. Otherwise, it won't work.
Meanwhile, the anti-theft system's purpose is to prevent your ring from being and curb unauthorized payments. You can deactivate the ring from your app and reactivate it instantly from a distance. When someone uses your ring to make a payment, it will be denied, and you will get a push notification about it.
In terms of software security, Aeklys One has been EAL6+ certified by the ANSSI (French National Cybersecurity Agency). This means that the ring uses operating system security that has been approved to protect high-value assets, that is, your banking information.
RELATED: Smart Ring Security – Can it help us to stop password hacking and phishing?
Paying with Aeklys One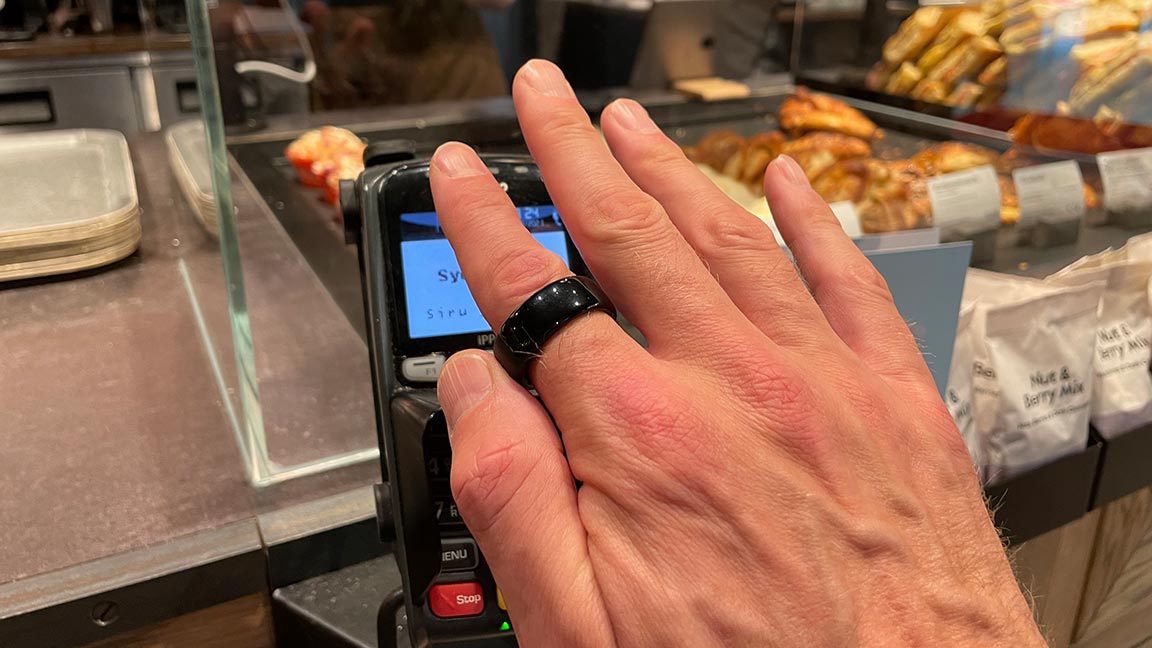 Paying with Aeklys One contactless payment ring
Paying with Aeklys One is straightforward. However, compared to other contactless payment rings, there are two main differences.
Firstly, Aeklys One has got one additional step in the paying process. You have to pay the button with your thumb to confirm. Other rings confirm the payment as soon as the ring is close enough to the payment terminal. Although it takes a little extra effort to push the button, you might appreciate the extra safety.
Secondly, Aeklys One allows you to pay with a flat palm finger straightened out, whereas with all other payment rings we have tested, you have to do a fist pump on the payment terminal. Which one is better? I would say it depends on how the payment terminal is placed. Sometimes flat palm is more convenient, sometimes fist pump could be easier.
It took a bit of trial and error to place Aeklys One correctly above the terminal, but there were no problems once I learned the trick.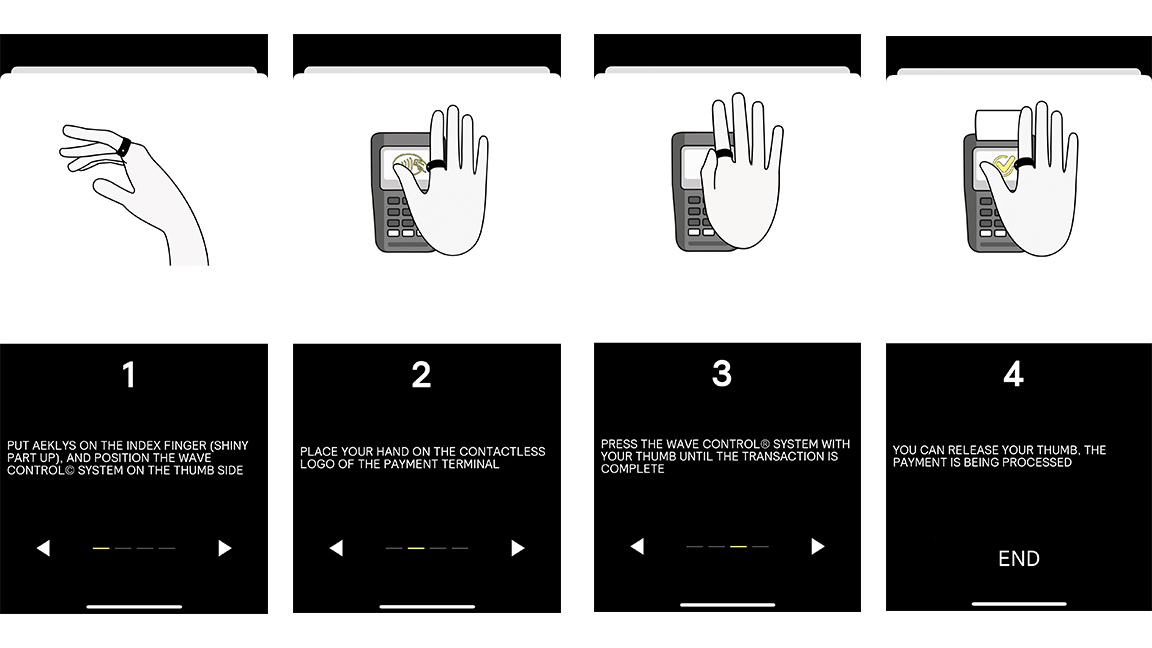 You can pay amounts up to the local contactless payment limit – 50€ in Finland. Aeklys One provides you a PIN code that allows paying purchases above the contactless limit while traveling abroad. I didn't get to test this because this feature is not yet available in the UK, France, and Finland. You can disable and enable payment easily via the app for safety reasons.
After payment, the app shows you all the details.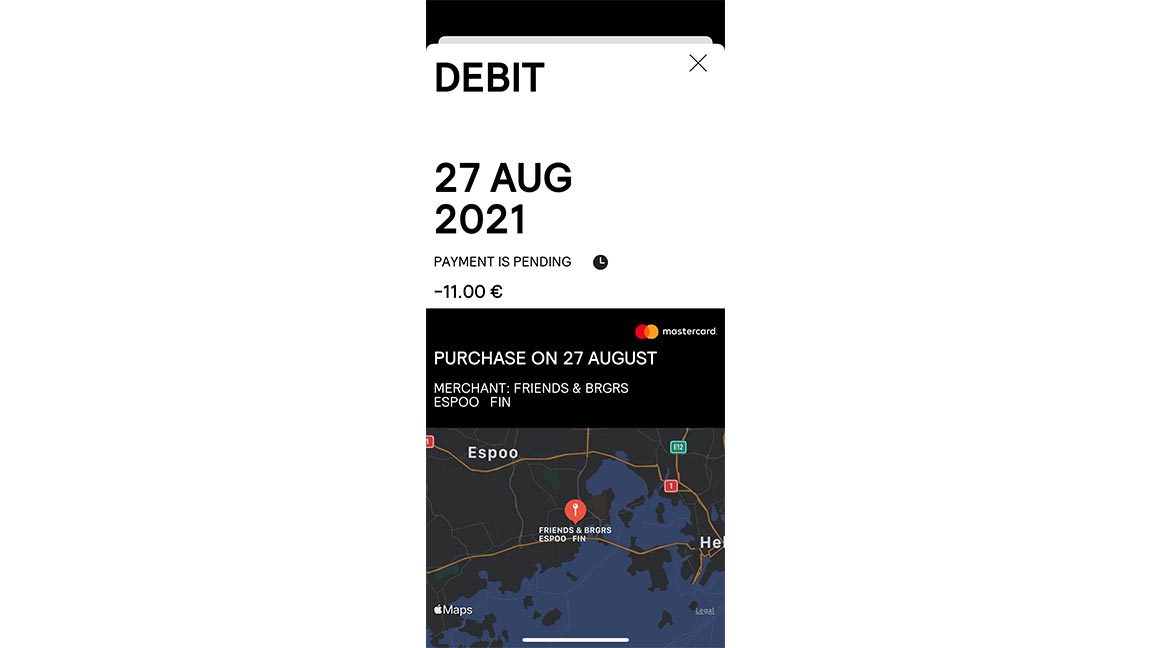 Credit upload
With Aeklys, you have to upload credits before you can pay. Two ways:
– Standard. Make standard bank transfer (minimum 10€) to Aeklys IBAN bank account. It is free and takes roughly 2-5 days to see the funds available.
– Express. Credit card transaction (minimum of 50€). Funds are available instantly. 2% fee.
RELATED: Top 10 countries for contactless payment wearables
Aeklys One Test Report
Purposefulness
Stars 1-5 – What can you do with the ring in your everyday life? How does it help? Does it fulfil a real purpose? Is there really a need for this device?
Verdict – ⭐️⭐️⭐️⭐️
Aeklys One is a payment-only ring. It is a limitation when compared to many other payment rings, which also allow for contactless transit passes, smart keys, and more. Also, the other Aeklys smart ring model provides you with these extended features. So, if you buy Aeklys One for payments, it fulfills its purpose perfectly. If you want more features, this one is probably not your device. Still, 4 stars is justified because payment is still the #1 use-case for these devices, and Aeklys One has no problems doing that job for you.
User experience + Design
Stars 1-5 – How does the ring look and feel? How robust is the design? How easy/difficult is it to use the ring and the app?
Verdict – ⭐️⭐️⭐️⭐️
This was a hard judgment. Visually, Aeklys One looks great. Ergonomically, it is hands down the best smart ring I have ever worn. The ergonomic design makes Aeklys One a perfect companion for all kinds of sports – it fits snugly on your index finger while running, biking, and even at the gym. It is light as a feather. You can forget your wallet and still buy a bottle of ice-cold water during long endurance exercise.
The smartphone app's look and feel are minimalistic, while usability is good. The app allows you to do everything you need to do with it. A big plus for handling sizing and ordering on the app.
Functionalities + Tech
Stars 1-5 – Listing down the functionalities and tech spec. Does the ring function as promised. Does the tech like Bluetooth, HRV sensor, and others work?
Verdict – ⭐️⭐️⭐️⭐️
As a payment-only ring, that could be considered a functional limitation compared to many other payment rings that allow contactless transit passes, smart keys, and more. Also, the other Aeklys smart ring model (Aeklys by Starck) provides you with these extended features. But, if you consider Aeklys One a payment-only ring, then that's fine. No nagging about missing features. There are simply no missing features!
Otherwise, Aeklys One's functionalities and tech worked fine throughout the test period. One small minus point – it took some time to learn how to place the ring on the terminals and press the button to get payments through. Pressing the button with thumb requires some pressure. But that's understandable – it is there to avoid accidental payments.
App + Ecosystem
Stars 1-5 – Does the ring come with an app? What does it do? Is it useful? Does the ring or app provide third-party support for Apple Health, MasterCard payments, banking, and the like?
Verdict – ⭐️⭐️⭐️⭐️
What does a contactless payment user need from the smart ring ecosystem? An easy way to upload credits using (e.g., Mastercard) and geographical coverage wherever you may roam. Aeklys One is backed by uploads via Mastercard credit card transfer and direct bank transfer, which is a good standard level, similar to most contactless payment devices.
Aeklys One works on all contactless payment terminals that accept MasterCard. This practically means global support for the users.
Overall
Verdict – ⭐️⭐️⭐️⭐️
Aeklys One costs you only 49€ and gives just one feature – contactless payments. But it does it with style. The ergonomic design is perhaps its coolest feature. It is easy to order because of the digital sizing app. Looking at value for money, it's a no-brainer to give it 4 stars. Overall, Aeklys One is one of the best smart rings for contactless payments. There are a few options out there that are more versatile than Aeklys One. But one thing is sure, Aeklys One is the best wearable you'll get for 49€.
SURVEY: Contactless payment ring is the most popular wearable for paying