We've seen wearable health technologies taking the world by storm in the past couple of years. It comes as no surprise, though, as more and more people have become more interested in getting a closer look at their health data. There's the sleek and elegant Apple Watch, probably the most popular smartwatch on the market. And then there's the inconspicuous Oura ring, which is one of the fastest-growing smart rings to take ever hit the shelves. While the two might seem in stark contrast with each other in terms of form factor, they sure do share a lot of things in common, particularly in features and functionalities.
If you're thinking of getting either the Apple Watch or Oura but aren't entirely certain which device you should get, or if you already have one of these devices and you're thinking about whether getting the other would be necessary, this comprehensive Apple Watch vs. Oura ring comparison review is for you. It covers three main categories — features and functionalities, design, and pricing and availability — to help you make an informed decision. Do note that we're not going to take into consideration some design features that are unique to the Apple Watch Series, including, of course, the watch functionality, the ability to accept and make calls, and the like. Instead, we're focusing on the health and wellness component of these devices.
Smart Ring News is supported by its audience. When you purchase through links on our site, we may earn an affiliate commission at no additional cost to you.
Quick Comparison Table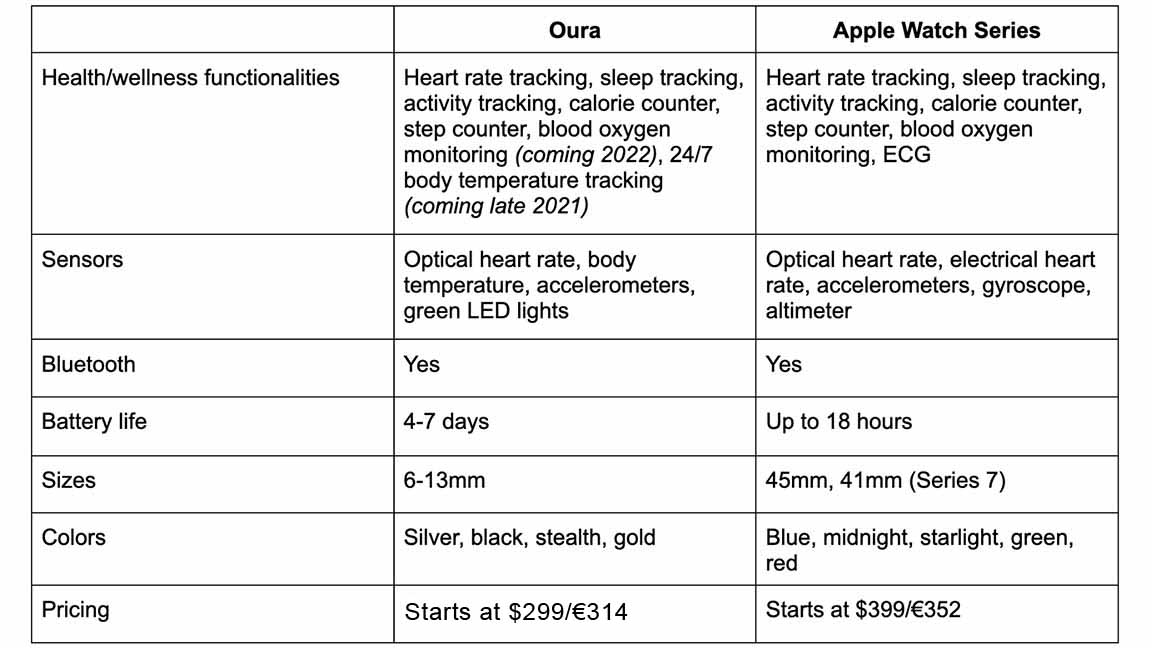 RELATED: Oura vs. Polar – Which wearable is the best for performance tracking?
Features & functionalities
Starting with probably your topmost priority, the features and functionalities category is where the Apple Watch and the Oura ring have a lot in common. To give you a clear look at Oura's and Apple Watch's capabilities, get to know the sensors that make everything possible. The Apple Watch has a much bigger facility to accommodate more sensors. That, however, doesn't mean Oura is on the losing end. For such a tiny smart ring, it's surprising to know how Oura packed a bunch of sensors into one ring. But how do they differ from each other? And what makes each one unique? Let's find out.
Heart rate tracking
The Apple Watch has an optical photoplethysmography (PPG) sensor for heart rate tracking. Except for the original model, they constantly check your heart rate in the background and send alerts for unusually high or low heart rates through Apple's native Health app, which could be warning signs for a serious underlying condition. It also checks for irregular rhythms that may be suggestive of atrial fibrillation (AFib), which the user will be notified about. With the Apple Watch Series 4 and later, an electrical heart sensor is added for electrocardiogram (ECG). Through Apple's FDA-approved ECG app, users who experience abnormal heartbeats can capture an ECG and record their symptoms. The app then provides a result of sinus rhythm, atrial fibrillation, atrial fibrillation with high heart rate, or poor recording, and prompts the user to enter any symptoms such as rapid or pounding heartbeat, dizziness, or fatigue.
Oura's heart rate tracking isn't as sophisticated as the Apple Watch, but it gives Apple a run for their money. The first and second-gen Oura has a set of PPG sensors for tracking heart rate, respiration rate, heart rate variability, and resting heart rate, among other things. While Oura doesn't have an ECG feature, they guarantee that their PPG sensors are 99.9% reliable as a medical-grade ECG, giving you metrics like resting heart rate and heart rate variability. Boasting a few sensors more is the third-gen Oura which has a new set of green LED sensors for tracking your heart rate in real-time and throughout the day, giving you more meaningful insights into your routines, meals, stress levels, and environment. These sensors can also record your heart rate during activities (arrives late 2021).
RELATED: Best Smart Rings
Blood oxygen monitoring
Blood oxygen (Sp02) sensing is a feature that's extremely useful for people who have a significant health problem. It might not be the first thing you'd look for, but it's something you might find interesting, especially since COVID-19 is still around. Low blood oxygen levels can be a clear warning sign of serious underlying conditions such as sleep apnea, chronic obstructive pulmonary disease (COPD), emphysema, and pneumonia. Fortunately, an Sp02 sensor is available for both the Apple Watch Series 6 and Series 7 models, while it's slated to be released in 2022 for the Oura 3 smart ring.
Check also Wellue O2Ring for an Sp02/Blood Oxygen tracking smart ring!
Oura 3 enables you to view nighttime blood oxygen levels to get a more detailed view of your sleep quality. The smart ring uses infrared sensors to estimate the oxygen saturation in your blood's oxygen carrier, the hemoglobin. The Apple Watch, on the other hand, uses its Blood Oxygen app to show measurements. Take note that blood oxygen monitoring on these devices is only meant for general fitness and wellness purposes and not for medical use.
RELATED: Oura vs. Circul: Which Is the Best Smart Ring to Detect COVID-19?
Activity tracking
The Apple Watch Series has a robust suite of accelerometers for tracking movement in any direction and a gyroscope to help detect rotation across three axes, both of which are instrumental in detecting any kind of activity, whether it's walking, running, or cycling. The Apple Watch SE and Apple Watch Series 5 and later also have an always-on altimeter for monitoring elevation changes, including arm movements, making the smartwatch better at activity tracking. The newer Apple Watch Series 4 and later rock more sophisticated accelerometers and a gyroscope that can accurately detect a fall. So if you're a mountaineer, a cyclist, or anyone who climbs, this functionality is a life-saver as it sends emergency notifications if it senses a fall.
Meanwhile, Oura's activity tracking system is where it needs a lot of improvements. As a long-time user myself, I haven't seen it improve that much. I started using Oura about a year ago and it still doesn't recognize some common activities. If you're lifting weights, don't expect Oura to give you useful data. It can detect strength training, but not so with activities that involve elevation, so it's been a hit and miss for me on that end. Overall, its activity tracking is good, but it's not that good when it comes to more complex activities.
RELATED: Best Apple Watches 2022 for health and activity tracking
Sleep tracking
It's only been in 2020 since Apple added sleep-tracking capabilities to the Apple Watch through the watchOS 7 update. Only Apple Watch 3 and newer are eligible for this update, which means if you already have the original, first, and second-gen Apple Watch makes you out of the running for this essential feature. Apple's sleep-tracking capabilities are fairly limited. Apple will only track sleep duration and the time you fall asleep and wake up. These are useful if you don't have a baseline on these metrics yet. It's important to note that the Apple Watch doesn't give you practical recommendations and insights into your sleep patterns. All it does is to give you raw sleep data and trends through the Health app; it's you and you alone who will interpret that, which may take some learning curve. This can be a huge setback if you want to get serious about correcting your sleep habits.
With the Oura ring, sleep tracking is one of its main selling points. The ring provides more detailed information and more valuable data on your sleep habits. These include total sleep, time in bed, resting heart rate (the number of times your heart beats per minute when you're at rest), sleep stages (REM sleep, deep sleep, and light sleep), timing, and latency (how long it takes for you to fall asleep). With all the given data, Oura provides you with a pretty solid look at how your night went. With the Oura 3, sleep tracking is even more accurate with sleep staging now closely matching the gold standard sleep lab test. That being said, the Oura ring is the no-brainer option if your main purpose is to get better at your nightly rest.
RELATED: Four Sleep Tracking Rings that Promise You Better Rest
The Oura difference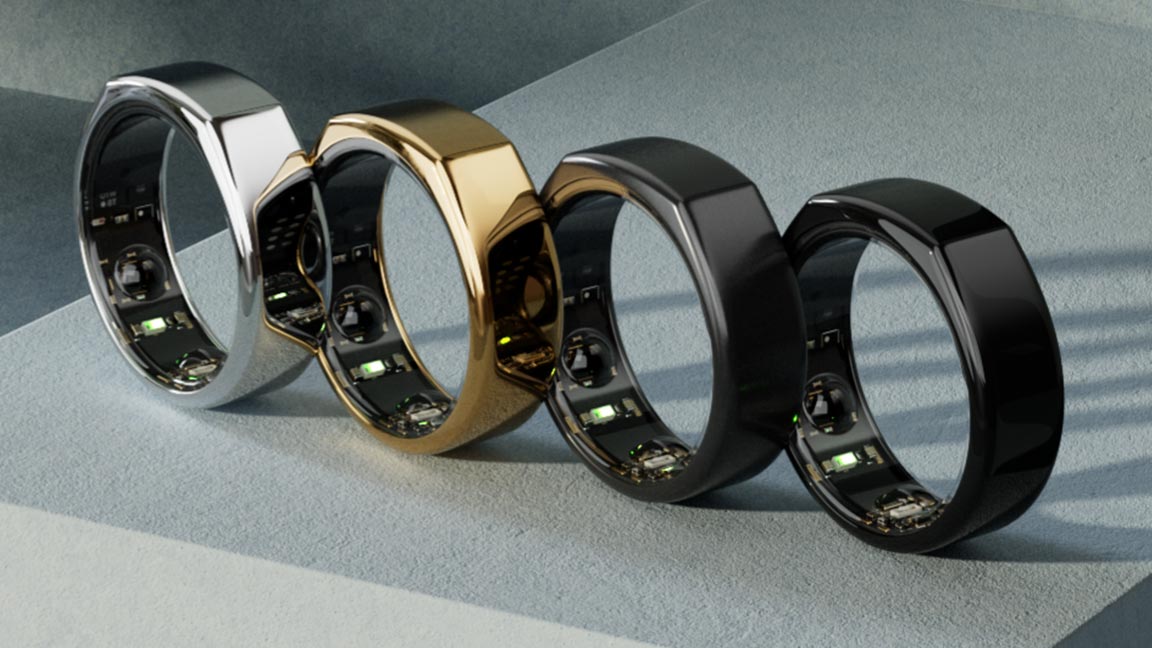 There are several things that are unique to Oura. First and foremost, the Sleep, Activity, and Readiness scores (1-100, 100 as the highest) are something you will find useful if you want to get better at your daily life. I personally love this functionality as it gives me an idea of how I can improve my sleep and recovery, not to mention the recommendations Oura gives to help me do better.
A sensor that only Oura has is for tracking body temperature. A temperature sensor is very useful to help anticipate illnesses, including COVID-19, just by looking at abnormal spikes or drops in body temperature. The first and second-gen Oura ring sports negative temperature coefficient (NTC) sensors, while the third-gen Oura ring has seven temperature sensors for more accurate temperature tracking. Another special Oura feature that uses a body temperature sensor is period prediction. Many women assume their period falls on the same day every day. With period prediction, Oura can accurately predict a user's period based on the changes in her body temperature as it naturally evolves with the hormonal changes throughout her menstrual cycle.
And finally, Oura has a vast wellness content library accessible to all Oura members. They get exclusive access to a wide array of science-backed audio-visual educational content and guided wellness sessions on meditations, sleep, and breathwork, among many other things. Slated to be released in late 2021. In addition, members also get dozens of other useful stuff, including daily health insights, as well personalized recommendations to help you recover, learn, and perform better.
RELATED: Oura Ring Test: What's the Verdict After 30 Days?
The Apple Watch difference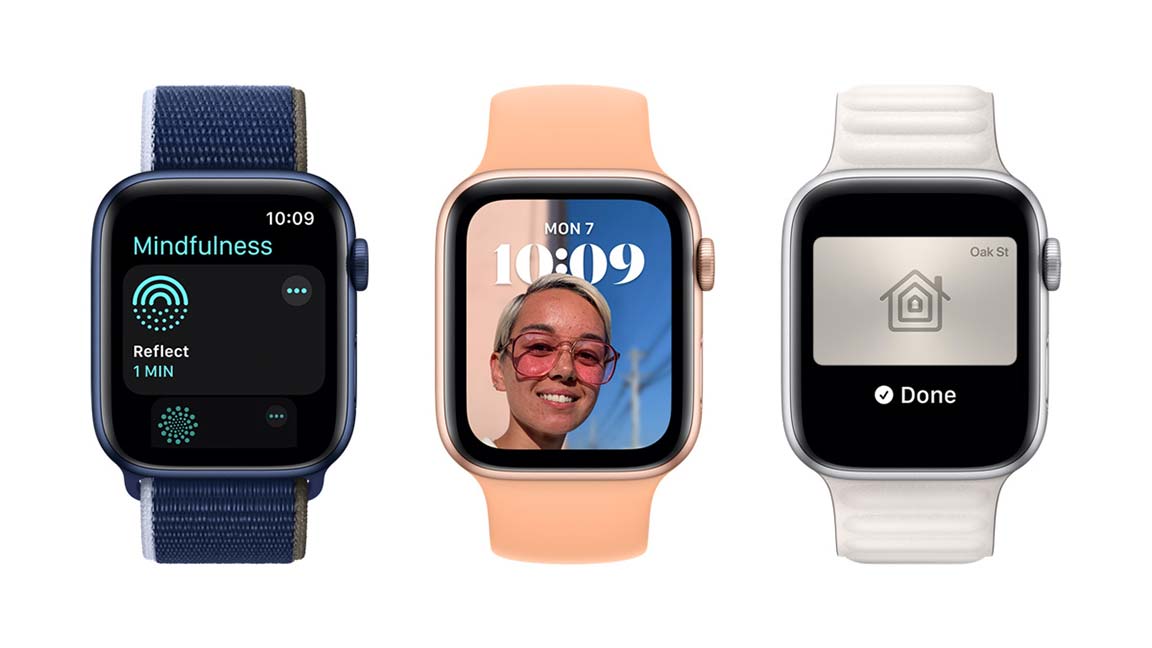 Apart from the obvious display screen, notifications, and call capabilities, there are a couple of things that are unique to the Apple Watch. The Apple Watch Series 4 and later has an electrical heart sensor used for ECG to check irregular rhythms and see if the user has AFib or not. In addition, the Apple Watch Series 5 and later and Apple Watch SE have a built-in altimeter, allowing you to get directions and know your current location and elevation, which is especially helpful for bikers, campers, mountaineers, skiers, and the like. It works even without WiFi or a cellular connection.
Design
When it comes to the physical design, the Apple Watch and the Oura ring are two different things. But one thing they share in common is that they both look sleek and stylish, except the smart ring is less conspicuous. That being said, you ought to know a couple of things that make these devices different from each other.
Battery life
In terms of battery life, you'd think there's no contest here and the smartwatch is the clear winner. Wrong. It's not even a toss-up. The Apple Watch can only last up to 18 hours of use, depending on the model. Don't confuse Oura's tiny body, though. Within it is a battery that will last you for 4-7 days. It should be no surprise. The Apple Watch has more capabilities that require more battery use, and I'm talking about the display screen, apps, notifications, and calls. Oura can be charged to full capacity in 20-80 minutes, while the Apple Watch needs to be charged overnight for a full charge. Both devices have a way to monitor current battery consumption.
Protection
The original Apple Watch and Apple Watch Series 1 aren't waterproof. But they're splash and water-resistant, so you can definitely use them during exercise, in the rain, and while washing your hands. Newer Apple Watch models can be used for swimming in a pool or ocean and showering but not so for scuba diving, water skiing, or other activities involving high-velocity water or submersion below shallow depth. However, they shouldn't be exposed to soaps, shampoos, conditioners, lotions, and perfumes. The good thing about the newer Apple Watch models is that they automatically lock the screen when sensing water to avoid accidental taps.
Oura, on the other hand, is on a different league protection-wise. Its entire body is sealed, so its insides are fully protected against water, dust, moisture, and other liquids. If you want to take your Oura for a dive, that's okay! Oura is waterproof up to 100 meters. You can do whatever you want with it. Sort of.
Color options
The Apple Watch is available in a few different color options depending on the model, including blue, red, green, red, white, starlight. The band that comes with the watch matches its color, but you can find so many different band colors if you want to be different. Meanwhile, Oura is available in two different styles — Heritage and Balance — and in a few different colors: silver, black, stealth black, and gold colors. Heritage has a flattened edge all around, while Balance has a pointed part.
Sizes
Sizing works differently for both devices. The Apple Watch has universal sizing for its bands. You can adjust them accordingly. The display screen, however, is available in different sizes — 38 mm, 40 mm, 41 mm, 44 mm, and 45 mm — depending on the model. Meanwhile, Oura comes with a sizing kit. Before you get the real ring, Oura will send you a sizing kit with eight sizes from 6-13 mm and test the best fitting one.
Comfort
Speaking of sizes, I think it's important to talk about comfort as well. Both devices are comfortable for daily use. However, they may take some time to get used to. Oura's slim body isn't a problem at all if you're going to use it for sleep tracking. The Apple Watch, on the one end, can be a little bit uncomfortable if you'll decide to sleep with it. So do take note of that.
Price & availability
The cost of newer Apple Watch models ranges from $399/€352 to $449/€396. You can buy it through Apple's website, Amazon, and Apple Stores. Oura costs $299/€263 for the third-generation ring. It comes with a free 6-month membership, which costs $6 per month afterward. You can buy it through Oura's website.
RELATED: Best Apple Watches based on health & activity tracking capabilities
Verdict: Which one should you get?
Both the Oura ring and Apple Watch are designed with health and wellness in mind. Although they have several things in common, they are two very different devices. That being said, choosing between these devices shouldn't be based on what one cannot do. Instead, it should all boil down to what you are trying to achieve with a piece of a wearable health device.
Are you looking to improve your sleep habits and the general quality of your life? There's no question that Oura takes the cake when it comes to sleep tracking as it gives you more detailed insights into the quality of your sleep, so it's hands down the best investment to help you get better at it. The Readiness metric is also something I look forward to every single day. Not to mention, the smart ring does monitor HRV really well, which is critical to having a broader picture of your health and well-being. And last but not the least, I love how detailed the Oura ring is when it comes to data collection and presentation. Oura, however, does not have a robust activity tracker like the Apple Watch, and it definitely needs to be more intuitive on that aspect.
If sleep-tracking isn't really much of major concern for you and you want an all-rounder wearable tech, the Apple Watch is your best option. You get all the bells and whistles you need, plus the health and fitness functionalities it has to help you with your daily life. The biggest upset about the Apple Watch is it doesn't do well integrating other metrics like heart rate and HRV, and there are no insights about sleep stages too.
But overall, I personally believe that the Oura ring and the Apple Watch should not be compared. They complement each other well, and although they might have a couple of similar functionalities, the two of them together is a perfect way for you to juxtapose data and make sure you get accurate readings on those metrics. So, let me end this comparison review by saying that both have achieved what they are trying to achieve. And either way, you can never go wrong.
Read our blog about the best Apple Watches for health and activity tracking to find the right model for your needs!