When it comes to wearable technology, one of the most notable names that have stood the test of time is Garmin. Before the Apple Watches and the Fitbits and the Samsung Galaxy Watches, this outdoor sports tech company had already carved a niche in the smartwatch space since 2001. So it's not surprising at all to see the best Garmin smartwatches dominating the market. If you're looking to add a new health and fitness wearable to your arsenal, here are the best Garmin watches you can find today:
Disclaimer: Smart Ring News is supported by its audience. When you purchase through the links on our site, we may earn a commission at no additional cost to you.
1.Garmin Forerunner 955 – Best Garmin Watch for Triathlon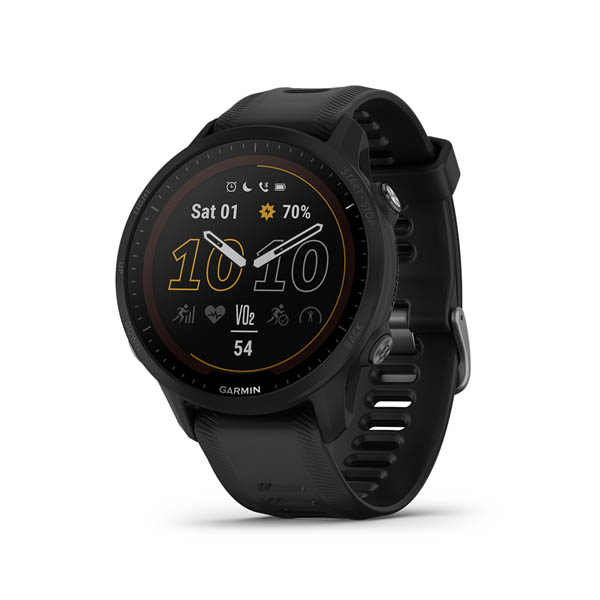 One of Garmin's latest smartwatch releases in 2022, the Forerunner 955 is a heavy-duty all-around smartwatch designed for runners, marathoners, and triathletes. Its 1.3-inch always-on display allows you to read even in direct sunlight. You can use the display for more detailed mapping while running, even allowing you to click or swipe using button controls or the touchscreen. You can also access different global navigation satellite systems and frequencies for more accurate mapping, especially in remote locations. The Forerunner 955 also has a sleep tracking, recovery scoring, and race widget for training tips, custom daily workouts, and completion time predictions. The battery can last up to 15 days in smartwatch mode, 42 hours in GPS mode, and 80 hours in UltraTrac mode. The solar variant allows you to go even longer with up to 110 hours with solar charging. With all its advanced tracking functionalities, you can expect the Forerunner 955 to be a premium watch. And it is! You can get the Forerunner 955 non-solar version for $495 and $570 for the solar version.
Check Out Garmin Forerunner 955 on Amazon!
2. Garmin Venu 2 Plus – Best Garmin Watch for Health Tracking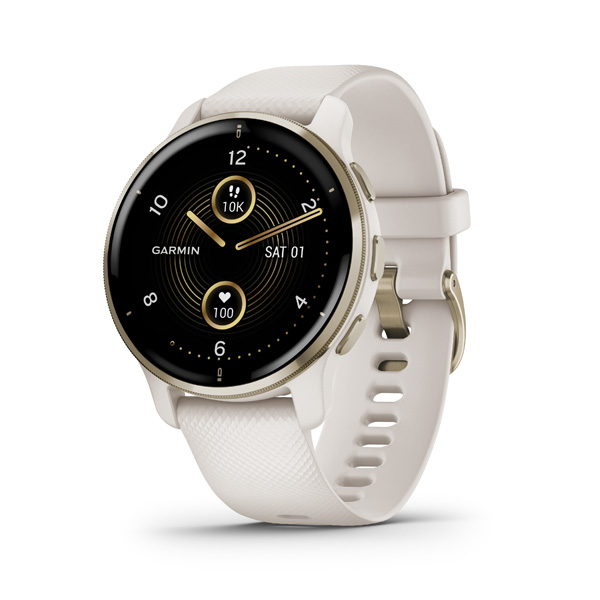 tracking, respiration tracking, and sleep score and advanced sleep monitoring. The watch also supports your phone's voice assistant to respond to SMS, ask questions, control smart home devices, and more. In addition, the Venu 2 Plus has incident detection capabilities, allowing you to send a message to your emergency contacts, which can very helpful when you are outside doing activities. The Venu 2 Plus also receives call, text, and social media alerts and also supports Garmin Pay contactless payments. Out of the box, you get over 25 indoor and GPS sports apps and preloaded workouts. Its battery can last up to 9 days in smartwatch mode and up to 8 hours in GPS mode with music. You can download up to 650 songs to your watch through music streaming apps. The Venu 2 Plus price starts at $450. You can also check out variants like the Venu 2 and Venu 2S.
Check Out Garmin Venu 2 Plus on Amazon!
3.Garmin Vivomove Sport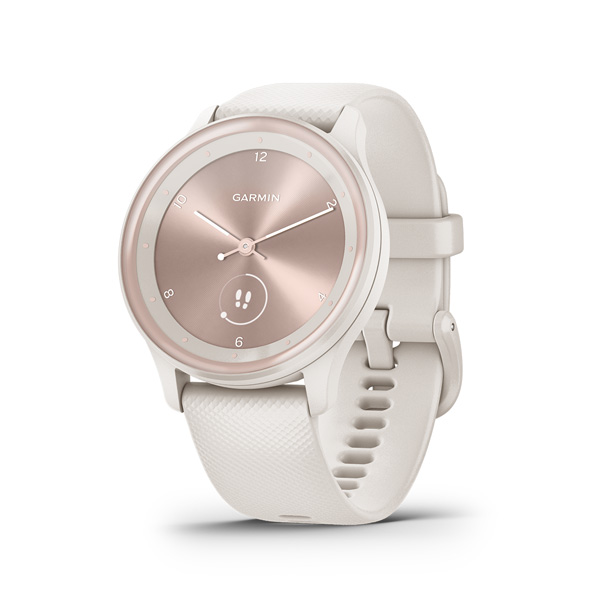 A hybrid smartwatch and analog watch, the Vivomove Sport is the perfect entry-level wearable for those who want to keep up to date with their fitness data and at the same time rock a timeless piece of jewelry. Released in 2022, this elegant 40mm wearable features recovery tracking, sleep monitoring, stress tracking, women's health tracking, and heart rate tracking. It supports your smartphone's GPS for activity tracking and Bluetooth for text, calendar, and call notifications. It also has incident detection. The battery can last for up to 5 days in smartwatch mode and 6 days in watch mode. The Vivomove Sport costs $180.
Check Out Garmin Vivomove Sport on Amazon!
4. Garmin Forerunner 55 – Best Garmin Watch for Running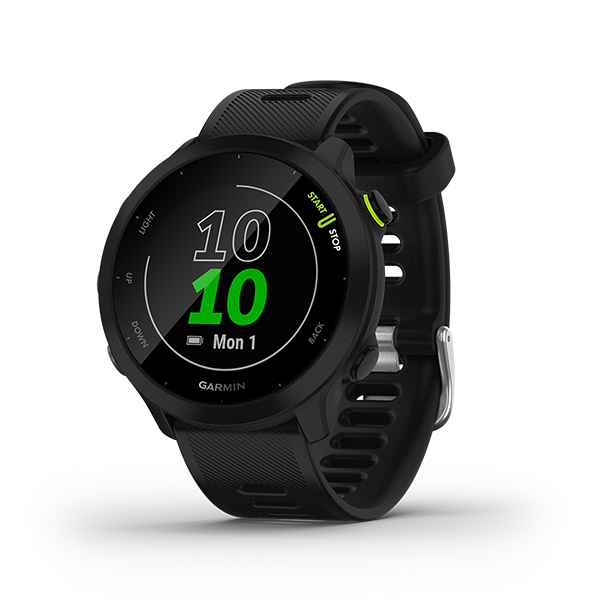 If you're looking for the best smartwatch for running in the entry-level category, the Forerunner 55 is the easy choice. The watch tracks your activities, including running, cycling, swimming, even HIIT, Pilates, and breathwork. You also get running training tools like race time predictions and finish time estimates. The PacePro feature enables you to plan your race day strategy, giving you GPS-based pace guidance for your chosen course or distance. The Forerunner 55 also has heart rate tracking capabilities. Its battery can last up to 14 days in smartwatch mode and up to 20 hours in GPS mode. The Forerunner 55 starts at $200.
Check Out Garmin Forerunner 55 on Amazon!
5. Garmin Venu Sq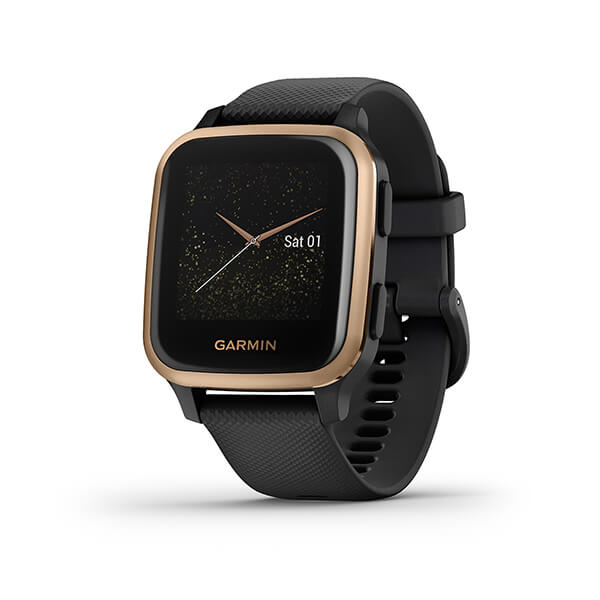 The only edged-screen watch on this list is the Venu Sq, which was released in 2020. Although a relatively old release, the Venu Sq has proven to be a practical smartwatch with its features without breaking the bank. It includes a range of tracking capabilities for recovery, respiration, hydration, sleep, stress, women's menstrual health, and heart rate. The 1.3-inch crisp display includes an always-on mode for a clearer quick view. Over 20 sports apps come preloaded, plus workouts to support your fitness regimen. The Venu Sq supports call, text, and social media notifications as well as Garmin Pay and incident detection. The battery stays up for 6 days in smartwatch mode and up to 14 hours in GPS mode. Did I mention it only costs $132?
Check Out Garmin Venu Sq on Amazon!
That's it for our best Garmin smartwatch list! We can recommend more than a dozen Garmin watches, but it all boils down to what you really want to use the watch for. If you are a triathlete looking for a robust device, the Forerunner 955 is the best Garmin smartwatch for you. If you are closely monitoring your overall health and fitness, the Venu 2 Plus is the best Garmin watch you can get. At the end of the day, your choice should highly depend on your needs and budget.
Garmin Fitness Trackers
If you didn't find the perfect Garmin device from this review, go ahead and check our best Garmin fitness trackers review for more options!