In the fitness tracking arena, smart rings have several advantages over other wearable electronic devices. It's teeny-weeny and lightweight, and so it's less noticeable yet more comfortable to wear 24/7 than smartwatches and smart buckles.
But this genius design of stuffing a tiny ring with a couple of sensors and electronics does not come without a tradeoff — they don't have as many functionalities as their bigger counterparts. Or so everyone thought.
With the introduction of the Circular Smart Ring on Kickstarter, it seems like this is about to change.
Although it's early to draw solid conclusions, we wanted to compare how this promising newcomer wellness wearable ranks up against its most obvious competitor, the leading smart ring on the market, in fact, the Motiv Ring.
Check out also our Oura vs. Circular review!
RELATED: Motiv vs. Oura Ring: Which is the Best Activity and Sleep Tracking Smart Ring?
Circular vs Motiv Wellness Ring Metric Comparison
Circular and Motiv are both smart rings for monitoring your daily activities and nightly rest. They are the only smart rings in this segment. Oura, the leading sleep tracking ring is, as the descriptor suggests, solely developed for monitoring your rest and circadian rhythm, without paying so much attention to the daily activities.
Based on a quick skim-through, the functionalities and specs of Circular and Motiv rings look alike. However, a closer look reveals some clear differences.
Here is a quick rundown: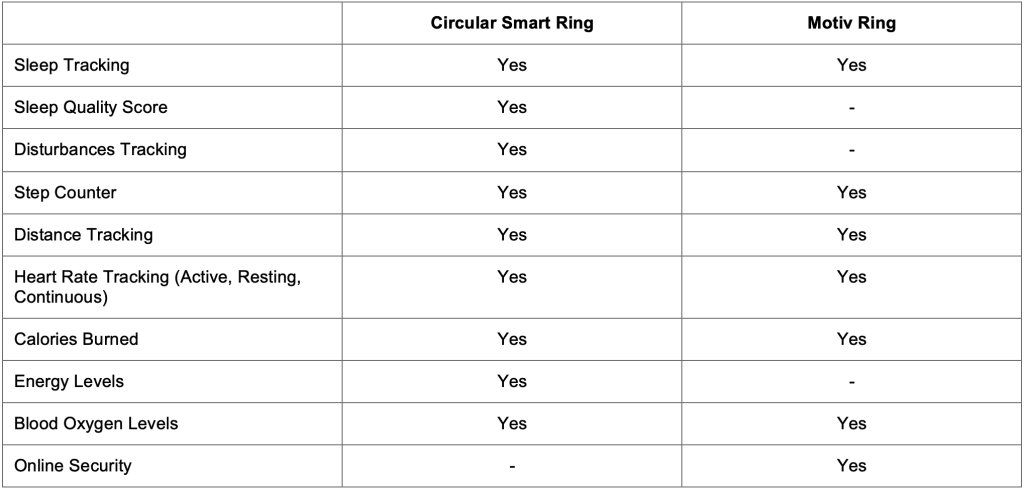 What Does Circular Smart Ring Do?
Circular Smart Ring monitors your daily physical activities, including steps taken, distance traveled, and calories burned, as well as your sleep habits, including your sleep quality and disturbances you experienced while sleeping.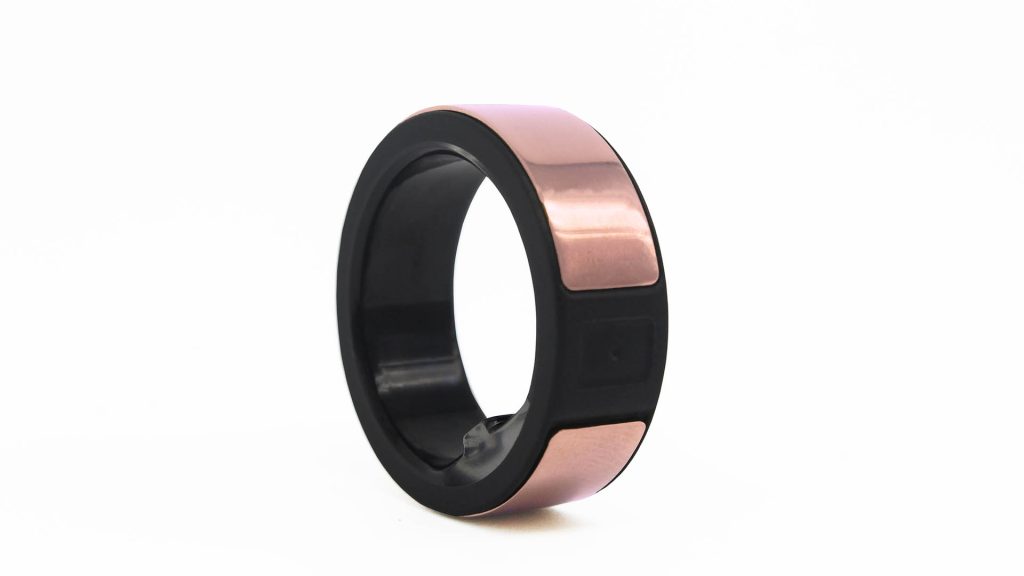 Functionalities
The ring also measures several health parameters, such as heart rate, heart rate variability, blood oxygen levels (SpO2), heart training zones, and maximum heart rate and recovery.
Smart Alarms
You can set up manual alarms for your wake-up time, or you could choose the ring to wake you up based on your sleep cycle. If you are an athlete or a sleep nerd, you know how important it is to wake up in the right sleep cycle to combat sleep inertia or that groggy feeling when you wake up.
The alarm vibrates only — so it's silent enough not to wake the person next to you but strong enough to wake you up.
Alert Notifications
Your ring vibrates when you receive alert notifications from your calendar, reminders, social accounts, timers, etc. Getting alert notifications allows you to stay away from your phone, yet make sure you are up to speed on what matters to you most.
Circular App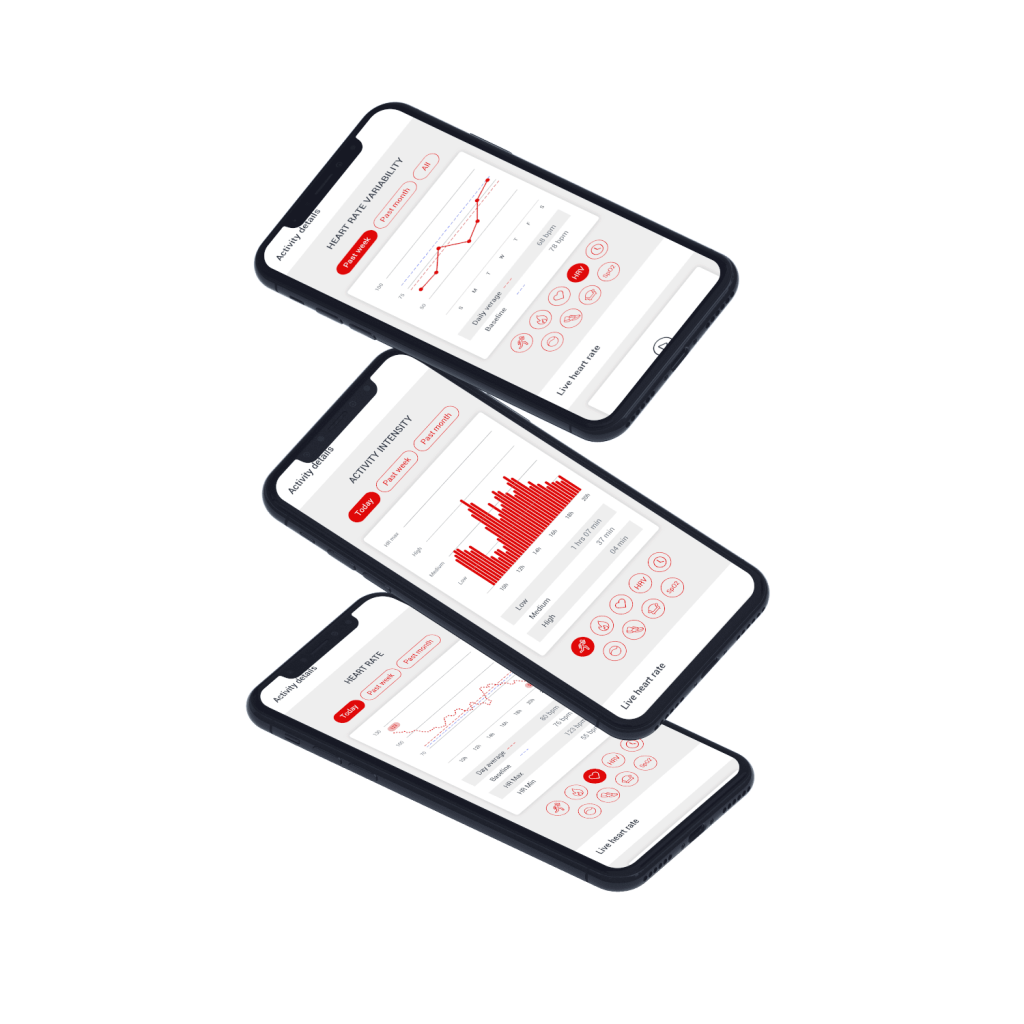 More than tracking sleep and daily activities, the main selling point of Circular is a more personalized experience — the rationale behind its bold claim as "the most advanced wellness smart ring." This is where the Circular app plays a critical role.
Circular delivers personalized recommendations on the user's "overall wellness and energy" based on data tracked rather than just showing metrics in its raw form. However, the app has yet to be developed, so we cannot say for sure how well exactly the Circular app will live up to its promise.
Available for both iOS and Android devices, the app also synchronizes tracked data in real-time and analyzes it to give users some recommendations to help you make smarter and healthier decisions. Through the app, you can also control your ring, visualize your progress, and meet new friends within the Circular community.
Kira
Kira is a native intelligent personal assistant that, according to Circular, "delivers smart and tailored-made insights" based on the user's data, so they can improve at the right moment.
Part of its wellness monitoring is the inclusion of metrics like energy levels, advanced tiredness, sleep efficiency, sleep stages, heart rate variability, heart rate training zones, and blood oxygen levels. Kira calculates and compares these to your baselines and average to come up with useful insights.
Kira is accessible right through the Circular app.
Design
In terms of the physical design, the ring is super light-weight at 4 grams as it's made of clinical plastic. It's also nickel-free, so it's hypoallergenic. One unique design of Circular is the exchangeable titanium shell in black, rose gold, and silver color options. This is quite nifty to change up the ring's look to match your personal style.
Another salient feature in the ring's design is the tiny button that allows you to turn off smart alarms and notifications in one press.
Availability
Right now, Circular has yet to be released in the wild, so it's got a lot of proving to do. It's still in the crowdfunding phase on Kickstarter. Production starts in April 2020, and delivery to the backers is slated for August. You can pledge at least $199 to back the project. Each Circular ring comes with a charger and a USB cable.
What Does Motiv Ring Do?
The Motiv Ring is a versatile smart ring that not only tracks your daily activities and sleeping patterns but also doubles as an online security tool. Motiv has been in the smart ring market for roughly three years, so it's got quite a decent number of following. It's, in fact, one of the few fully fledged players in the smart ring segment.
Functionalities
The Motiv Ring automatically tracks down your entire sleep time, from the moment you fall asleep until you wake up, as well as your steps, distance traveled, and activities like running, eating and showering. The ring can also calculate your active minutes of the day, calories burned, and heart rate.
As opposed to Circular, Motiv provides you only with heart rate. The ring does not record a continuous heart rate minute by minute, unlike the Circular Smart Ring, to maximize battery life. It does check your heart rate every few minutes, even if you are at rest. The heart rate sensor also activates when it senses a step activity, which is what matters most.
Motiv App
The Motiv app for iOS and Android complements the experience. It's where you will see your daily stats, including how many sleep hours you get the night prior, how long in minutes you are active for the day, how many steps you've taken for the day, how far in miles you've traveled for the day, how many calories you've burned, and so much more. The app also shows your ring's battery status.
Motiv, however, doesn't have a personal assistant, unlike Circular.
The app automatically syncs your tracked data so long as they are connected. But even if you are away from your phone, no worries because the ring can hold on to your data for three days.
Design
With its slim, ultra-light titanium design, Motiv Ring could easily be named as the best looking smart ring in the market by far. It's available in black, silver, and rose gold colors. Unlike Circular, however, the outer shells are not replaceable.
Its matte finish and slender design make it look a lot like a fashionable piece of jewelry that doesn't draw too much attention. But you are free to show it off if you want to. Getting a closer look, only you will find out that this ring is an electronic device.
Smart rings on the market today are bulky and less comfortable to wear, with the exception of the Motiv Ring and Oura Ring. The tiny steel and gold-plated electronic parts are well tucked away inside a medical-grade plastic band. Even if you are wearing it for long hours, the ring will not leave visible presses on your finger.
Seven ring sizes are available from 6 mm to 12 mm, which works pretty much the same with regular rings. When you order a ring from Motiv, you will receive a box of seven plastic sizer rings that you can test out for at least 24 hours before Motiv sends your final order. That will save you a lot of trouble in the long run.
The Motiv Ring is also waterproof up to 165 feet, which means you can shower with it, swim with it, wash your hands with it, or work out with it.
A blue LED light indicator is there to tell you that your ring is synchronizing with your phone.
The magnetic charging dock plugs into a USB port and charges as fast as 90 minutes, which is good for 72 hours of use.
Online Security
In addition to its fitness and wellness monitoring capabilities, Motiv also doubles as an online security device to safeguard your identity on the web. Two-factor authentication (2FA) is the only security feature available for both iOS and Android devices. Using biometric data like facial recognition and fingerprint as the second-step verification is in beta at the moment for iOS devices only.
Basically, 2FA works by connecting your ring to your computer via Bluetooth. On the supported site, you have the option to view a QR code and scan it with the Motiv app on your phone. Then you will be asked to set a gesture in front of the computer screen with your ring. You will use this gesture next time to log in. For now, 2FA supports major sites like Google, Facebook, and Amazon.
Availability
Motiv is now available. If you are in the U.S., you can buy yours at Motiv's website. Price starts at $199.99.
In Conclusion
Both Circular and Motiv are a great companion and motivator for embarking on a healthier lifestyle. They share a lot of common functionalities to help you achieve your optimum state of wellness and fitness. Each smart ring also has its own set of strengths and weaknesses.
We have yet to see how the forthcoming smart ring stacks up in real life. But by the looks of it, Circular seems to be a promising wearable that fills in what's lacking in most smart rings. It's exciting to see how the ring's functionalities fare as augmented by a smartphone app. That on top of an intelligent personal assistant to help you make guided everyday health decisions.
But you have to wait until August 2020 to get your hands on the Circular smart ring.
Motiv, on the other hand, is a well-rounded wellness and fitness smart ring. It's super-stylish yet comfortable to wear with its thin and lightweight design. The security features are also a big plus, giving you a newfangled way to protect your identity online.
Between Circular and Motiv, the latter is your only option if you want a smart ring right now.
Full Comparison Table
See our complete Circular vs Motiv Smart Ring comparison table to rank more details side-by-side.