Fitbit is the most iconic fitness tracking brand in the market. However, choosing the best device model for your needs can be hard as they have a ton of models on their catalog. On our previous blog we compared Oura Ring and Fitbit for sleep and recovery tracking. In this blog, we compare four popular models of Fitbit – Sense, Versa 3, Charge 5, and Inspire 2 – based on their health and fitness features. So, if you prefer Fitbit over Oura, this blog helps you to make up your mind on which Fitbit model could be your next wellness companion.
Smart Ring News is supported by its audience. When you purchase through links on this page, we may earn an affiliate commission.
Fitbit Introduction
Fitbit has been in the consumer wearables market for decades. After releasing the first Fitbit device in 2009, the company has so far launched countless device models. While the latest models are the most popular, there are still older versions out there scoring fairly well for their capabilities. However, when choosing a new Fitbit device, you should be careful if you want to invest your money in the latest technology.
Fitbit Comparison Chart
For our Fitbit comparison, we selected the following four models simply based on how well they appear on Amazon: Sense, Verso 3, Charge 5, and Inspire 2. The comparison chart below helps you to quickly compare these four devices head to head based on their main health and fitness features. After the chart, you will get more information about each model and links to find all the product details.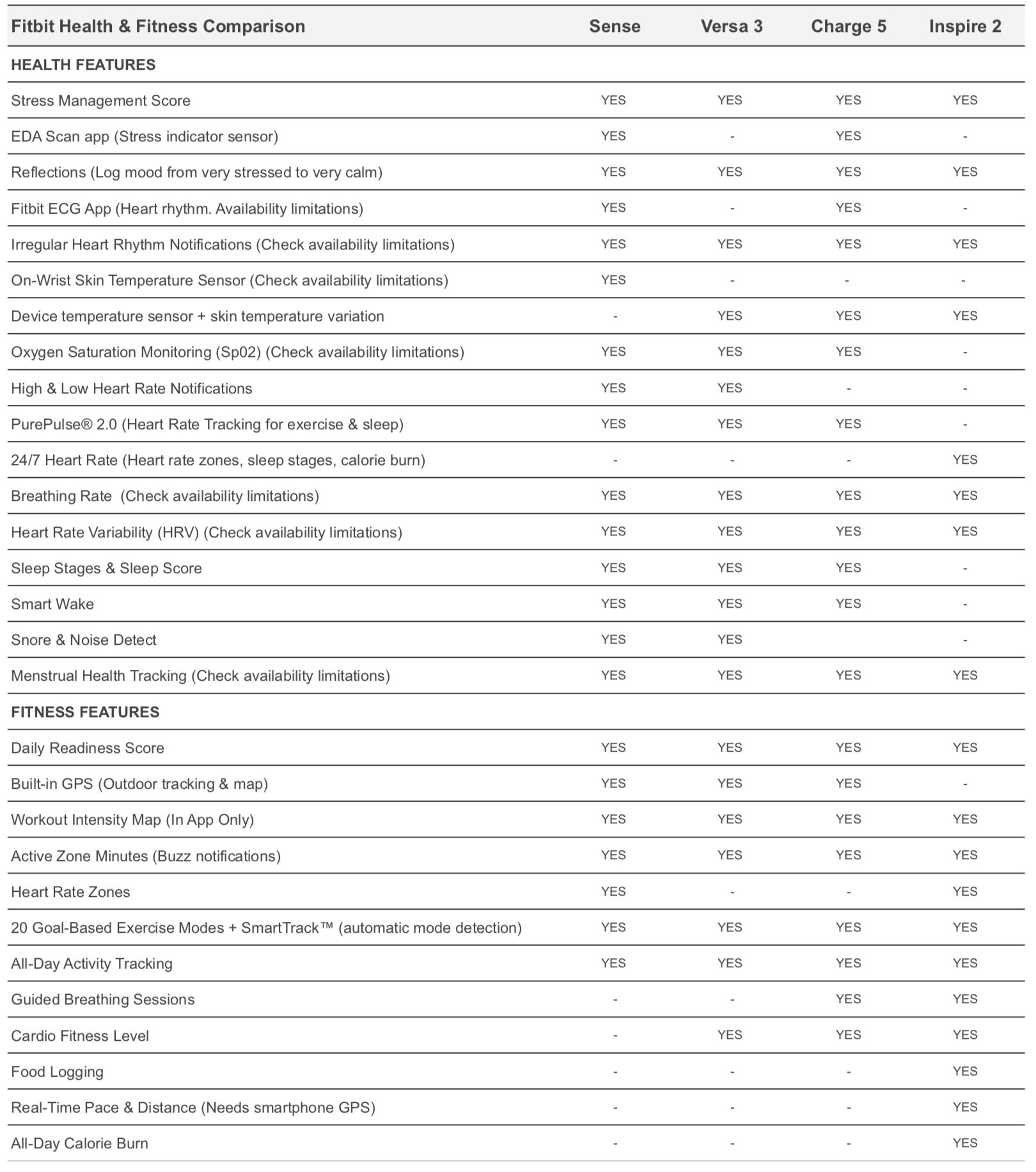 Fitbit Models
Fitbit Sense
The Fitbit Sense (launched in 2020) is the most advanced smartwatch of the company when it comes to health and fitness features. It brings you heart rhythm and heart rate monitoring, stress sensing, blood saturation, sleep stages, sleep score, skin temperature, and many, many other features.
Sense comes with Fitbit's latest PurePulse 2.0 optical heart rate sensor and a new temperature sensor for more accurate tracking than the previous device model. The SpO2 sensor allows you to track blood saturation range. The ECG App (electro-cardiogram) helps detect signs linked to conditions such as atrial fibrillation (AFib). For women, Sense offers cycle tracking straight on the watch or smartphone app.
The Sense also comes with an EDA Scan app (electrodermal activity), which is a sensor that indicates your stress based on the sweat level of your skin when you place your palm over the watch. Reflections is a feature on Sense that allows you to log your mood after EDA measurement, producing more meaningful information about your wellbeing.
The built-in accelerometer tracks physical exercise movements like treadmill, running, and walking. The built-in GPS and GLONASS satellite tracking measure distance outdoors.
Please note that you might need to buy the Fitbit Premium subscription to see all the insights such as body temperature, blood oxygen trends, and so on.
When to Choose Fitbit Sense
If you want the most advanced information about your health and track fitness with enhanced data, the Fitbit Sense, with its ECG, EDA, Sp02, temperature sensors, and many other features, makes it a great companion for your exercise and recovery.
Check Out Fitbit Sense on Amazon!
Fitbit Versa 3
Before Fitbit Sense came along, the Versa 3 was the company's flagship smartwatch. Although it lacks the latest advanced features of Sense such as ECG and skin temperature sensor, Versa 3 still offers a lot – e.g., Sp02, GPS, heart rate, and all the Fitbit tracking features, covering the bulk of health and fitness needs most of us can actually take advantage of.
In terms of health and fitness features, Fitbit Versa 3 (launched in 2020) gives you for example 24/7 activity tracking including steps, sleep stages, sleep score, distance traversed, altitude climbed, guided breathing exercises, women's cycle features, hourly inactivity alerts, and more. You can monitor heart rate continuously and manually log additional information such as weight, food, and water intake while practicing mindfulness and listening to meditation sessions through the app. Although Versa 3 doesn't have the latest skin temperature sensor like Sense does, it still provides rough skin temperature variation information.
Beware that some of the insights Verse 3 offers do live behind Fitbit's Premium subscription – these include Health Metrics dashboard, breathing rate, oxygen saturation, heart rate variability (HRV), and resting heart rate.
When to Choose Fitbit Versa 3
Although Versa 3 isn't the best Fitbit out there in terms of health and fitness features, it is definitely a great choice for most user profiles. The heart rate, sleep stages, activity monitoring, GPS tracking, blood oxygen data, and all the Fitbit goodies available are of good quality, and fantastic!
Check Out Fitbit Versa 3 on Amazon!
Fitbit Charge 5
The Fitbit Charge 5 is a fairly recent device model launched in 2021. It is a powerful fitness tracker that mixes many of the most advanced features found on other high-end Fitbit devices. For instance, it has the GPS and Sp02 just like the Fitbit Versa 3 smartwatch for tracing your outdoor distance and blood saturation. Charge 5 gives you the EDA-based stress-measuring sensor and ECG (heart rhythm tracking) features that are also available on the top-of-the-line smartwatch, Fitbit Sense.
The 24/7 heart rate tracking with PurePulse® (not the latest 2.0) shows calorie burn, continuous heart rate, resting heart rate trends, and cardio fitness level in the Fitbit app. On top of its many sensors and features, Charge 5 naturally comes with tried and tested tracking and monitoring capabilities of Fitbit.
Like with many other Fitbit devices, you might need to purchase Fitbit's Premium subscription to see all the insights Charge 5 can track.
When to Choose Fitbit Charge 5
Choose Fitbit Charge 5 when you just want to take full advantage of the advanced fitness tracking features of Fitbit without paying for the extra bells and whistles included in the more stylish, bigger, and heavier Fitbit smartwatches!
Check Out Fitbit Charge 5 on Amazon!
Fitbit Inspire 2
The Fitbit Inspire 2 is a lightweight activity tracker and it does that job very well. Among its many features, Inspire 2 measures steps, distance (needs smartphone GPS), breathing rate, resting heart rate, skin temperature variation, and more. The 24/7 heart rate shows heart rate zones, sleep stages, and calorie burn. Irregular heart rhythm notifications can identify for example atrial fibrillation (AFib) while you are sleeping.
Fitbit Inspire 2 allows you to log your stress level while the personalized guided breathing sessions based on your heart rate help manage stress proactively. For women, Inspire 2 offers menstrual cycle tracking. With Inspire 2, you can choose from 20 exercise modes to get real-time performance information during the workouts, or simply use SmartTrack™ to automatically detect and record your exercises.
Please note that you might need Fitbit's Premium subscription to use all the features and see the full insights Inspire 2 can deliver.
When to Choose Fitbit Inspire 2
The Fitbit Inspire 2 is the perfect solution if you want a lightweight and stylish fitness tracker with basic fitness features, a long battery life, and an affordable price!
Check Out Fitbit Inspire 2 on Amazon!
Fitbit Alternatives
Fitbit is one of most trusted fitness electronics brands and features an excellent value per price ratio. However, there are many alternatives for Fitbit you might want to check out. For example, our best Apple Watch review compares all Apple Watch Series available today based on their health and activity capabilities. It helps you to find the right device for your needs and budget (you don't have to choose the latest and greatest and still get an avid health & activity companion)!
Garmin is another popular Fitbit alternative for outdoors savvy, active people. The company has an endless portfolio of robust, high-quality, and good looking watches in many price ranges. The easiest ways to start getting familiar with the Garmin product lines are here: Five best Garmin smartwatches and fitness trackers!