There are only a few sleep tracking smart rings that do exceptionally well, and two names that we hear a lot and are constantly pitted against each other are Motiv and Oura. Both smart rings are equally stunning and comfortable to wear. But where do the lines are drawn?
San Francisco-based Motiv first released Motiv Ring in September 2017, busting the unimaginable with its first of its kind sleep tracking wearable. Oura, on the other hand, is Motiv's closest competitor based off the coast of Oulu, Finland, who carved a niche for itself after launching the first-generation sleep-focused Oura Ring in early 2018.
RELATED: Apple Watch vs. Oura – Which is the Best Health & Wellness Wearable?
Motiv Vs. Oura Sleep Tracking Ring Comparison
Before diving deeper into this Motiv vs. Oura comparison review, take a look at the table below for the major functionalities of these smart rings.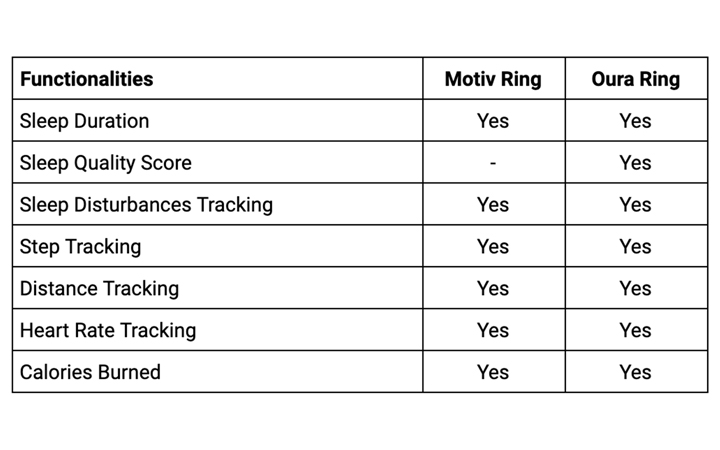 On paper, Motiv Ring and Oura Ring look almost similar. But in reality, these two smart rings have quite a difference. Which is the best sleep tracking smart ring? Find out.
RELATED: What Are Smart Rings? How Do They Work?
Motiv Ring Overview
Motiv Ring is an activity and sleep tracking smart ring that doubles as an online security tool. It's the first truly 24/7 wearable of its kind. After spending over three years in research and development, Motiv now boasts the most advanced smart ring device on the market with functionalities that go beyond activity and sleep tracking.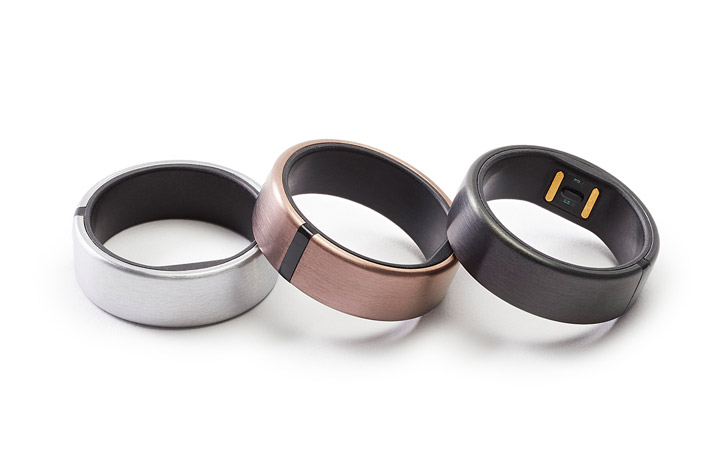 Functionalities
First and foremost, Motiv Ring is a daily activity monitoring ring, which also tracks your sleep, from the minute you drift off to sleep to the minute you wake up. You will be able to take a look at your sleep duration as well as metrics like sleep restlessness and resting heart rate right through the Motiv app, which is available for both Android and iOS devices.
Apart from its sleep tracking capabilities, Motiv Ring also keeps tabs on daily activities like walking, running, showering, tooth brushing, etc. Out of these raw data, the Motiv app can automatically calculate your active minutes, the intensity of your activities, and the calories you've burned for the day. The app also notes your daily steps, distance covered, and active heart rate.
One thing that sets Motiv Ring apart is its online security component. Motiv Ring gives you an additional layer of security over your identity online through two-factor authentication (2FA) using a pre-set hand gesture. As long as your Motiv Ring is in your finger, your online accounts — whether it is email, digital banking, or ecommerce — will only be accessible to you.
Besides a pre-set hand gesture, using biometric data for fingerprint scanning and facial recognition as a means of 2FA is currently in beta. This feature, however, is only available for iOS devices with Touch ID and Face ID.
Another online security feature that Motiv Ring supports is WebAuthn, which allows users to make passwordless logins on their online accounts. Passwordless logins via WebAuthn are currently supported on web browsers like Google Chrome, Mozilla Firefox, Microsoft Edge, Apple Safari, and Opera.
RELATED: Smart Ring Security — Can It Help Us Stop Password Hacking and Phishing?
Design
On the design level, Motiv Ring does not disappoint. Sporting a 2.5 mm-thin scratch-resistant matte-brushed titanium body, Motiv Ring could easily go down as the most good-looking smart ring available by far. Different ring colors are available in black, silver, and rose gold.
Experience-wise, Motiv Ring is super lightweight and can fit snugly with sizes available from 6 to 12 mm. Even for long hours of use, the ring hardly leaves any conspicuous pressure marks on your finger.
Motiv Ring is water-resistant up to 50 m (165 feet), with each tiny electronic part covered in medical-grade plastic for maximum protection. On the side of the ring is an LED light indicator that turns blue when synchronizing with the Motiv app.
Motiv Ring can last for 72 hours of use and takes 90 minutes of charge time to full. It has an onboard memory of 72 hours, which means your data can be stored on your smart ring this long without syncing with the phone app.
Availability
Motiv Ring was recently acquired by Proxy, a digital identity company. Due to the ownership changeover, the products are not available for purchase on Motiv's website anymore. You can follow Proxy.com for updates. However, here's the latest pricing and shipping info: Motiv pricing starts at $199. Orders will be shipped in 6-8 weeks. Each Motiv Ring is protected by a one-year warranty and a 45-day guarantee.
RELATED: Circular Vs. Motiv Smart Ring: Which Is The Best Wellness Smart Ring?
Oura Ring Overview
Oura Ring is the market-leading health and wellness smart ring that focuses heavily on sleep and activity tracking. Unlike Motiv Ring, it doesn't have the online security feature into the bargain. Does that make Oura Ring less of a smart ring? Not necessarily. Finland-based Oura aims to be recognized as the best in the sleep tracking category of smart rings, and so it focuses on delivering personalized recommendations based on a user's data. Learn more about why and how Oura hails itself as "the most accurate sleep and activity tracker."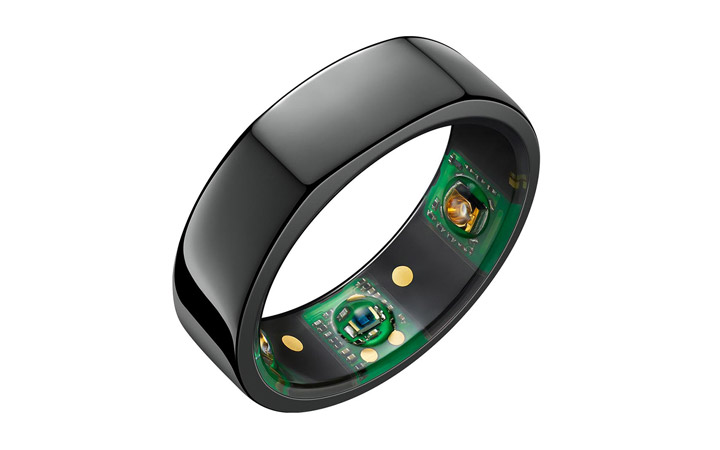 Functionalities
Oura Ring boasts an advanced sleep monitoring technology, tracking sleep duration and quality on a daily basis (with weekly and monthly averages) and how much time is spent in various sleep stages. Why is this important? To optimize every user's daily performance based on his/her unique circadian rhythm, or the natural body clock.
Using the Oura app for Android and iOS, Oura will give you three scores based on sleep, readiness, and activity, so it's creating its personalized recommendations according to a user's unique personal data, not just based on age, sex, and weight like many fitness trackers do. These metrics aren't only helpful in harnessing your performance for the day, but it can also be useful to help determine a potential sickness.
Just like Finnish entrepreneur Petri Hollmén who suspected that he contracted COVID-19 based on the Oura app's scores. Thanks to his Oura Ring, he was able to recognize the symptoms of the disease early on and got himself checked before it took a turn for the worse.
The sleep score is based on the following data: bedtime, deep sleep, latency, REM sleep, sleep efficiency, sleep score, time in bed, total sleep time, and wake-up time. Meanwhile, the readiness score is based on the following data: body temperature, resting heart rate, heart rate variability, respiratory rate, and readiness score. The activity score is based on the following data: activity burn, total burn, activity goal completion, activity score, inactive time, steps, and walking equivalency.
The Oura app also fetches data from Apple Health and Google Fit to make sure it gets the bigger picture of your daily activities.
Apart from sleep tracking, Oura Ring boasts a range of tracking capabilities for body temperature, pulse amplitude, heart rate, heart rate variation, respiratory rate, and even slight hand and finger movements.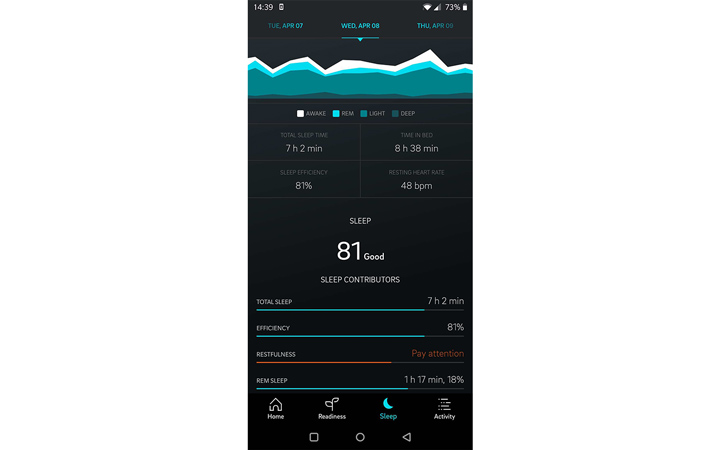 A unique feature of Oura Ring is Moment, which allows you to take a break and check in with your body through guided/unguided rest, meditation, or a mindful breathing exercise. During this time, the ring monitors data like resting heart rate and heart rate variability, which the app analyzes to draw up a conclusion about the state of your well-being.
Design
In terms of design, Oura Ring screams elegant. In fact, it looks equally stunning as Motiv Ring with its ultra-lightweight titanium body. The difference lies in its next-level diamond-like carbon coating for scratch resistance. It varies in color, available in grey, black, and stealth options.
One thing that separates Oura Ring is its use of infrared light photoplethysmography (PPG) to capture heart rates, which is more accurate than green light LED sensors used in most wrist-worn wearables like the Apple Watch.
Oura Ring is water-resistant up to 100 meters, which is twice better than Motiv Ring. The electronic components are well-coated, so it's temperature-resistant. You can still wear it safely while you swim or shower or are in the hot tub or sauna.
The battery can last for up to 7 days per charge. Oura Ring features wireless charging with full charge time ranging between 20-80 minutes. Meanwhile, the onboard memory can store data for up to 6 weeks, which is significantly higher than Motiv Ring's 3 days longevity.
Buyers have the option to get the free sizing kit first or select size manually. However, I recommend getting the sizing kit first to ensure you are only getting the Oura Ring that fits perfectly. The sizing kit contains 8 plastic ring sizes (6-13 mm).
Availability
Oura Ring is available on OuraRing.com. Prices start from $299/€314. Oura ships confirmed orders within one business day.
In Conclusion
According to Raconteur Publishing, approximately 62 percent of adults say they cannot get enough sleep. Ongoing sleep deprivation can severely impact your motor and cognitive functions, physical, mental, and emotional well-being, and can cause severe, long-term health conditions including heart disease, high blood pressure, or depression. Just 1–2 hours of shorter nightly sleep in the long-term can have the same level of impact as going one or two full days without sleeping. Sleeping problems are an enormous challenge globally.
Luckily there is a high awareness of the sleeping problems today, and you can choose from a wide range of methods, gadgets, and appliances when in need of help in sleeping – not to forget proper pillows and mattresses, even many handy foldable mattresses for those in constant motion.
Many sleep tracking and activity wearables on the market today are cumbersome and unpleasant to wear all day and night. But Motiv and Oura rings prove that smart rings are exceptions. Both Motiv Ring and Oura Ring are incredible sleep tracking smart rings. But which is the best smart ring in this category?
Here's the thing. One isn't superior over the other on all accounts. So choosing the best smart ring should not depend on which one is better. Instead, you should take yourself and your needs into account first.
If you want a smart ring that is more price-friendly and allows you to track daily and nightly activities 24/7, then Motiv Ring might be the better option here. Motiv Ring can serve as an online security tool on top of an activity tracker. But if you want a dedicated sleep tracking smart ring and you have more budget to spare, then Oura Ring is the more sensible option.
RELATED: Comparing Oura Ring & Fitbit for Sleep and Recovery Tracking
Full Comparison Table
Check out our Motiv vs. Oura Smart Ring comparison table to see the details side by side.