Leading health technology maker Oura has just released its most anticipated third-generation smart ring and it looks like health and fitness enthusiasts have a new toy to love. The Oura 3 has adopted a few things that we enjoy from its predecessor, but it's also holding its own. From the hardware to the software, the Oura 3 is a promising wearable ready to take the health and fitness space by storm.
But how exactly is the Oura 3 different from the Oura 2? We find out all the details to see if the Oura 3 is worth the upgrade from the Oura 2.
RELATED: Apple Watch vs. Oura Ring – Which is the Best Health and Wellness Wearable?
Oura 3 retains most features
As I mentioned, there are so many things that we love about the Oura 2 smart ring. The good news is that the company has retained most features in the new Oura ring. The third-generation Oura has the same look and feel, and it has all the functionalities the Oura 2 has, including activity tracking, sleep tracking, and everything in between.
New Oura ring 2021: What's new?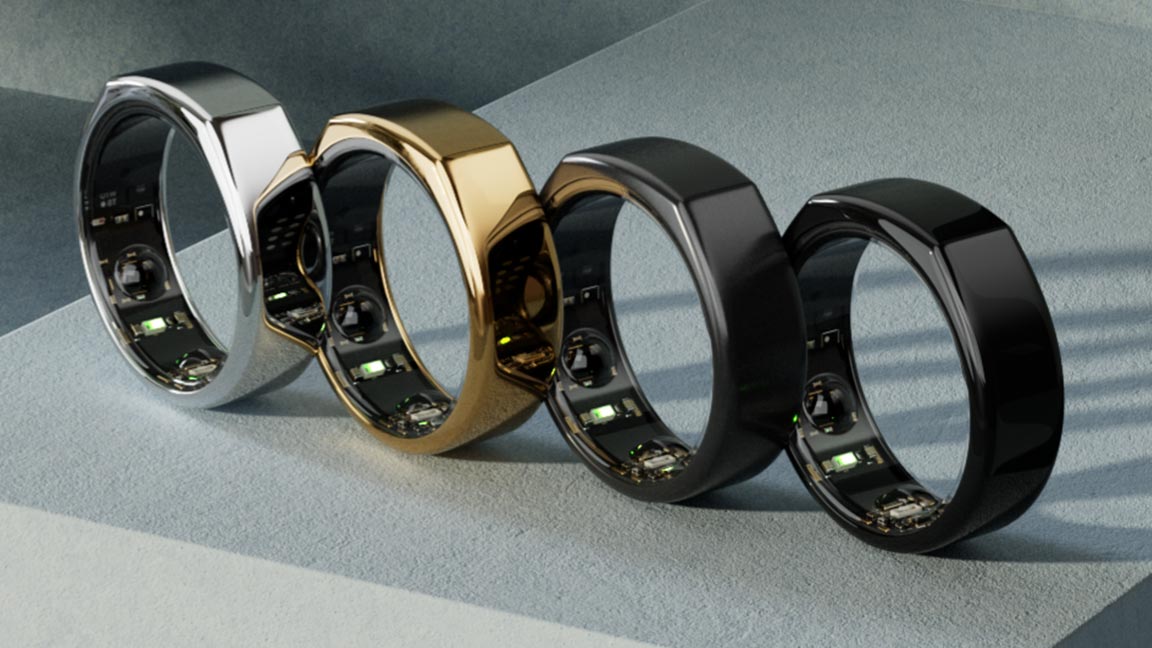 You might be wondering whether or not to get or upgrade to the new Oura 3. Well, this is where you should pay attention to the new features. They might just be what you need to hear.
RELATED: Oura Ring test – What's the verdict after using it for 30 days?
Daytime heart rate
The Oura 3 sports a new set of green LED sensors for tracking your heart rate in real-time and throughout the day. Do note that the predecessor can only track heart rate variability while you're sleeping. With the new daytime heart rate tracking, the ring has therefore a better grasp of your routines, meals, stress levels, and environment. Oura can better understand how a cup of coffee affects your heart rate.
Workout heart rate
The green LED sensors don't just record daytime heart rate. It also records your heart rate while running, walking, and cycling. Oura will give you post-workout insights and show you your post-activity dashboard that includes location, distance, and key heart rate stats. This feature will be released as an update in late 2021.
Better sleep staging
While the Oura 2 has incredible sleep tracking capabilities, it's even more accurate with the Oura 3 smart ring. The sleep staging now closely matches the gold standard sleep lab test. Amazing! This feature is coming in 2022.
7 temperature sensors
Oura rings largely depend on sensors, including temperature. The Oura 3 is packed with a total of seven temperature sensors for better detection of illnesses. Predecessors only have 3 temperature rings.
RELATED: Oura vs. Circul – Which is the best smart ring for detecting COVID-19?
Period prediction
For women, it's easy to fall into the trap of assuming that your period is on the same day every month. With the help of the new ring's temperature sensors, Oura can accurately predict your period based on the changes in your body temperature as it naturally evolves with the hormonal changes throughout your menstrual cycle.
RELATED: Oura ring the first wearable to be used for birth control
Wellness content library
As part of Oura Membership, users get exclusive access to a library of science-backed educational content and guided wellness sessions. The ever-growing content library includes medication, sleep, breathwork sessions, and more. This will be available in late 2021.
RELATED: Five ways health rings can do for better life management
More sensors
The Oura 3 is also packed with more sensors besides the green LED and NTC body temperature ones. More infrared LED sensors are coming in 2022 for blood oxygen level (SpO2) tracking. The ring also uses an advanced calibrated sensor for more accurate period prediction and illness detection.
Improved battery life
In terms of battery life, nothing much has changed. Both the Oura 2 and Oura 3 can be fully charged in 20-80 minutes and last for 4-7 days. The Oura 3, however, is capable of monitoring current battery consumption, allowing Oura to conserve your battery whenever possible. In addition, the charger is almost the same, except the new one has a color-changing LED light for easier charging status identification.
Oura membership
Buying the new Oura ring automatically makes you an Oura member. However, the Oura 3 has paid subscription that will make your membership even more meaningful. Why does it matter? Your Oura membership gives you access to a bunch of free stuff, including daily health insights, personalized recommendations, exclusive audio, educational videos, new in-app content released on a regular cadence, and more. This can be a complete game-changer why you should get or upgrade to the Oura 3.
Availability
The Oura 3 smart ring has the same sizing kit as the second generation. The ring is available in four colors: gold, silver, black, and stealth. Price starts at $299 / €314.
Oura 2 vs. 3 Comparison Table
Here's a quick comparison table to list down the featured smart rings with their basic info. Read forward for detailed information, and things to consider when buying a ring.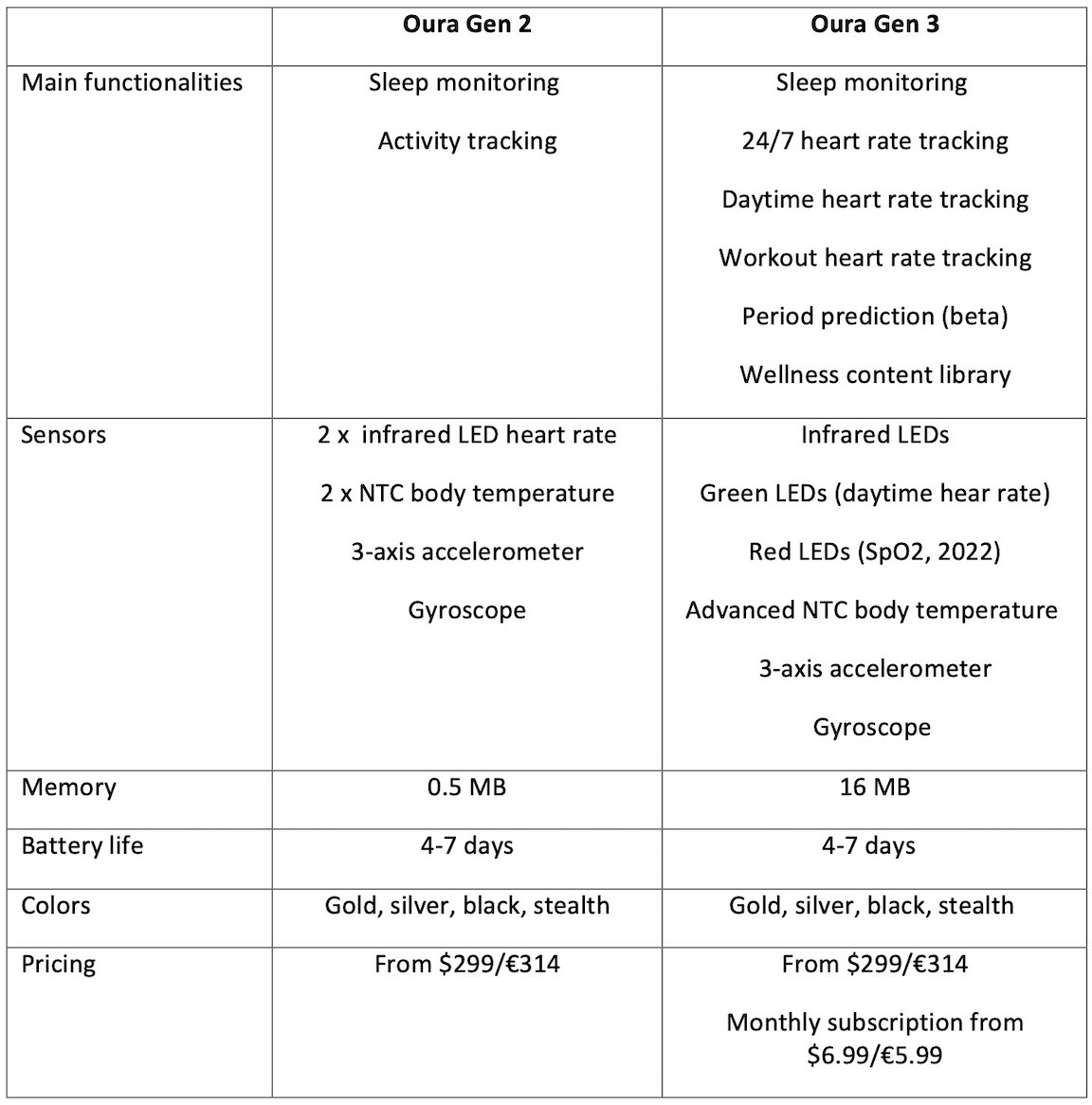 Alternatives for Oura Ring
Although Oura Ring is the most advanced sleep and activity tracking ring (and just got even better), it is not the ideal wearable for all uses. Our blog on Oura Ring alternatives introduces seven other devices that can provide you with similar features and functionalities!