Oura, Apple, and Whoop are three of the biggest players in the fitness tracking game. Oura has made a name in the sleep-tracking landscape and probably is the best-selling smart ring. Meanwhile, Apple Watch has been one of the most popular smartwatches globally, apparently bearing the name has been a huge help. And Whoop has been widely lauded in fitness circles.
Three different devices but functions almost the same. Which one should you choose? In this Oura vs. Apple Watch vs. Whoop review, let's take a deep dive into the health and fitness features and functionalities of these wearables and also take a peek into their specifications. We will also touch on the design and pricing structure of these devices.
Disclaimer: Smart Ring News is supported by its audience. When you purchase through links on our site, we may earn an affiliate commission at no additional cost to you.
Quick Comparison Table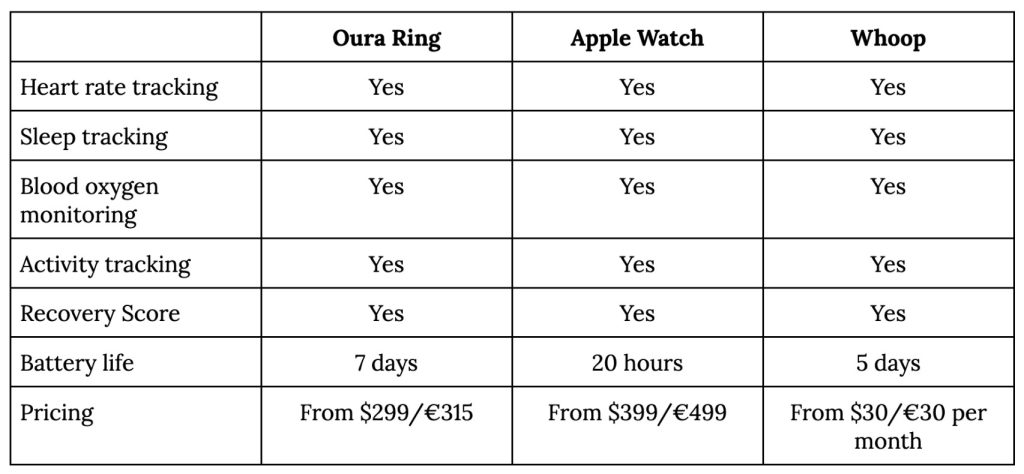 Features and Functionalities
Features and functionalities are two of the most important considerations when it comes to buying a fitness tracking wearable device. To wrap your head around how each device works, I broke down their core characteristics, including tracking functionalities for heart rates, sleep, and activities.
Oura Ring Gen3
The Oura Ring is mostly known for sleep tracking that matches the gold standard of sleep lab tests. Having one of the most accurate sleep technologies using infrared light photoplethysmography (PPG), not just green light LEDs that many wearable devices use, the Oura Ring is able to get detailed information on your sleep habits, including sleep stages (REM, deep sleep, light sleep), sleep duration, timing, and latency. The ring's PPG sensor is 99.99% reliable as a medical-grade ECG, so you get a more accurate active heart rate, resting heart rate (RHR), respiration, and heart rate variability (HRV).
The new-gen Oura Ring also features red and infrared LED sensors for measuring blood oxygen saturation (SpO2) or simply the amount of oxygen present in one's blood. In addition to blood oxygen sensing, the ring's new feature Breathing Regularity lets you know whether there are abnormal drops or disturbances in your average blood oxygen levels during sleep.
Meanwhile, seven temperature sensors are embedded into the ring, giving you a more accurate read of your body temperature. One of the major uses of body temperature sensing is for recovery tracking and period prediction for women, which is something Oura does a great job at.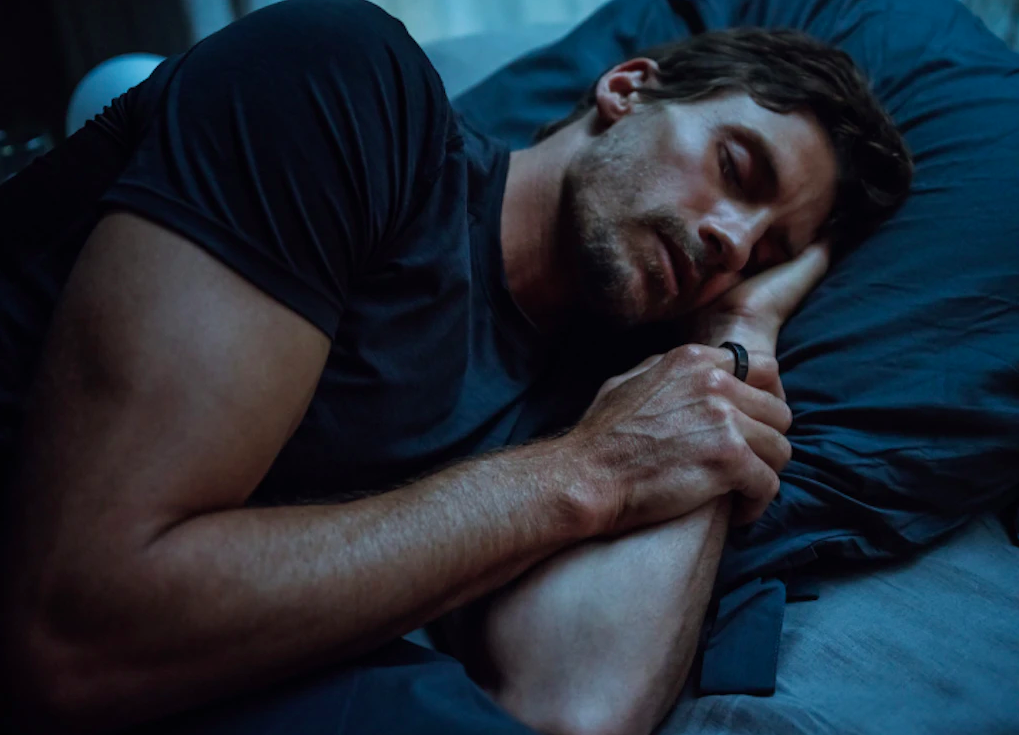 The activity tracking department is where the Oura Ring needs a lot of improvement. It has an Automatic Activity Detection feature that automatically detects your activities. However, it is not the most accurate. The most common activities it detects are basically walking and running, though it claims to be able to sense over 50 types of activities.
The Oura Ring uses a scoring system between 1-100 to measure how good or bad you are doing in three categories: Sleep, Activity, and Recovery. Below the acceptable score of 80, the ring suggests tips on how to do well for the day.
Related: 7 Best Oura Ring Alternatives You Can Buy Now
Apple Watch 8
The Apple Watch is popular among fitness enthusiasts who want to stay within the Apple ecosystem. Activity tracking is one of its highly regarded functionalities as Apple simplifies it, from data collection to presentation. Apple uses arm motion and a bunch of accelerometers to track directional movements and a gyroscope to sense rotational movements, both are used for detecting any kind of activity such as running, cycling, hiking, HIIT, and more. If you are into trekking, cycling, mountaineering, or anything that involves elevation, the Apple Watch is best as its gyroscope is engineered to detect a fall while its always-on altimeter can also sense elevation changes.
For heart rate tracking, the Apple Watch uses optical PPG which regularly monitors your heart rate in the background. If it senses irregularities like high or low heart rate, you will be notified. In addition, the smartwatch checks for irregular rhythms that may be suggestive of atrial fibrillation (AFib). An electrical heart sensor is also used for electrocardiography (ECG), which comes with a dedicated FDA-approved ECG app so users may generate an ECG like that of a single‑lead electrocardiogram.
Blood oxygen saturation is also one of the Apple Watch's significant features, especially for users who are or might be suffering from sleep apnea, chronic obstructive pulmonary disease (COPD), emphysema, and pneumonia. The new-gen Apple Watch allows you to monitor your SpO2 level 24/7 and at any time you like.
Finally, sleep tracking is something Apple only added later on. It uses the same sensors for sleep tracking, which return decent data for sleep stages (REM, core, deep sleep), duration, body temperature at rest, timing, and wake-up time. However, the Apple Watch only gives you raw data and trends through the Health app. You have to interpret that by yourself, which has a learning curve.
Related: Apple Watch vs. Oura: Which Is the Best Health and Wellness Companion?
Whoop 4.0
Whoop is quite a popular wearable device in fitness circles for its robust activity tracking and recovery monitoring functionalities. This fitness band has automatic activity detection for over 60 activities, including HIIT, yoga, pilates, powerlifting, skateboarding, triathlon, and diving. Whoop uses periods of continuous elevated heart rate (15 minutes) and higher-than-average movements (or what it calls Strain) to identify these activities as well as the time when you are active or working out.
Whoop also has a sleep auto-detection feature for sensing when you fall asleep and wake up. It also logs the duration of your sleep for the night as well as sleep stages. To detect your sleep, Whoop takes the cue from your heart rate, HRV, and activity patterns. However, Whoop only logs sleep longer than 1 hour, and categorizes it as sleep or a nap, based on the time it occurs. This may return faulty data if you are working the night shift. In addition, Whoop relies on the user so much for tracking sleep, such that you might have to manually end the tracking by clicking "Process Now," which is additional work.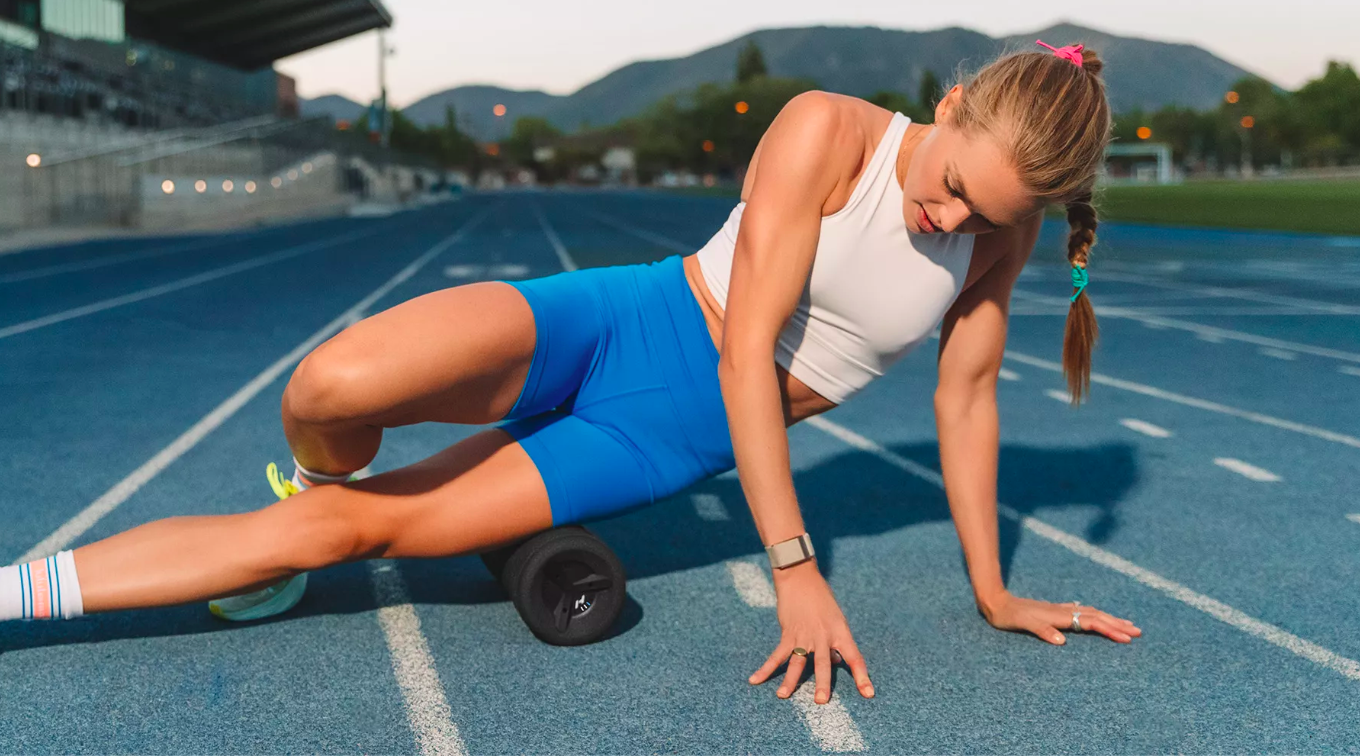 Whoop utilizes ambient temperature and electrodermal activity (EDA), which is used for stress management. However, the ambient temperature is not actually the most reliable for sensing body temperature as its readings can get too far off the actual body temperature. False readings of body temperature may lead Whoop to suggest poor recovery results, which is not something you would want.
Aside from body temperature, Whoop also looks at your HRV, RHR, and sleep performance to measure how well you have recovered from the previous day's activity. Whoop measures this through colors: green means well-recovered, yellow means you are doing good, and red means your body needs to rest.
Related: Whoop vs. Oura: Which Is Better for Sleep, Activity, and Recovery Tracking?
Design
Oura, Apple Watch, and Whoop are three different form factors. However, they use almost the same type of sensors to track key bodily metrics.
Oura Ring Gen3
The Oura Ring is an unobtrusive wearable that feels comfortable on your finger while sleeping. However, Oura does not recommend using it for activities that involve lifting weights to keep the device from damaging. Although, I have used mine quite a few times for this purpose and it's been okay so far.
In terms of protection, the ring is on a whole nother level with the entire body completely sealed. It is waterproof and dust-proof and can be submerged up to 100 meters. You never really have to worry about taking it off and on.
The battery life is also something you will be impressed with. The ring can last up to 7 days on a single charge and can be charged to full capacity in 20-80 minutes.
The Oura Ring Gen3 is available in 6-13 mm. You have the option to get a sizing kit for testing before choosing the actual ring. It is available in two designs (Horizon and Heritage) and in black, silver, stealth, gold, and rose gold colors.
Related: Oura vs. Polar: Which Wearable Is Best for Performance Tracking?
Apple Watch 8
The Apple Watch feels comfortable through activities. I use mine during workouts, although it's really hard to keep it on my wrist if I'm using gloves as it constantly triggers Siri. Other than that, the Apple Watch 8 is an incredible fitness-tracking device.
When it comes to protection, the smartwatch is "swim-proof" and dust-resistant per Apple. Although, you need to take it with a grain of salt as I have a couple of friends who broke their watches just because they submerged them underwater. Apple likes to claim their device is waterproof but with a fine print that they hide miles away from you, so don't trust Apple on this one.
The battery can give you up to 18 hours of regular use and up to 36 hours in low-power mode. Understandable if you are using smartwatches with screen displays.
The Apple Watch 8 is available in 45mm and 41mm screen displays, in different colors like gold, graphite, silver, and space black. More colors are available for the stainless steel variants.
Related: Oura vs. Circular: Which Is the Best Overall Health and Wellness Smart Ring?
Whoop 4.0
Whoop is designed as a fitness tracker first. You can wear it however you want—on your wrist, your forearm, on your upper arm. This is great, especially if you are using gloves at the gym.
Whoop is more lightweight than the Apple Watch and has more versatile bands. It takes 2-3 hours to charge, but it can last up to 5 days with the waterproof battery pack. Not too bad for a fitness band. The battery pack is waterproof, so you can take a bath with it. You can also bring the device to swim up to 10 meters.
Whoop 4.0 is available in various colors, including pink, yellow-green, white, mint blue, gray, emerald-green, black, and more.
Related: Best Apple Watch in 2023
Pricing and Availability
The Oura Ring Gen3 Heritage costs $299 or €315, while the Horizon design costs $349. They have an optional monthly membership for $5.99 which gives you access to in-depth sleep analysis, personalized health insights and recommendations, live heart rate monitoring, temperature trend monitoring, and 1-month complimentary membership. Installment options are available at $30 per month with Affirm.
The price of the Apple Watch 8 starts at $399 for the 41mm GPS-only variant and $429 for the 45mm GPS-only variant. Apple also offers installment options starting at $16.62 per month for 24 months.
Whoop 4.0 uses a subscription-based model starting at $30 or €30 per month with a lifetime warranty. You also have the option to get an annual or lifetime membership. This includes access to the Whoop app where you can get personalized insights, built-in coaching features, and weekly and monthly performance reports.
Verdict: Which Is the Ultimate Health and Fitness Wearable?
To choose the right fitness-tracking wearable device, you need to put the functionality that matters to you the most. Ultimately, each wearable has its own set of strengths and weaknesses and you need to be aware of that.
Do you value fitness tracking and recovery monitoring more than anything else? Whoop 4.0 might be the best option for you. It has low risk since you have the option to get the monthly subscription and choose to opt out if it's not something that fits your lifestyle.
Are accurate sleep tracking and recovery monitoring more important to you? The Oura Ring Gen3 is the best wearable available. Oura has the best technology for tracking heart rate variability, sleep stages, and body temperature—all instrumental for superior recovery monitoring.
Do you want a decent fitness-tracking device while staying within the Apple ecosystem? The Apple Watch 8 is not really that bad at all. It gets the job done, both activity and sleep tracking, although it's not the best option for sleep monitoring.
Nevertheless, you can pair two of these devices to help you get even more meaningful data. Either way, you need to know first what you are using the device for.
Got questions? Drop them in the comments. We will get back to you ASAP!