A birth control method on your finger? This is what the Oura ring will soon be adding to its already powerful feature set. With the help of Stockholm-based birth control startup Natural Cycles, women may finally ditch old-fashioned birth control methods using only the data collected through the user's smart ring.
How Oura Ring Is Used for Birth Control
Oura measures the user's body temperature directly from the finger's skin continuously. At the moment, the body temperature data is used to diagnose fever and as one of the main factors when calculating the user's readiness score, which is the overall measurement of the user's mental, emotional, and physical well-being.
Soon, this body temperature data will have another important role — to assess a woman's fertility or the lack thereof. Connected to the Oura ring, the Natural Cycles app will import and interpret the user's body temperate data and provide conclusions based on the collected data. For the app to draw an accurate conclusion, body temperature must be accurate, making a wearable device like smart rings perfect for this birth control method.
Related: Oura vs. Circul: Which Is the Best Smart Ring to Detect Covid-19?
Using the Oura smart ring is much easier than using an oral thermometer every morning. It's more effective too. Users don't need to take note of the data or fear forgetting to take their body temperature. With the Oura ring, users can be certain body temperature data is recorded effortlessly.
Oura also measures heart rate. This is instrumental for the app to collect data for days when the user is hungover or has not had enough sleep. Compared to an oral thermometer, body temperature can be inaccurate in such cases.
That said, green days — or days when one can have sex without getting pregnant — may increase when using Natural Cycles with Oura as there's accuracy with the user's data.
The Natural Cycles app is already available for both Android and iOS users. However, at press time, the software responsible for reading the temperature data is still waiting for approval from the U.S. Food and Drug Administration (FDA). Natural Cycles has yet to announce the official rollout date of the said feature.
Related: Motiv vs. Oura Ring: Which Is the Best Sleep and Activity Tracking Smart Ring?
First Birth Control Wearable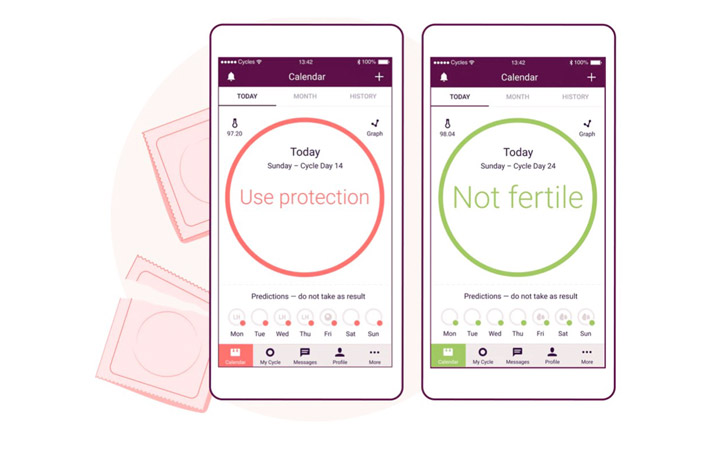 The Oura Ring is the first wearable technology ever to do this. The smart ring is the perfect wearable device to use for such functionality since they fit snugly on the user's finger, thereby delivering more accurate body temperature than a smartwatch, smart bracelet, and other wearables.
It's been long overdue for Natural Cycles to make this birth control method through Oura happen due to hardware issues. In an interview with Sifted, Natural Cycles cofounder Elina Berglund Scherwitzl said wearables are less accurate than oral thermometers in terms of temperature measurements. Although a smart ring is an ideal candidate to bring birth control to the finger, Scherwitzl admitted that it took them a while to figure out an algorithm that meshes well with the Oura ring.
Nevertheless, Scherwitzl is looking forward to bringing its mighty birth control digital technology to other third-party wearables. This means more smart rings might be able to get this birth control method soon.
Oura is the leading health and wellness smart ring that enables users to track sleep and activities and improve daily performance. It attracted massive publicity in the past several months after the Oura ring reportedly helped a user in Finland detect Covid-19 symptoms early. Oura since sealed a deal with the NBA, which reportedly bought 2,000 smart rings from the company.
Natural Cycles is a hormone-free birth control method that uses a thermometer in conjunction with a mobile app to evaluate a woman's unique cycle and identify her fertility status. Launched in 2013 as an early fertility tool by particle physicists Elina Berglund and her now-husband Raoul Scherwitzl, it is the only FDA and CE-certified digital contraceptive globally. Today, the app has over 1.8 million users worldwide and is growing fast in scale and popularity.
Natural Cycles subscription starts at $9.99 per month, while the Oura smart ring costs $299/€314.
Please note that the Oura Ring is not currently an FDA-approved or cleared medical device, and therefore does not market itself as such. While Oura data has provided numerous users with insights into their health, including data that has informed illness detection, period prediction, and even early pregnancy detection, the company does not claim to diagnose, treat, or prevent any medical condition, including fever.