At first glance, the Oura Ring and Fitbit are two different pieces of smart wearables: one is worn on one's finger and the other on one's wrist. But there's more than meets the eye. Sure, the difference between the two devices lies in the outside appearance, but the fact of the matter is that this smart ring and fitness tracker share many things in common, and they are mostly found on the inside.
In this Oura Ring vs. Fitbit review, I explored the nitty-gritty of these wearables and compared their functionalities to find out which one is more accurate in terms of data collection and interpretation and which one executed the features better. Later in the article, you will also get to know more about their design specifications and pricing to boot. And at the end, you will get to know my verdict as to which smart device is more fitting for your needs.
I covered a lot of bases in this review, so I would love to hear your thoughts in the comments or if there are things I missed.
RELATED: Fitbit Comparison – Compare Four Popular Fitbit Models: Sense, Versa 3, Charge 5, and Inspire 2
Features & Functionalities
Let's get down to brass tacks and talk about the functionalities that you are probably most interested in — sleep, activity, recovery, and heart rate tracking.
Sleep Tracking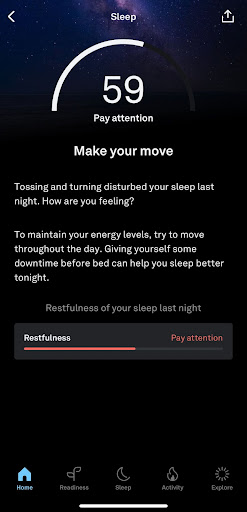 Sleep tracking is in Oura's DNA. It gives you a breakdown of sleep stages (light, REM, and deep) as well as metrics like total sleep duration, time in bed, the number of times your heart beats per minute when you're at rest (resting heart rate), the time you fall asleep (timing), and how long it takes for you to fall asleep (sleep latency). Nap detection is one of Oura's newest features. It automatically records your naps and adjusts your readiness accordingly.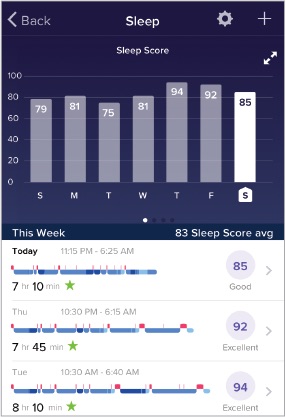 Fitbit tracks sleep stages, too, and uses almost similar metrics as Oura. The good thing about Fitbit is its flexibility, allowing you to set up bedtime reminders and silent alarms, which you can schedule to go off during the most optimal sleep stage, so you can start your day on the right foot.
Both Oura and Fitbit give you a holistic view of your sleep and score it up to 100, depending on how well your sleep goes based on a slew of sleep metrics plus other contributors like restfulness, which are calculated based on a variety of factors on top of sleep quality.
However, I prefer Oura's sleep tracking capabilities simply because it delivers more granular data and more detailed insights than any Fitbit model. The former delivers also a level of accuracy that otherwise a smartwatch can't given the nature of its form factor. In terms of comfort, this boils down to personal preference but per experience, hands down Oura is the better choice over Fitbit.
Related: Apple Watch vs. Oura: Which Is the Best Health and Wellness Companion?
Activity Tracking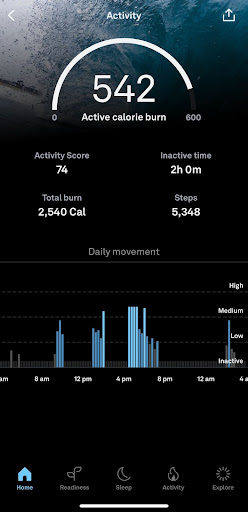 With Oura, you can add over 30 activities, including high-intensity workouts (HIIT), strength training, core exercises, walking, and even more complex ones like mountain biking, surfing, and even household chores. It sounds impressive at first until you get to know its so-called automatic activity detection (ADD), which supposedly tracks your physical activity automatically and suggests the time, duration, type, and intensity of activities you do.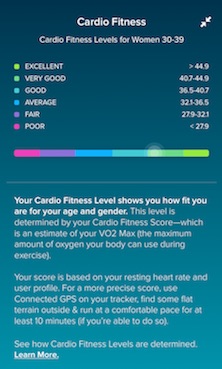 Fitbit has a few activity tracking capabilities across its devices simply because it has a much bigger facility to accommodate more sensors that otherwise can't fit inside a ring. Fitbit trackers and watches count steps and active minutes, great for those who are into cardio and fat-burning programs. Fitbit's newer devices include GPS for tracking outdoor activities right from the device. With that, it can automatically track more complex activities and activities that involve elevation.
To sum it up, activity tracking is where it gets ugly for Oura. It's not its greatest strength for sure. You can't use it on its own and expect a stellar set of data. The ring can't sense activities that involve elevation, while its autodetection ability is a hit and miss compared to Fitbit. I'm warning you, avoid confirming suggested activities on the Oura app without validating their tags carefully because they could screw your data. Overall, Fitbit is the better option if you want to use activity tracking as a standalone feature.
Heart Rate Tracking
Oura 3 has a much-improved heart rate monitoring system, adding scales like daytime heart rate (for 24/7 heart rate monitoring), workout heart rate (for tracking heart rate during workouts and receiving insights after), and restorative time (for measuring how relaxed your mind and body). All Oura rings give you resting heart rate (RHR), heart rate variability (HRV), lowest heart rate, and average HRV.
Most Fitbits have a heart rate monitor, allowing users to track heart rate continuously, resting heart rate, and heart rate zones during exercise. Newer Fitbits has what's called active zone minutes, which counts the time you spent on heart-pumping exercises. In addition, it uses zone notifications where you get alerts when you enter and exit a heart rate zone in an exercise mode.
Related: Whoop vs. Oura: Which Is Better for Sleep, Activity, and Recovery Tracking?
Recovery Tracking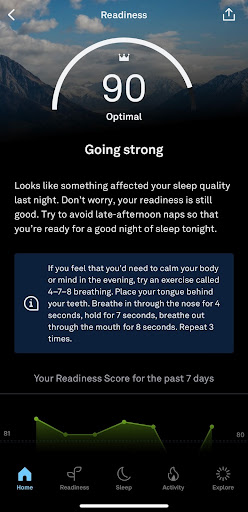 Oura's readiness score measures how well you have recovered and how ready you are to face tasks for the day on a scale of 1 to 100. It's based on several contributors, including the previous day's activities, sleep, heart rate variability, body temperature, and the lowest recorded resting heart rate. To better understand the state of your mind and body, not only does Oura use the previous day's metrics but also takes weighted averages over the past 14 days into consideration and compares that to your long-term average over the past 60 days.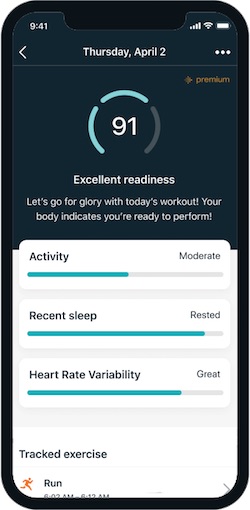 Fitbit's readiness score is calculated based on your activity levels, sleep patterns, and heart rate variability from previous days. Scores closer to 100 mean better recovery. Stress, poor sleep, and a tough workout all contribute to your readiness score.
Fitbit's and Oura's recovery tracking work almost the same with the same metrics used to calculate your readiness. And both are accurate. The kicker is that Fitbit's readiness score is only accessible to premium users, which requires you to pay $9.99 per month.
Oura is not only free, its holistic approach makes it a much better tool to monitor recovery than Fitbit. Not to mention the ring has a more accurate way to collect data than a wrist band. For me, Oura wins in this regard.
The Outliers
But of course, there are things you can't find on the Oura Ring that Fitbit has, and vice versa. Let's discuss the outliers for a second because I think they can be major factors that might affect your buying decision.
Starting with Fitbit. One of the features that make it worth checking out is the blood oxygen (Sp02) sensor. Blood oxygen monitoring is useful for people with heart and lung-related health concerns as well people with sleep apnea. Blood oxygen monitoring is in the pipeline for Oura 3, expected to arrive in 2022. And while Oura has not rolled it out yet, I won't consider this feature for now.
In terms of compatibility, both Oura and Fitbit work with a bunch of health apps, including Apple Health. Unlike Oura, however, Fitbit does not support Google Fit. The only way to port data from Fitbit to Google Fit is to use a third-party app like FitToFit.
RELATED: The Ultimate Smart Ring Buyer's Guide
Design
In terms of physical design, Oura and Fitbit are different on my levels. Oura is slimmer, lighter, and less conspicuous. Fitbit, on the other hand, is bigger so it accommodates more sensors. But do they differ that much?
Battery Life
This one's going to take you by surprise. Oura might have a tiny build so you'd expect the ring to have a smaller and less powerful battery than Fitbit, that is not the case, though. Oura can last for up to 7 days of use, while Fitbit can only last for up to 4 days. It shouldn't be surprising at all as Fitbit smartwatches and trackers have screens that consume more power. The GPS tracking capabilities of Fitbit devices also raze their battery life to the ground, making them last only for up to 5 hours.
Protection
Categorized with 10 atm protection, all Oura smart rings are waterproof. This supposedly means you can swim and dive with them underwater up to 100 meters deep for an hour. However, Oura does not recommend wearing it when freediving or scuba diving. Oura's electronics are fully sealed, therefore they are protected from water, dust, moisture, and other liquids. I have used my Oura ring for swimming, snorkeling, and cliff diving many times, and it's doing fine. Meanwhile, most Fitbit devices are water-resistant up to 50 meters. No matter how sweaty you are during workouts, it's fine. You can also swim with it.
Color Options
You can choose Oura in two different styles — Heritage and Balance — and in a few different colors: silver, black, stealth black, and gold colors. Heritage has a flattened edge all around, while Balance has a pointed part. Fitbit is also available in a few different colors. For instance, Fitbit Versa 2 is available in pink, grey, green, burgundy, blue, black, and silver.
Sizing & Comfort
Oura comes with a sizing kit with different ring sizes for you to try on before you get the actual ring. The kit has eight sizes from 6-13mm. Oura encourages you to test the best fitting ring for at least 24 hours to make sure you get the optimal ring size. Since I was not a ring wearer before getting Oura, it took me a while to get used to the ring. Also, there's a little bit of discomfort that comes with wearing the ring, especially if you've never worn a ring before, but it's only in the beginning.
Fitbit comes in small (140-170mm), large (170-206mm), and extra-large (206-236mm) sizes. Fitbit has a sizing tool that you can print out and try on to see which size fits you best. Fitbit should not be bothersome when used while working out, running, walking, etc. However, if you depend on it for sleeping, you might have to get used to wearing a watch at night, which for people like me who abhors the restrictive nature of watches while sleeping might be a huge nightmare.
RELATED: 4 Sleep Tracking Smart Rings That Promise Better Sleep
Pricing & Availability
Oura 3 costs $299 / €314 with an optional membership fee of $5.99 / €5.99 per month to get full access to daily health insights, personalized recommendations, an expanding library of guided audio sessions, educational videos, an ever-growing suite of features, and more. Oura is also offering free 6 months if you decide to get a monthly membership subscription.
Fitbit vs. Oura Ring: Who Wins?
Now, the final question is: which is the most accurate sleep and activity tracker — Oura or Fitbit? It's tricky to give a definite answer if we are going to judge these two devices based on their merits alone. You need to take your health and fitness goals into consideration first before knowing which one fits you best. Oura is the best option if you are looking for a wearable for 24/7 sleep, activity, and recovery tracking. You can use Oura day and night without disturbances, not to mention getting all the accurate data and detailed insights. Fitbit devices are the best option if you are looking for daytime activity and fitness-tracking wearable, but that's just it.
Are you getting the Oura Ring or Fitbit? The ball is in your court. Let me know your decision in the comments!
How to Choose the Right Fitbit for Your Needs?
If you prefer Fitbit over Oura, the next step is to choose the right Fitbit for your needs. That's not an easy task given the large amount of device models out in the market! No worries. Our Fitbit Comparison helps you to compare four popular Fitbit models: Sense, Versa 3, Charge 5, and Inspire 2!