‍According to Mastercard research, contactless payments are surging worldwide as people increasingly use this easy, hygienic way to pay for their purchases. Companies making contactless wearables see the massive opportunity – but, as you know, building a highly secure, yet tiny NFC-enabled device for global markets is hard. Until now! Infineon's SECORA™ Connect is a secure Near Field Communication (NFC) system solution, which device makers can embed into wearables to enable contactless applications with 50% lower power consumption.
Read this article for a complete review and seven ways SECORA™ Connect can help you develop contactless wearables!
Contactless Payments Surging Worldwide
Mastercard's research published in May 2020 (right in the middle of the peaking COVID-19 pandemic) found that 82% of respondents consider contactless a cleaner way to pay their purchases. The company reported a whopping 40% growth in worldwide contactless transactions in the first quarter of 2020 due to people avoiding touching public-use payment terminals during the pandemic.
Europeans have been well accustomed to contactless transactions for many years already. Now they are transferring this tap to pay behavior from cards to wearable devices at record speed. Contactless payment transactions made with wearables – including smartwatches, bracelets, key-fobs, and smart rings grew eight-fold in Europe in 2019!  
SURVEY: Contactless Payment Ring voted as the most popular wearable for paying
Contactless – The Easy and Hygienic Way to Pay!
Contactless payment is the fastest growing payment method today. Users and merchants fell in love with its ultimate ease-of-use, safety, and the clean, germ-free way to carry out transactions. Governments are encouraging the use of contactless paying – over 30 countries increased contactless payment limits just recently.
PRODUCT COMPARISON: 5 Popular Contactless Payment Rings
VIDEO: How contactless payment works with a smart ring, and which are the main components and technologies involved in the payment transaction.
Device Makers' Challenges
Wearable companies are trying to satisfy the growing demand by pushing new NFC-enabled, contactless payment devices out on the markets. However, many device makers have had to give up their dream of launching a sleek, world-famous payment gadget before it even hit the market. Because building a highly secure, contactless device with a smooth, frictionless payment-experience and global scalability is hard.
The biggest challenges most device makers bump into are, first and foremost, how to provide robust, hardware-based data security and device integrity? Or, how to build a device with a long enough battery life? How to cram all hardware into a tiny wearable form-factor? And, how to do all this, and more, while hitting the right consumer price point?
Infineon's SECORA™ Connect, and the service enrolment partner ecosystem could be the all-in-one solution device makers have been searching for!
Review: Infineon SECORA™ Connect
What's SECORA™ Connect?
Infineon is a company that needs no introductions within the global wearable and IoT device maker community. As the leading semiconductor innovator and provider of security chipsets and modules, its products enable a significant share of the world's wearables, IoT devices, sensors, and roughly half of the world's smart cards. The company leads the contactless payments market, too.
SECORA™ Connect is Infineon's latest addition to its secured NFC-enabled System-on-Chip (SoC) solutions portfolio targeting smart wearables and IoT devices. Device makers can embed it to enable contactless and secured payments, digital identification, public transit tickets, access badge, smart key, and other applications via NFC.
SECORA™ Connect is a turnkey solution that aims to help you develop small, power-efficient, secured contactless wearables and IoT devices, which can scale for the global consumer markets. It includes all crucial components a designer needs – security chip, certified operating system, Java Card applets, and optionally an antenna, and more. On top of all the hardware and software, you get complementary enablement services delivered by Infineon and its ecosystem partners. You can use the same hardware, software, and enablement services for developing both active/boosted and passive NFC devices – which saves R&D costs and time to market. Even system designers with no security or antenna design experience can use it to integrate a power-frugal, secured, and standards-compliant NFC device with a minimal PCB footprint.
SECORA Connect Product Family – Comparison Table
The solution family consists of four products and services optimized for various connected devices and applications. Here's a quick comparison table of key features.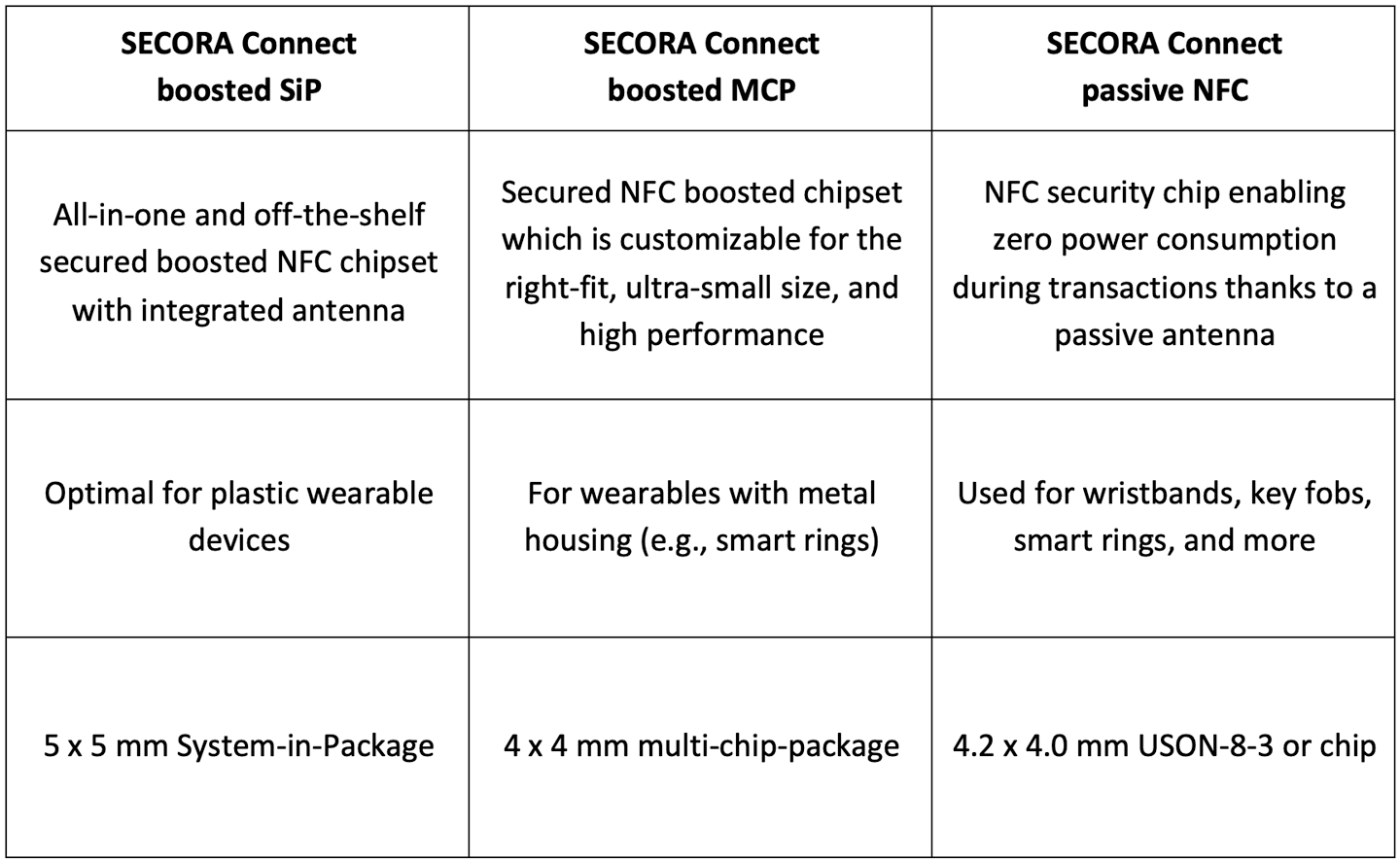 The 7 Advantages for Developers and Designers
1. Power Consumption
As you know, battery life is one of the key decision points for consumers today. Everyone wants effortless usability. So, products that need frequent charging can simply turn-off your buyers!
With SECORA™ Connect, your product will have an advantage over the competition when it comes to battery life. The chipset has an ultra-low power consumption in standby mode – with only 4-6uA with boosted NFC.
According to Infineon, this is at least 50% lower than the competing alternatives while meeting security and tamper-resistance standards and delivering reliable contactless transactions in both the battery-less and low-power active NFC operation.
2. Ultra-Small Dimensions
Size, weight, and dimensions are critical when designing tiny wearables and IoT devices with complex form-factors. Using hardware components with small sizes and flexible dimensions, you can build smaller, slender form-factors and cram in more functionality into the product.
SECORA™ Connect makes the hardware design work easier for you. The boosted NFC version packs all its secured system components and functionalities into ultra-small package dimensions of 5×5 mm – occupying a PCB area of only 13.6 mm2 with SECORA Connect boosted SiP (System-in-Package). This already contains NFC front-end, so no need for an additional NFC modem chip.
If you design products with specific form-factors and materials, the SECORA™ Connect boosted MCP (multi-chip-package) with dimensions of 4×4 mm could be the right choice. The antenna design, contactless performance, and power consumption can be perfectly optimized to the various requirements of your device.
The ultra-compact footprint of SECORA™ Connect gives you more freedom in terms of design choices, allows smaller products, or more space for other components.
3. Security Chip
As said, the most critical challenge for contactless wearable and IoT device designers is security. And it's becoming even more challenging for two reasons. Firstly, contactless payment devices generate more sensitive data than ever before, and the value of the transactions increases rapidly. Secondly, because of the flexible device platforms, you, as a hardware manufacturer, don't have full control over the other applications that the user may install on their device. Also, it is hard, if not impossible, to provide robust security throughout the product life due to continuous OS and 3rd party application updates.
This means that the underlying hardware will have to meet even more robust security requirements. That's why the tamper-resistant, hardware-based security chips and efficient SE field management included in Infineon's SECORA™ Connect are crucial for you as a developer to manage the various security-critical contactless use-cases.
4. Shared Software & Hardware
As a contactless device and application developer, the worst thing you know is to develop the same thing twice for active and passive NFC! No need to worry. With SECORA™ Connect, both active and passive share the same software and system. This reduces R&D costs and development time because of easy and quick system integration without implementing separate software stacks for active and passive NFC devices and applications.
5. Host Integration
The NFC architecture without a modem is optimized for fast and easy host integration – so you can avoid compromises in product functionalities and design. Simple integration with APDU over ISO7816 or I²C commands speeds up development, too.
The SECORA™ Connect evaluation board is based on the Cypress PSoC 6 host controller. This means that you can onboard SECORA™ Connect wherever PSoC is already in use. (Infineon's host controller portfolio follows its acquisition of Cypress Semiconductor Corporation.)
6. Pre-Approved & Pre-Certified
Even if you have all software and hardware designed, done, and tested, your contactless payment product is far from ready – as long as you have not carried out all the global approvals and certifications. These can include EMV, type approvals, and solution approval for end-to-end service enablement. When you reach this point, Infineon and its partnerships can help with security and functional certifications and remove many headaches from your work. Pre-approved EMV solutions shorten certification and qualification processes and lower your risks.
7. Future Roadmap
As you can already see, people will deal more with various digital services in the future. Trusting them to remember all passwords and PIN codes won't scale in terms of security and privacy. Biometric authentication and passwordless login are becoming the de-facto ways to authenticate users. As a product maker, you don't want to miss out on these types of emerging technologies. Using a global development ecosystem, which SECORA™ Connect essentially is, provides developers a concrete roadmap of the key technologies in the future – such as support for biometric authentication and passwordless login!
In Conclusion
The time is ripe for contactless payments. Transactions have been surging in several parts of the world already for years. The global pandemic finally showed the full potential of contactless technologies. However, building a contactless payment wearable is not a walk in the park – not least because of the stringent security requirements. Based on this review, Infineon's SECORA™ Connect covers all aspects of contactless wearable development. For you as a device maker, it simplifies your development work with many critical features such as energy efficiency, compact size, robust security, and global service enrolment – which typically take several man-years to build.