‍McLEAR, one of the top-five contactless payment rings, has updated its RingPay application and now promises to make life even more convenient for its users. The feature-set includes a lot of new; RingPay Rewards, RingPay+, and RingPay Giving will raise the user-experience bar in the smart ring space. But, can McLEAR deliver on its RingPay-promise, and really make your life more convenient? We reviewed the new RingPay. Read this blog and see what we think!
What Does RingPay Do?
RingPay, by McLEAR, one of the pioneering smart ring makers, makes contactless payments fast, secure, and invisible. You can pay purchases of up to £45 and top up your smart ring by simply adding your preferred credit or debit card onto the RingPay app.
The app allows you to track your spending in real-time, control budgets, set automatic top-ups, respect physical distancing guidelines, and in case of loss, instantly freeze your McLEAR ring.
The Ringpay app allows you to export transaction receipts, add up to four McLEAR smart rings to an individual wallet. It even allows you to add multiple funding sources in case you want to balance where you add your funds from.
RELATED: Compare the top-five contactless payment rings
What's New in RingPay?
EXTRA SECURITY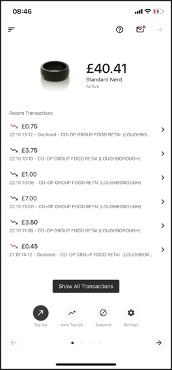 When it comes to contactless payment applications, security is critical. The new RingPay provides a secure biometric app login to give extra protection for your funds when you load money into your wallet and while you're spending it.
Strong Customer Authentication (SCA) is another security technology in McLEAR and RingPay that limits unauthorized spending in case your ring was lost or stolen. Without SCA, the unauthorized spending could continue almost indefinitely or until your funds run out. With SCA, RingPay requires you to periodically authenticate yourself and confirm that the ring is still with you. It prevents endless and unchecked spending should your payment ring end up in the wrong hands.
REWARDS PROGRAM
McLEAR's partnership with parsnip allows you to earn in-store cash back at the growing number of selected retailers in the RingPay Rewards Programme, such as Nike, Foot Locker, Gap, and River Island.
PREMIUM BENEFITS
RingPay+ subscription allows you to save money on everyday purchases. This premium members' club opens access to various discounts and cashback generated through hundreds of merchants across numerous categories, including entertainment ticket bookings, cinema trips, restaurant offers, hotel discounts, and holiday travel deals.
THE GIVING FEATURE
The mission of RingPay is to improve the payment experience, making it faster, effortless, and more rewarding. Whether commuting to work, picking up some essentials, or off on your travels, RingPay by McLEAR gives you peace of mind knowing your finances are safely in-hand. Just kick back and fist pump your way to better spending and awesome rewards. – Daniel Blondell, Chief Operating Officer, McLEAR
McLEAR Ring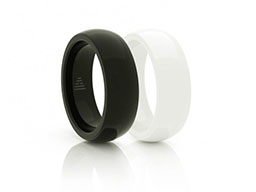 McLEAR is the pioneer of wearable payment technology for consumers and businesses. Its NFC-enabled smart ring and RingPay application are used by more than 100,000 ringholders worldwide currently.
The McLEAR smart ring is scratch-resistant, stress-tested, and waterproof. Thanks to its passive NFC-enabled technology, RingPay requires no battery or charging.
The smart ring was invented by McLEAR in 2012, designed and manufactured to be water and shock resistant, and requires no battery, making it the ideal wearable payment device that fits seamlessly into any lifestyle. The ring users can set rules and manage their smart ring through a dedicated app, giving access to numerous exclusive features and benefits.
The McLEAR ring was showcased alongside their partner Visa at the Rio Olympics, followed by other key events including Super Bowl 51, Eurovision 2017, FIFA Confederate Cup 2017, and the GRAMMY Gift Lounge 2018; where known celebrities such as The Hooligans, Zac Brown, Jeff Timmons, Paul Shaffer, Anthony Hamilton, Shaggy, Louis Fonsi, Kesha, Ice T, and Neil DeGrasse Tyson became Ringholders!
McLEAR works in partnership with Infineon, the leading manufacturer of NFC-enabled secure semiconductor solutions, Visa, Thales, and other financial and technology partners to bring the smart ring to more users; or financial institutions and businesses that are looking to provide their customers with the latest wearable payment technology.
Conclusions – Is RingPay Worth Buying?
The new RingPay feature-set is a significant leap forward in the contactless payment ring space. Not only because of the benefits and perks and charitable contributions. The thing is, the number of contactless wearable payment transactions is now growing rapidly worldwide, and that's why we think it's the extra security that adds value for the users massively!
Back to our original question: Can RingPay deliver on its promise and make life more convenient for its users? Well, the RingPay feature-set included many of the essential functionalities already before this update. But yeah, the new updates definitely add more convenience to your daily use, the extra security is a big, big plus, and the benefits and perks will surely pay back to each individual per her or his own use!