TESLA RING OVERVIEW
‍Tesla Ring is a Smart Key for the Tesla Model 3 car. You can use Tesla Ring to unlock and lock the doors easily, and start the engine of your Tesla Model 3.
It is developed by the CNICK team, and it operates in the same way as the smart card for Tesla Model 3 – using NFC/RFID technology.
Check Out Tesla Ring on Amazon!
Smart Ring News is supported by its audience. When you purchase through links on our site, we may earn an affiliate commission at no additional cost to you.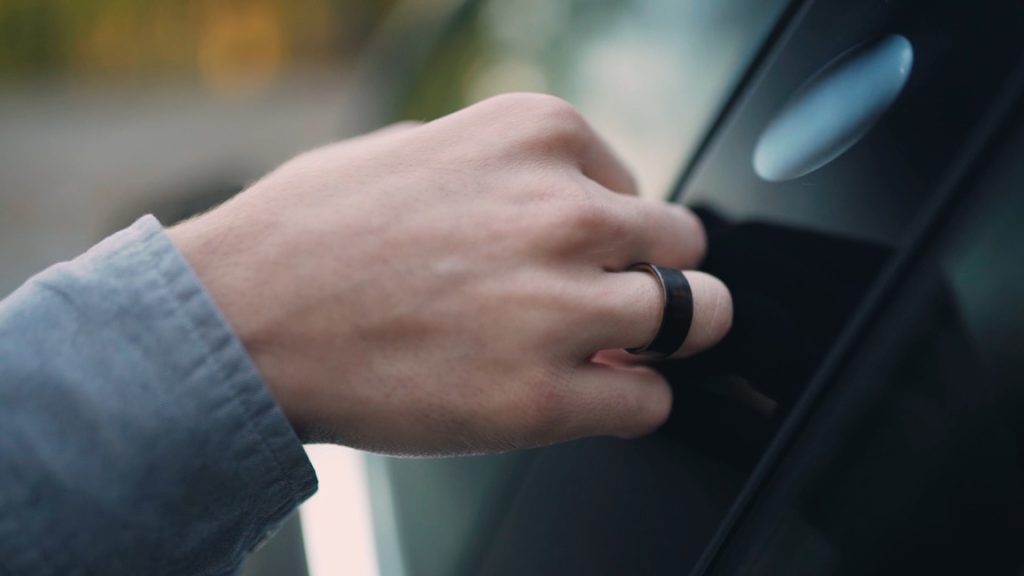 Tesla Ring opening a door.
HOW DOES TESLA RING WORK?
First, you must activate and pair the CNICK's Tesla Ring device with your car. This can be done via Tesla's car app. After the activation, the ring is ready to be used. Here is a video, which describes how Tesla Ring works (Opens Youtube).
Tesla Ring is a passive, NFC/RFID enabled ring. It does not have a battery; therefore, it does not require charging. Please read our blog about NFC-enabled rings to find out how the NFC technology works.
HOW IS THE TESLA RING MADE?
Tesla Ring is made of wood, just like the other CNICK rings. According to CNICK, they are not milled from wood blanks but built from wood strips using wood bending techniques. This manufacturing method provides the ring with a comfortable feel to the wearer. The process is completed by applying a waterproof and transparent finishing on the surface. This makes the ring waterproof and durable, according to the manufacturer.
WHAT MAKES TESLA RING UNIQUE?
There are quite a few NFC-enabled smart rings in the market, which could, in principle, work as a smart key for a car such as Tesla Model 3. However, that's not the case.
The Tesla Ring developed by CNICK is, however, based on the same integrated circuit chip used on Tesla's smart card key. The ring also runs the Tesla Applet, which is required for it to function with Tesla Model 3.