We all know that having a healthier life and being consciously involved in self-improvement are global trends – but, did you know that, better sleep and sleep better are keywords that are searched more than 10,000 times monthly all over the world? If there is one thing that people want nowadays – it is to sleep better! Luckily there is a gadget that will help them do just that – it's the Sleep Tracking Ring. This blog gives you a comprehensive overview of the four best Sleep Tracking Rings: Oura, Motiv, GO2SLEEP, and THIM.
RELATED: Apple Watch vs. Oura Ring – Which is the best wearable for Health and Wellness tracking?
What's a Sleep Tracking Ring?
There are several Smart Ring products on the sleep tracking market that promise you better sleep. But, they are not alike – this article introduces four Sleep Tracking Ring products. You can also compare the rings side-by-side on a comparison table to help you choose the ideal product – find the link at the end of the story!
Oura Ring – Improving Self-performance through Sleep Tracking
The Oura Ring is a Smart Ring product developed to improve your overall physical and mental performance with sufficient restorative sleep. It guides you to regulate your body according to your unique circadian rhythm – this is a 24-hour cycle that sets the natural pace for our bodies and minds. When our bodies function according to their natural pace, i.e. circadian rhythm, then we can optimize our performance.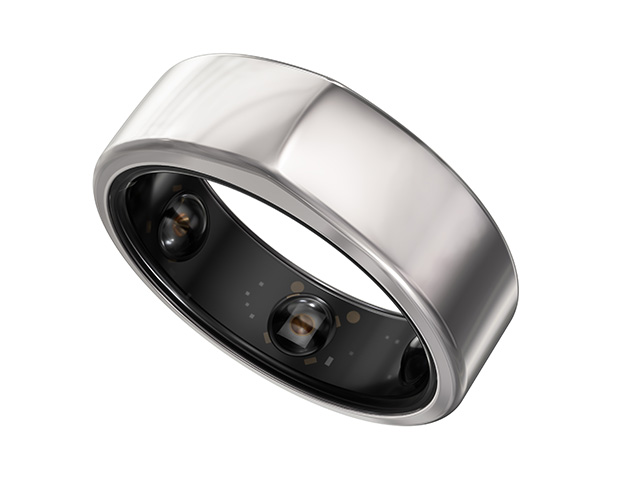 Oura tracks your sleep patterns over time, and includes how much time is spent in various sleep stages. It tracks a wide range of metrics – including your body temperature, respiratory rate, pulse amplitude, heart rate, heart rate variation, and even includes the slightest hand and finger movements.
Via the Oura App, you get recommendations for aligning your daily activities and these include suggestions such as exercising, eating, taking breaks, and sleeping according to your personal circadian rhythm, and nightly restoration patterns.
Moment is a recent feature on the Oura Smart Ring helps the user meditate effectively.
Motiv Ring – For Daily Activity Tracking and Online Security
The Motiv Ring is a wearable activity tracker, which also functions as a smart password-device for your laptop, smartphone, and online service accounts. Very handy for when you are on the road, travelling for leisure or business!
Motiv Ring tracks how much sleep you get each day among all your other daily activities, and calculates the active minutes of the day, from your resting heartrate, to the calories burned, including the activity intensity, number of steps taken during your day, and distance traveled. This ring detects your heart rate from the arteries in your finger and the Motiv App dashboard shows the visualized activity stats.
The Motiv Ring is, first and foremost, an activity and fitness tracker for all your daily activities — including the physical efforts done during commuting, while at the office, and busy doing shopping, jogging and also your gym workouts.
The Motiv Ring automatically detects when you fall asleep – and when you wake up in the morning, and provides you with your sleep duration stats.
The ring has three days of onboard memory and automatically synchronizes data with the Motiv App, when within the reach of Bluetooth connectivity. So, if you have a Motiv Ring, then you are not forced to carry a mobile to track this sort of activity.
To differentiate from other Smart Rings, the Motiv Ring includes advanced online security features.
Worried about security? No more. With the Motiv Ring, you can unlock your laptop, or an online account simply by repeating a series of pre-defined gestures with your ring. It offers a two-factor authentication (2FA) – seen as a second layer of security on top of a password. In addition to providing the first authentication password, the Motiv Ring uses Apple iOS facial recognition or fingerprint for a second degree of authentication.
GO2SLEEP – Sleep Tracking for Controlling Sleep Apnea
The sole purpose of the GO2SLEEP Ring is to provide you with detailed information about your sleep quality, help you to control sleep apnea, and provide advice on getting better sleep.
The ring comes with a mobile app, SLEEPON APP, which you can use to check your sleep quality. This checks your heart rate, blood-oxygen level, Apnea-Hypopnea Index (AHI), rate of how much you toss and turn, and resulting sleep debt.
The Apnea-Hypopnea index measures sleep apnea severity. It is the sum of the average number of pauses in breathing (apneas) and the number of periods of shallow breathing (hypopneas) in one hour of sleeping.
You can check your customized sleep advice tips on the SLEEPON APP. This Smart Ring features so-called smart alerts – if e.g. your blood oxygen level drops due to snoring or bad posture, or for another reason, GO2SLEEP will vibrate and alert you.
THIM Smart Ring
The THIM Smart Ring helps you to improve the quality of your sleep by utilizing the same sleep conditioning techniques that are used by sleep clinics globally.
When you are ready for bed, put the THIM ring on any finger, and let yourself fall asleep. The Ring begins tracking your sleeping based on detected movements, it identifies the moment you have fallen asleep and emits a small soft vibration to wake you up.
The findings are supported by published insomnia research. According to a world-leading scientist, Flinders University Professor, Leon Lack, who also assisted the THIM product development team, repeatedly falling asleep conditions you to sleep better each time around.
The sleep trials are activated during the first 60 minutes of your bedtime. THIM tracks how long it takes you to get back to sleep. As sleep drive increases over time, users can begin to fall asleep quicker.
According to THIM, over a certain period, you can expect to achieve improvements similar to the following:
28-minute reduction in time awake
30-minute reduction in sleep onset latency
67-minute longer duration of total sleep time
The sleep tracking on THIM is based solely on detecting movements. The THIM app connects to the ring via Bluetooth and allows you to program the device and view the measured improvements and results.
Circul – Sleep Tracking with Blood Oxygen Monitoring
Circul is a pulse oximeter wearable developed by US-based medical technology firm BodiMetrics. The ring's main function is to measure a user's blood oxygen levels and heart rate, but it can also monitor your daily activities and nightly sleep. Like the other sleep tracking rings on this list, Circul keeps tabs on four different sleep stages as well as heart rate variability and oxygen desaturation index (ODI) and presents them through the mobile app. Sleep data are stored for up to 12 hours, which you can print, download, or share with others.
What is great about Circul is that it can continuously track capabilities with a higher sample interval, which means better accuracy. The ring, however, consumes more battery, which is not a surprising tradeoff at all considering the circumstance.
In terms of design, Circul is not as sleek, slender and fashionable as Oura. It is more sizeable but not bulky thanks to its well rounded and highly functional design. Circul is adjustable, so buyers don't need a sizing kit and will only choose between small, large, and extra large sizes. Do note that Circul is not waterproof. You can't use it while swimming, bathing, and pretty much any water-drenching activities.
Overall, Circul is an impressive pulse oximeter ring that has some reliable sleep-tracking capabilities.
Related: Oura vs. Circul: Which Is the Best Smart Ring to Detect COVID-19?
Other Smart Rings for Sleep Tracking
Wellue O2Ring continuously tracks your blood oxygen saturation, heart rate, and body movement to help treat snoring problems, sleep apnea, chronic obstructive pulmonary disease (COPD), pneumonia, and asthma. Wellue O2Ring is FDA-registered and used by clinics across the United States.
See the Wellue O2Ring product overview.
Which Sleep Tracking Ring should you Choose?
Well, it depends on what do you want to achieve in your life with a Sleep Tracking Ring!
If you want to optimise your daily rhythm, sleep better, and squeeze more juice out yourself every day, Oura could be your best friend. In case you are suffering from sleep apnea, go and buy GO2SLEEP Ring and say goodbye to your sleep apnea! However, if you want to track your going throughout the day, perhaps you should try Motiv Ring. If you want to practise to fall asleep quicker, and sleep better, the THIM ring could be the best choice for you!
RELATED: Which Apple Watch Model Has the Right Health and Fitness Features for You?
Why are Smart Rings Useful for Sleep Tracking?
The Smart Ring is light and comfortable to use and a very wearable personal device form-factor. It fits neatly on a finger and doesn't fall off easily. It can be worn all day, and all night, and yet, won't disturb the user. A person's fingers provides an unnoticeable and relatively accurate way to monitor – for instance, the heart rate, heart rate variation, arterial oxygen saturation (SPO2) and electrodermal activity (EDA), which are parameters needed for most wellness and health applications – such as sleep monitoring.
Compare the Sleep Tracking Ring Products!
Click to compare four sleep tracking rings side-by-side: Oura, Motiv, Moodmetric and GO2SLEEP.