Token has officially started rolling out its NFC-enabled smart ring, and with it are some cool features that make it a promising wearable device on paper. A fingerprint sensor right on the ring's tiny surface? Cool. But that's just the tip of the iceberg.
In this Token Smart Ring Review, I will do deep-dive into the ring's features and see whether it lives up to its promise to give us secure contactless transactions in both physical and digital spaces. It's not a first, but you will find out by the end of this review how the Token Smart Ring stacks up.
Is it worth buying? Let's find out.
What Does Token Smart Ring Do?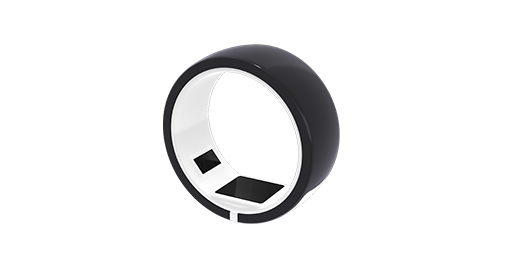 Imagine a car key fob awkwardly dangling from your belt loop. Imagine stuffing your wallet with various cards. Imagine logging in and out of your computer with your password each time.
Carrying different keys for different purposes may overwhelm and stress you out. Not to mention, they can easily be stolen or hacked. This is what Token wants you to take control of.
Token is a NFC smart ring designed as an all-in-one key for both physical and digital spaces without needing immediate contact whatsoever. This wearable device primarily uses a unique fingerprint to work. Token can also be used for contactless payments at point-of-sale (POS) terminals, making it one of the few NFC smart rings with such functionality.
How Does Token Smart Ring Work?
Token keeps all your credentials in one safe place, whether it's your computer password, key card at the office, or credit or debit cards. You need to pair your fingerprint with the device for it to work. Token functions only if it detects the user's paired fingerprint. It lights up when worn by the right user and turns red and automatically locks when the user takes it off. If a stranger wears the ring, it won't function at all.
In the near future, Token can also be used for any transactions that require two-factor authentication (2FA). To activate the Token Smart Ring — whether it's for contactless payments or keyless access — the user only needs to knock twice.
Token's main functionalities are made possible by two wireless technologies — near-field communication (NFC) for contactless payments and keyless access, and Bluetooth to connect with the mobile app.
Token Smart Ring Features
As I previously mentioned, Token's main functionalities are contactless payments, keyless access to physical spaces, and passwordless logins. Let's break them down in detail.
1. Contactless Payments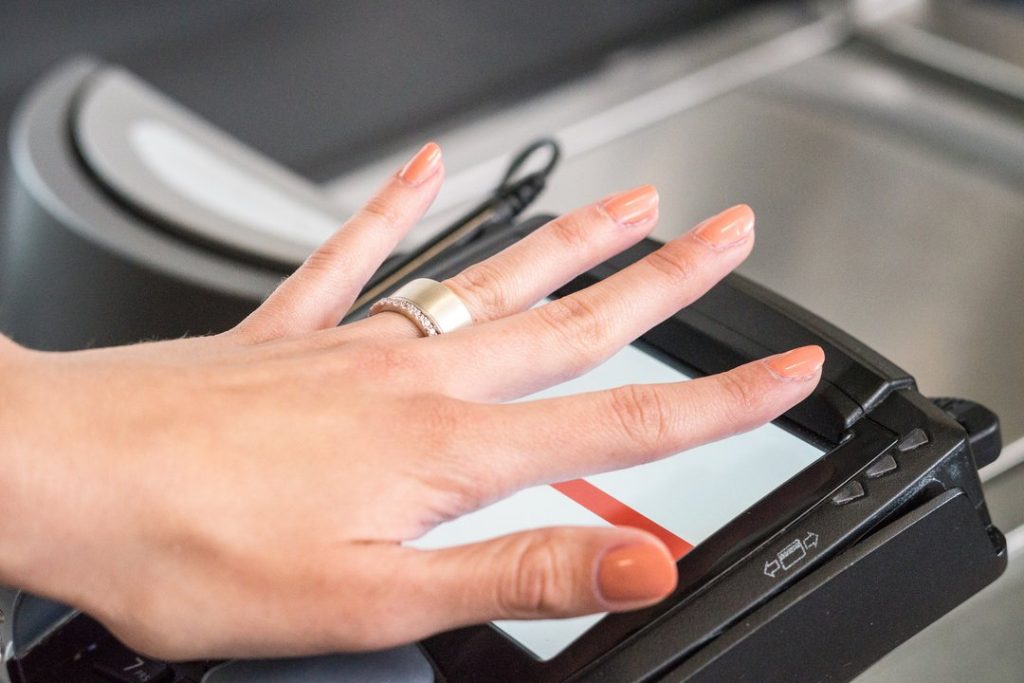 Token pretty much works like when you tap to pay at POS terminals using your credit or debit card. After knocking twice to activate the ring, just hover your ring over a terminal and then wait for the payment to complete. Even if your debit or credit card does not have a contactless indicator, it doesn't matter. Through your Token Smart Ring, you can make touch-free purchases at any merchants that support contactless payments. But of course, you need to register your Visa- or MasterCard-branded debit and credit cards first through the Token app.
Contactless payments in smart rings can come in handy when you leave your wallet or don't have cash. But as you may already know, the tap-to-pay methods of Visa and MasterCard have spending limits. Hence, using the Token Smart Ring is more of a wallet extension rather than a replacement for now.
2.Access Device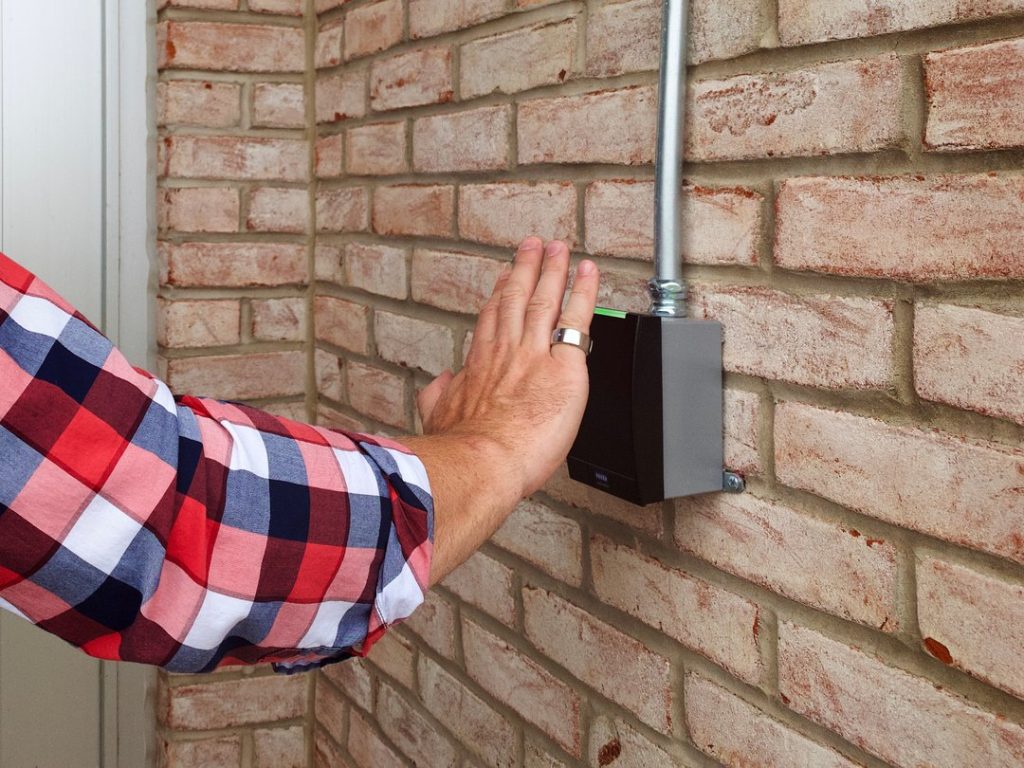 Token is Seos-ready, so it can also store building access credentials. Seos is the technology behind most new-generation smart devices that enable them to be used as identity credentials. Using your fingerprint data paired with automated access control (AAC) entry points, you can have seamless and more secure access to your office, at the gym, etc. Just knock twice, get your ring closer to the access control system, and you're good.
As if this isn't already a nifty feature, the company behind Token has been working on bringing this same seamless touch-free experience to your home, car, public transit, among many other applications, in the near future.
3. Passwordless Login
A handy feature that will soon be available for Token Smart Ring users is the password management through FIDO (Fast ID Online). FIDO stores personally identifiable information (PII) like email addresses, credit card numbers, and biometric data locally, so it's a foolproof security system that's far from any potential data breach. With your fingerprint, you can use Token to log in to your online accounts, whether it's your computer, email, apps, or social media.
Token also will soon support two-factor authentication (2FA) logins, wherein it verifies a login attempt. Two-factor authentication usually involves a phone number and/or email address, but in this case, the ring will be used for authentication.
Things You Should Know About Token Ring
Is Token hack-proof? How long does Token last? Is it waterproof? Is it compatible with Android and iOS? Here are other important things you should know about the Token Smart Ring.
As with other biometric devices, data security is top of Token's mind. If identity theft, skimming, and other malicious activities compromising your personal data scare you, know that NFC is a tough nut to crack for hackers. NFC requires close proximity to work — just a few centimeters, in fact. Hackers will have to be in close range before they can steal anything from you.
Regarding Bluetooth, there's no harm in using it to transmit data from your ring to your smartphone, unless there's a data breach that will happen on the app or on Token's server where your data is stored. But I doubt if this will happen as you will only use the app to set up the ring and manage your credentials (not store). As mentioned, your credentials will be stored locally inside the ring's EAL5-certified storage.
Finally, if you are worried about the forthcoming passwordless login feature, FIDO provides more robust security than password databases (like Apple's iCloud Keychain, Google Password Manager, and other mobile apps for password management) because it stores data locally, not in an external server 100 feet down the ocean floor in Scotland. The point is — personal credentials stored in your own device's local storage is safer from any breach than external servers.
In terms of design, Token does not disappoint. It's made from 316L stainless steel, making it durable enough to withstand harsh weather conditions. The waterproof body, coated in jewelry-grade precious metal, is slender enough to be worn comfortably. The 508 dpi capacitive touch fingerprint sensor is discreetly placed on the ring's surface like it doesn't exist at all.
The ring comes with a wireless charging kit, including a ring stand to keep your ring powered up while at rest and ready to be used as you go. Each full charge can last you for up to 7 days.
The Token app has a user-friendly interface that will give you a smooth experience. You can use it to set up your ring and add your credentials. On the app, you will also see your ring's battery life and whether your ring is connected. The Token app is free to download on the Google Play Store and the Apple App Store.
Token Smart Ring Price & Availability
The Token Smart Ring costs $349 in both brushed silver and black carbon finishes. Seven sizes are available to choose from — 6 mm to 12 mm. Each ring comes with a year of warranty to cover buyers from manufacturing defects.
Token's availability is currently limited to the United States as of now. Be sure to check out their website for updates.
Token Ring Review Verdict: Is It Worth Buying?
There are no other smart rings yet that do what Token does. NFC rings like Mclear and K Ring each have contactless payment capabilities (and a transit pass that currently works in London), but their feature-set ends there. Xenxo S-Ring has both contactless payments and keyless access, but that's it. Token rolls three major functionalities — contactless payments, keyless access, and passwordless logins — into one ring. And this, I think, is enough reason one would or should opt to buy the Token Smart Ring.
Who should buy the Token Smart Ring? Well, anyone really who wants to carry their purchasing power right through their fingers will get the most out of the ring. But among others, corporate people are the ones who can take full advantage of the ring's features, thanks to the streamlined approach to daily transactions in digital and physical terms. With the addition of passwordless logins later down the road, this smart NFC ring may start to become an attractive wearable among remote workers and location-independent entrepreneurs as they are living most of their lives digitally.
Check Token Ring's tech specs.