The days of being stuck sitting in front of a computer are over, according to Genki Instruments, the design-driven, Iceland-based tech company. They developed Wave for Work, a gesture-controlled smart ring that allows you to manage popular computer applications with the click of a button.
If you are one of the many people working remotely from home, Genki Instruments' new smart ring promises to make your days at work, at home, more flexible. With Wave for Work you can manage your favorite applications, including Zoom, PowerPoint, and Spotify, with the press of one of its three buttons or a simple hand gesture.
In 2018, Genki Instruments launched the original Wave smart ring to allow music lovers and professionals to shape sound, control effects easily, and send commands using intuitive gestures. When the pandemic forced the Genki team to shift to working remotely, they realized that the Wave software could be updated to address the new realities of working from home. This led to the creation of Wave for Work.
"As our team began to work from home at the start of the pandemic, we realized that our Wave ring could streamline our workflow by managing the programs that we started using daily, like Zoom and Skype," said Ólafur Bjarki Bogason, CEO of Genki Instruments.
The Wave for Work ring is based on Genki Instrument's core gesture controlling technology and the same hardware as its predecessor smart ring, the MIDI controller ring. However, Wave for Work is redesigned to control applications that many of us use throughout the workday. With Wave for Work, people are no longer constrained to their desks during presentations or video calls. They can sit back, stand up or walk around their homes while still controlling work applications with the ring.
RELATED – Reviewing the Wave by Genki Instruments MIDI Controller Smart Ring
How does it work?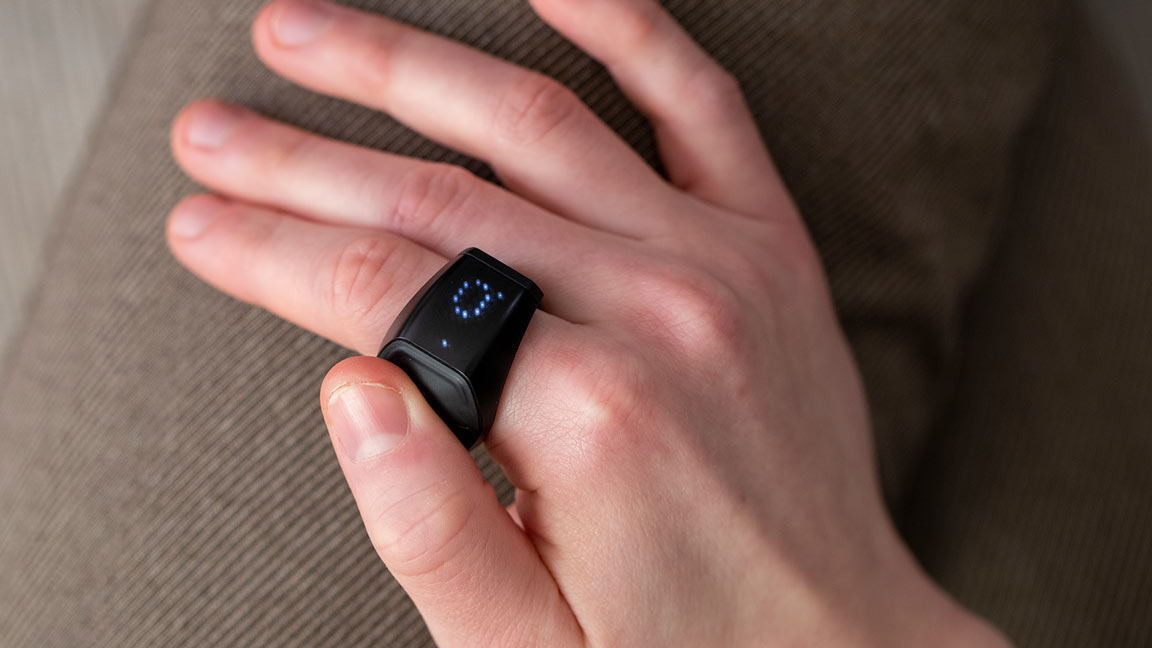 Wave for Work is an adjustable ring worn on the index finger with its three buttons facing the thumb for easy control. It connects instantly with macOS and Windows 10 computers through its accompanying software. Once synced with a computer, you can customize the experience by assigning tasks to control your favorite applications, such as adjusting the volume on Spotify, muting yourself on Zoom, and switching between presentation slides in PowerPoint. Through its proprietary real-time gesture engine, you can also pair commands with a roll hand gesture. Wave for Work's display allows you to see commands directly on the ring. You can see a video of Wave for Work in action here.
What Can You Do with the Wave for Work Ring?
With a 10-meter (30-foot) operating range, you can easily navigate and control tasks from anywhere in a room. Wave for Work is compatible with popular programs, including Zoom, Microsoft Teams, PowerPoint, Keynote, Spotify, Photoshop, OBS, and many more. Tasks that can be managed from the ring include: ‍
– Video calls — Mute, push-to-talk, manage cameras and raise-a-hand, on popular call and video conference programs.
– Presentations — Start a slideshow and click through slides using the Wave for Work buttons while standing away from a computer and keeping hands free during a presentation.
– Music — Play, pause, skip, fast forward and adjust the volume to control music streaming services, podcasts, and more.
– Custom — Create shortcuts and personalized tasks for most-used programs and actions.
More about Wafe for Work
Wave for Work ring is available in black, its rechargeable battery lasts eight hours, and pricing starts from $99.
About Genki Instruments
Genki Instruments was founded in 2015 in Reykjavík in Iceland. It is an award-winning technology company that develops products on the intersection of technology and design to make technology feel natural. The team believes that people should never have to change how they express themselves to fit the devices around them. Genki Instruments' first product was Wave, the MIDI controller smart ring that allows musicians to control sound.