There's been an ongoing debate online among health and wellness enthusiasts about which wearable device is the best for sleep, activity, and recovery tracking. Two devices that have always been pitted against each other are Oura, a smart ring, and Whoop, a fitness band. Though they've got a totally different form factor, both wearables track almost the same set of metrics — sleep stages, heart rate, calorie burn, and a few other things. But, which device does it better?
In this Oura vs. Whoop review, we dive deep into the nitty-gritty of these wearables and compare which has better execution on a few different scales, mainly when it comes down to sleep monitoring, activity tracking, and recovery tracking. We will also talk about design and pricing later to wrap up this comparison review. Without further ado, let's get started.
Features & Functionalities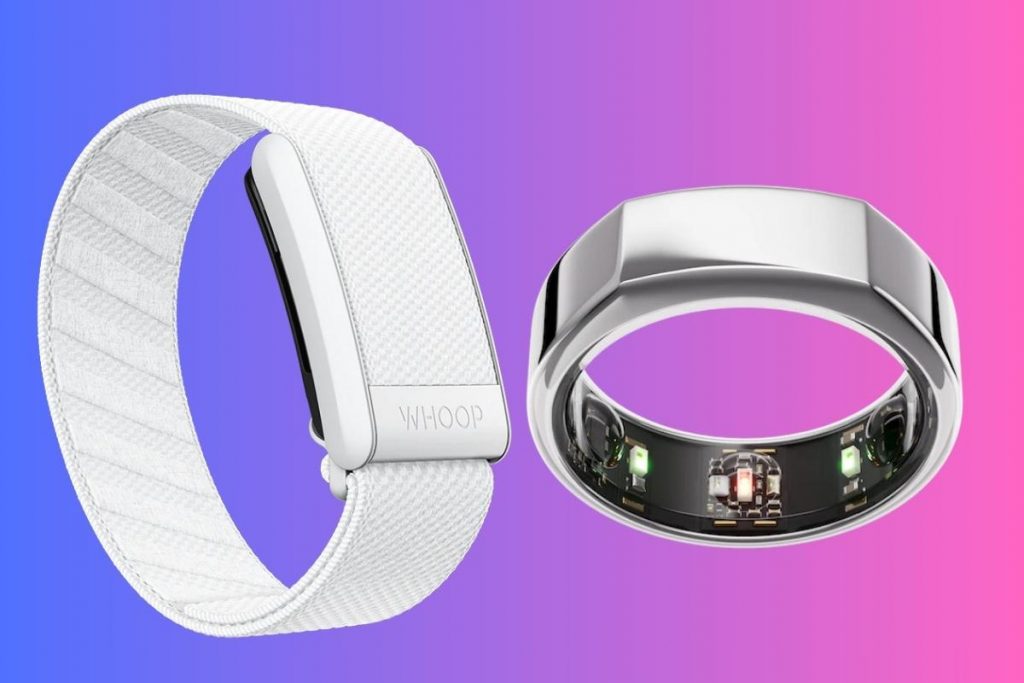 You're likely most concerned about the features and functionalities of these devices and how they differ from each other, so let's get that out of the way first. Whoop and Oura are very distinct in terms of form factor, but they share a lot of things in common, particularly in the functionalities department. To give you an in-depth look at these wearables, get to know their inner workings first.
Sleep Monitoring
There are only a few wearables that nail sleep monitoring down; Oura and Whoop are two of them.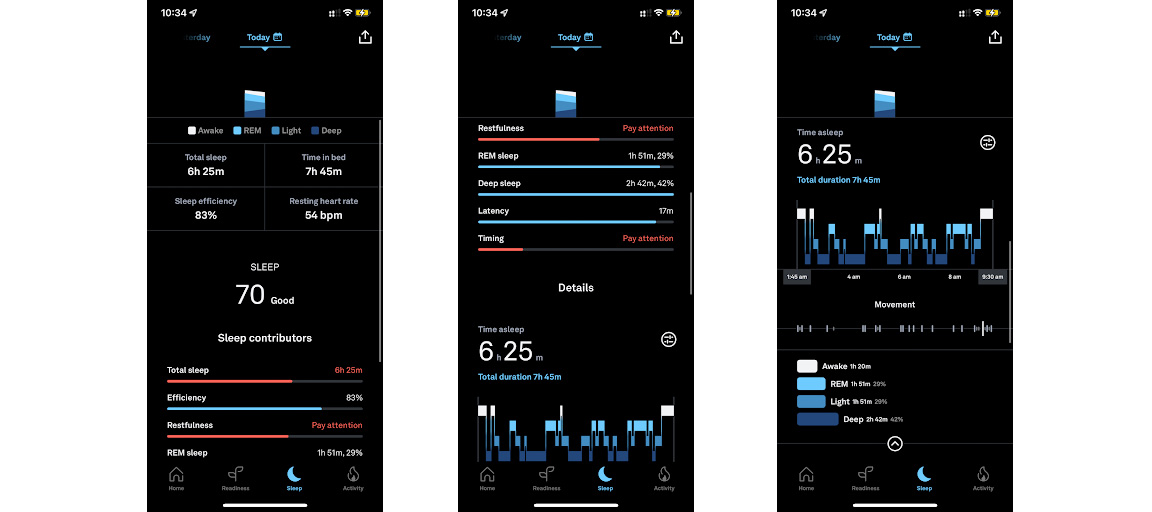 Sleep tracking is Oura's game; it's the ring maker's raison d'être that helped it achieve kind of whirlwind success and earn its spot on the elusive global wearable tech map. Oura tracks a bunch of sleep contributors, including total duration, time in bed, the number of times your heart beats per minute when you're at rest (resting heart rate), sleep stages (REM sleep, deep sleep, and light sleep), when you fall asleep (timing), and how long it takes for you to fall asleep (sleep latency). And this is exactly what I rave about Oura so much (to a level my friends wouldn't understand) is that it gives me thorough details about my sleep patterns. From these contributors, Oura calculates sleep efficiency and restfulness, giving you a comprehensive peek at your nightly rest, and therefore allowing you to know where you can improve.
Oura has a sleep score system that ranges from 0 to 100. You should aim for 85 or higher for optimal sleep performance; 70 is good, while below that is something you should look out for. Sleep deprivation is the biggest factor for low sleep scores, affecting your sleep balance. For someone who used to struggle so much with insomnia, Oura had been a massive help for me to get better at my sleep habits. With the third-gen Oura ring, sleep staging gets a major upgrade that closely matches the gold standard for sleep lab testing.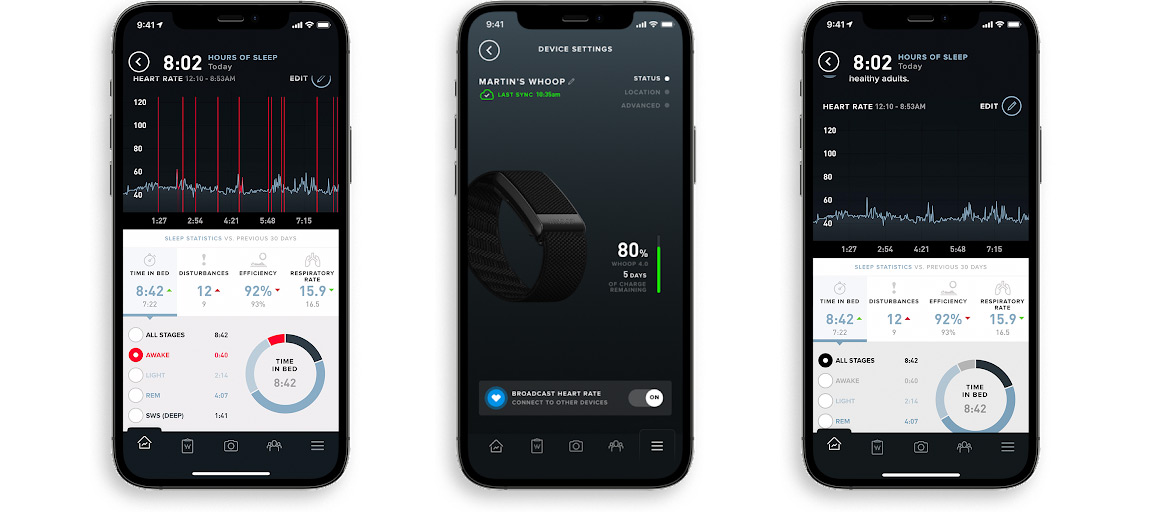 Whoop is as phenomenal as Oura in this department. It keeps track of pretty much what the smart ring tracks, including respiratory rate, heart rate, disturbances, and movement patterns. While Oura uses scores to evaluate your sleep, Whoop uses targets to help users achieve their performance goals — 100% to get the best you, 85% to get the right amount of sleep to recover, and 70% just enough to help you get by. Neither is bad at all.
Unlike Oura, the band also monitors ambient temperature and electrodermal activity (EDA). While electrodermal activity is very useful for stress management, the ambient temperature seems subpar to be used for health and fitness management instead of using an actual body temperature. The thing about ambient temperature is that it could affect the reading of your sleep. Not just sleep tracking in all honesty — it could also affect how Whoop could deliver recovery results.
Despite that, Whoop determines your baseline sleep need according to your profile and trends in the past few days. Your baseline sleep need is determined based on how tired your body is (recent strain), how much sleep you have lost (sleep debt), and how much nap you have taken recently. I'd say Oura slightly has an edge over Whoop just because of how data-driven, accurate, and insightful it is.
Related: Apple Watch vs. Oura: Which Is the Best Health and Wellness Companion?
Activity Tracking
Activity tracking isn't Oura's strongest suit, though it's a decent one. It's limited to 50+ activities, including HIIT, core exercises, mountain biking, surfing, and even household chores. Meanwhile, Oura's Automatic Activity Detection (AAD) automatically detects your physical activity and suggests the time, duration, type, and intensity of activities you do. It is a minor detail in its feature set that you can't miss.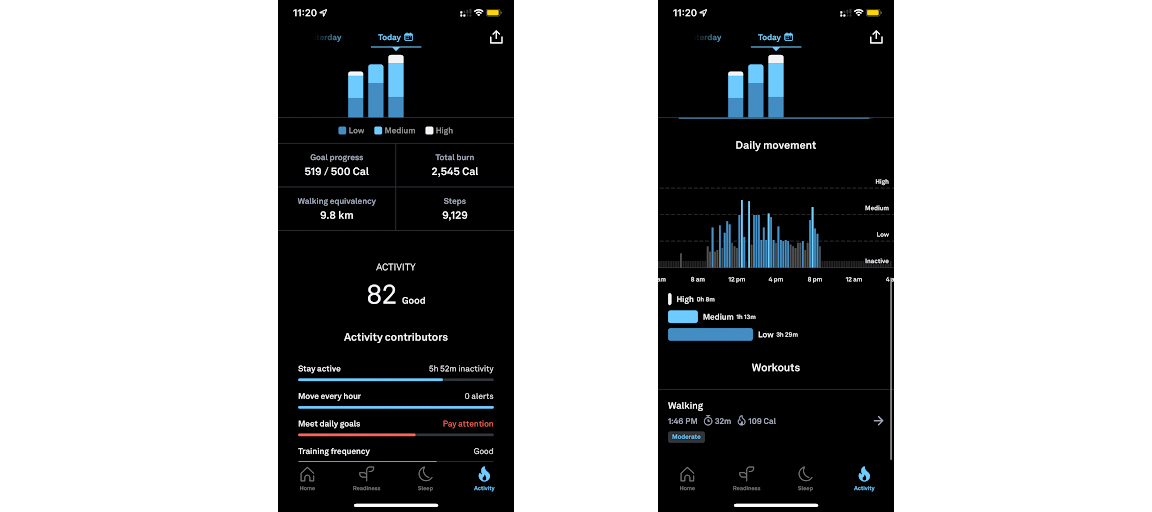 The activities, however, have to be longer than 10 minutes so they can be added up. It's useful if it works right; unfortunately, it's a hit-and-miss. The accuracy is very off a lot of times, and you really need to be careful when confirming suggested activities without tagging them appropriately because Oura will take note of that next time and therefore your future activities can be wrongly tagged. Overall, Oura needs to add more activities and improve AAD to make the most out of this feature. If you want to use Oura mainly for your workout, it's not a good idea at all. Oura doesn't give you data on lifting weights, though it says it can detect strength training. Any activities really that involve elevation, Oura is a hard pass.
I've been using this feature for a long time, but I haven't seen it improve. I wish Oura takes this functionality seriously and puts it on a major upgrade because it's a promising functionality.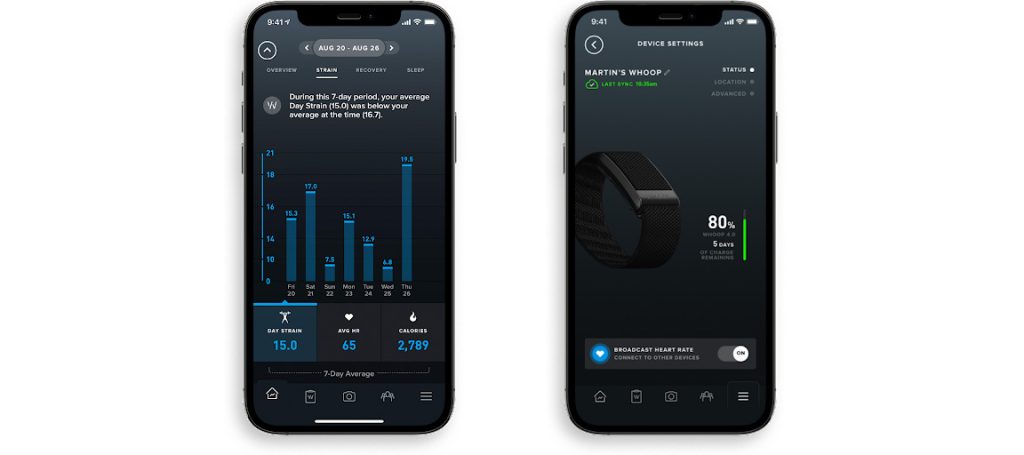 This is where Whoop outshines Oura — and rightfully so. Whoop, after all, is a fitness band designed to track activities and workouts. Whoop looks at activity tracking in a holistic way, going beyond activities by including 'Strain,' which measures how much exertion you are putting on your body both mentally and physically. Strain is affected by a lot of things such as workouts, work, running errands, and other active movements (including parenting). More amazing is that it takes the anxiety and other stressors into account. Strain is scored from 0 to 21 — 0-9 is a light strain which means stress is minimal and can easily be overcome; 10-13 is a moderate strain which means the body goes through moderate stress to maintain fitness; 14-17 is a high strain which means your body is under a lot of stress or activity which can help build fitness gains in your training; and 18-21 is overreaching which means you're having a day full of training Overall, this is something people who work out will love.
Overall, both Whoop and Oura have weekly trends that you can access right through the app where you can gain insights into your daily and weekly activities, average heart rate, calorie burn, and more. But if you're looking for a device mainly for fitness reasons, Whoop is the better option.
Related: The Ultimate Smart Ring Buyer's Guide
Recovery Tracking
Another functionality that I think makes Oura and Whoop so valuable is recovery tracking.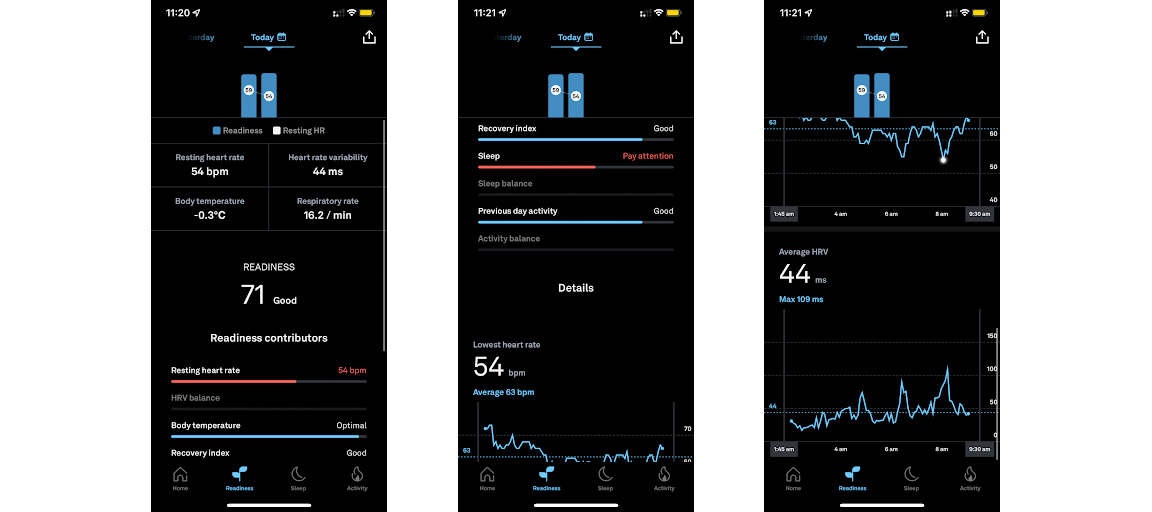 Oura has a score called 'Readiness' (up to 100) that measures how prepared you are to take on tasks for the day, which is basically a recovery metric. Several factors contribute to this nifty metric, including your lowest overnight resting heart rate, body temperature, and previous day's activity as well as sleep and activity balance and heart rate variability. By the way, these balance-oriented metrics are weighted averages, not just day-to-day fluctuations, which means Oura compares your average over the past 14 days (with the past 2-5 days having a little more weight) to your long-term average over the past two months. For instance, activity balance looks at how much physical load your body has been in the past 14 days compared to how much physical load your body has become used to over the past 60 days. But if you had a tough workout 2-5 days ago, that would affect your activity balance score a bit more compared to a workout you did 8 days ago.
Oura considers above 85 to be optimal, which means you're free to take on the most challenging tasks for the day, while between 70-85 is considered good. If your score falls below 70, this is when Oura reminds you to pay attention to your body's recovery and avoid heavy activities. In such a case, Oura will suggest a thing or two to help ease up your body's recovery, whether it's taking a nap, doing lighter activities, or meditating. Overall, Oura's recovery tracking is pretty good, something I always come back to every day.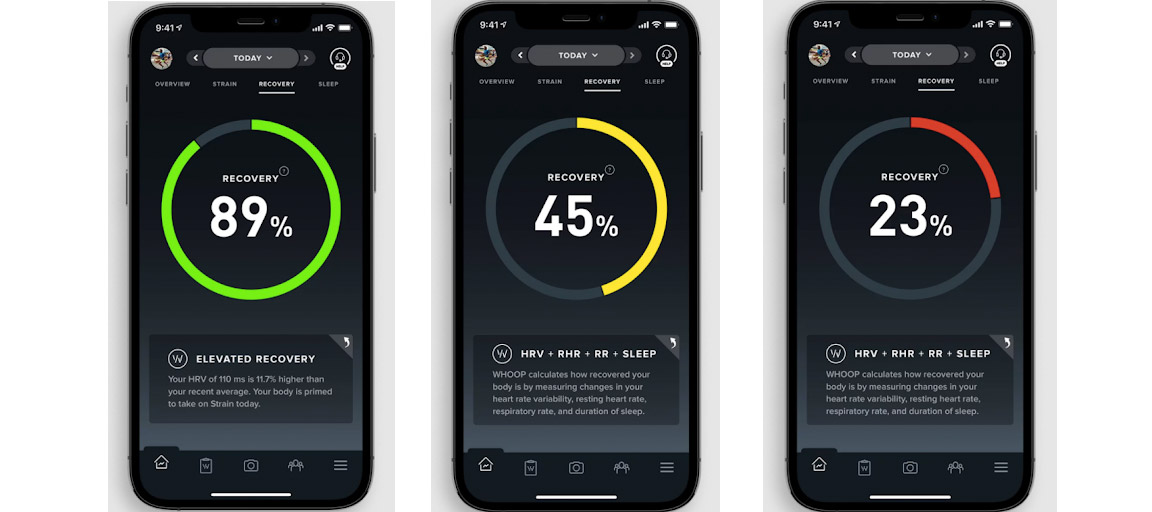 Whoop's recovery scoring is based on key biometrics like HRV, RHR, and sleep performance. Scored from 0-100%, Whoop's recovery uses color codes to signal how recovered your body is — green means well-recovered and ready to take on tasks no matter how hard it is; yellow means you're doing okay and can handle moderately strenuous day; red means your body badly needs rest to get back on track. What I love about it is that when you're sick or you had a full day at the gym, Whoop's suggestion to get a much-needed rest is usually very accurate.
Oura's use of sleep and activity balance to evaluate a user's recovery is far superior in all honesty. In addition, Oura's HRV reading is much more accurate and I suspect this is because the ring is a better form factor for heart rate monitoring than a wrist band. All in all, if your main goal is to track recovery AND know when to work out hard or slow down, Whoop is never a bad option.
Related: Best Smart Rings You Can Buy Now
App & Analytics
Both Oura and Whoop come with a mobile app for Android and iOS devices that support a host of other third-party apps. In terms of data collection and analytics, the devices fulfill their purpose, giving you a wide range of metrics as well as insights. With some metrics like heart rate, Oura is more accurate considering its form factor. Other than that, there's no doubt both devices have robust data collection and analytics with weekly and monthly trends that you can access through their mobile apps. At the end of the day, choosing between the two should come down to what you want to use the device for.
Design
Whoop and Oura are two very different wearables in terms of form factor. As a ring, Oura can be worn day and night, and with its inconspicuous slim build, you're like wearing an accessory that looks exactly like any regular ring. As a fitness band, Whoop can be less versatile and comfortable than Oura if worn 24/7. I've heard from some people that they wear it all throughout the day (yes, even when asleep). But if you're like me who doesn't feel comfortable wearing a wristband during sleep (it makes me feel I'm being handcuffed and it's giving me nightmares), be reminded that it can get a bit annoyingly restrictive to wear, let alone wear it snugly in order to capture sleep data well (although some users wear their bands on their arms).
Battery
You might confuse Oura's tiny body with having only a small facility to accommodate a battery. Don't. Oura can survive for up to 7 days after one full charge, while Whoop can last for 4-5 days. Each complete charge of Whoop takes 2 to 3 hours, whereas Oura can be charged in full in 20-30minutes. Whoop 4.0 uses a USB-C cable charger, while the older generation uses a micro-USB cable. Oura uses a USB-C cable. Both devices allow you to view battery status right through the mobile app.
The good thing about Whoop is that its tiny battery pack is now waterproof, so you don't need to take the device off your wrist while taking a bath, which no other fitness bands, as far as I know, can do. In addition, Whoop has a way for you to find out how low the battery is by double-tapping the device. The LED on the side turns red if the band is 1-19% depleted, yellow if 20-49% used, and green if 50-100% charged. You don't get this from Oura.
Related: The 4 Best Sleep Tracking Smart Rings That Promise Better Rest
Protection
Oura and Whoop are both waterproof and dustproof but on different levels. Oura is classified with 10 ATM protection, which means you can use it underwater up to 100 meters for 1 hour without worrying if it's going to survive water pressure. The electronics underneath are fully sealed and fully protected from water, dust, moisture, and other liquids. I went swimming, snorkeling, cliff diving with it several times and it's been doing fine. It's not recommended for freediving and scuba diving.
Whoop, on the other hand, is IP68-rated, which means the band can be used for swimming up to 10 meters for 2 hours. You can sweat your heart out, take a shower with it, and still not worry about the band getting wet. Do note that only Whoop 4.0's battery pack is waterproof; the battery pack of older bands is not.
Color Options
Oura is available in two different styles — Heritage and Balance — and in a few different colors: silver, black, stealth black, and gold colors. Heritage has a flattened edge all around, while Balance has a pointed part. Whoop bands come in a variety of colors: arctic gold, ivy rhodium, onyx rose gold, lava pink, heather, fluro yellow, arctic, ice, onyx, stone, and tundra.
Sizing & Comfort
Whoop bands have universal sizing. You can adjust them accordingly. The battery pack of Whoop 4.0 is slightly smaller than that of 3.0 and 2.0. As rings are more dependent on fitting for them to work, Oura comes with a sizing kit with different ring sizes for you to try on before you get the actual ring. The kit has eight sizes from 6 to 13 mm. Oura encourages you to test the best fitting ring for at least 24 hours to make sure you get the best ring size.
When it comes to comfort, I've heard complaints from other Oura users that they've been uncomfortable with the ring. Many of them either used the ring for the first time or are not used to wearing rings. It definitely takes a lot of getting used to, just like me who was not used to wearing a ring. But now, it's been doing fine, especially when sleeping. It's not restrictive, so it doesn't bother me anymore. For the band, it's not a problem when working out, but when it comes to sleep time, it might be a little restrictive to have something wrapped around your wrist. But that's just me though — to each their own.
A lot of people don't wear Oura while working out. It's what Oura recommends, too. Well, I do wear mine for more than a year now, even when doing chest presses and deadlifts. I believe Oura's ceramic zirconium is too durable to break and strong enough to protect the electronics underneath.
Related: Best Activity Tracker Rings to Help You Hit Your Fitness Goals
Pricing & Availability
Pricing is something Oura and Whoop are very different as you have to choose between a one-time price or a monthly subscription. The Oura 3 costs $299 with an optional membership fee of $5.99 per month. Oura membership is free for your first 6 months. Oura also offers flexible installments plans for qualified individuals.
Whoop has a subscription-based pricing model, costing $30 per month for a monthly plan, $24 per month for a 12-month plan, and $18 per month for an 18-month plan. If you want to become a pro member, you'll need to pay an additional $12 per month.
All in all, Whoop can get really expensive if you're planning to use it for long. Some users think it's not worth it, but if you have the money, Whoop can be a good investment as part of your fitness arsenal.
Whoop vs. Oura: Who Wins?
To be honest, choosing between Oura and Whoop can leave you with a tough decision. However, you can't really go wrong either way as both devices are spectacular health and wellness companions. If this is a life and death situation and you have to choose, here's how you can look at it.
In terms of activity tracking, Whoop clearly takes the cake. Dare I say that it's not even neck and neck. Whoop just does it way better than Oura. As for recovery tracking, it's a toss-up between Oura and Whoop. If it's sleep monitoring that you're more interested in, Oura is the perfect option.
Final verdict: If you are concerned with religiously tracking your daily workout and recovery but not so much with sleep, Whoop is the better option here. If you are looking to monitor your sleep and recovery but not so much with workouts, Oura is the better option. At the end of the day, it all boils down to what you really want to use the device for.
If you want to try both but your budget is limited, here's what I suggest: try Whoop first. Your first month's subscription costs $30 only. You don't need to cough up $300 outright for Oura.
I hope this comparison review has helped you decide. Do you have questions about these devices? Leave them in the comments.