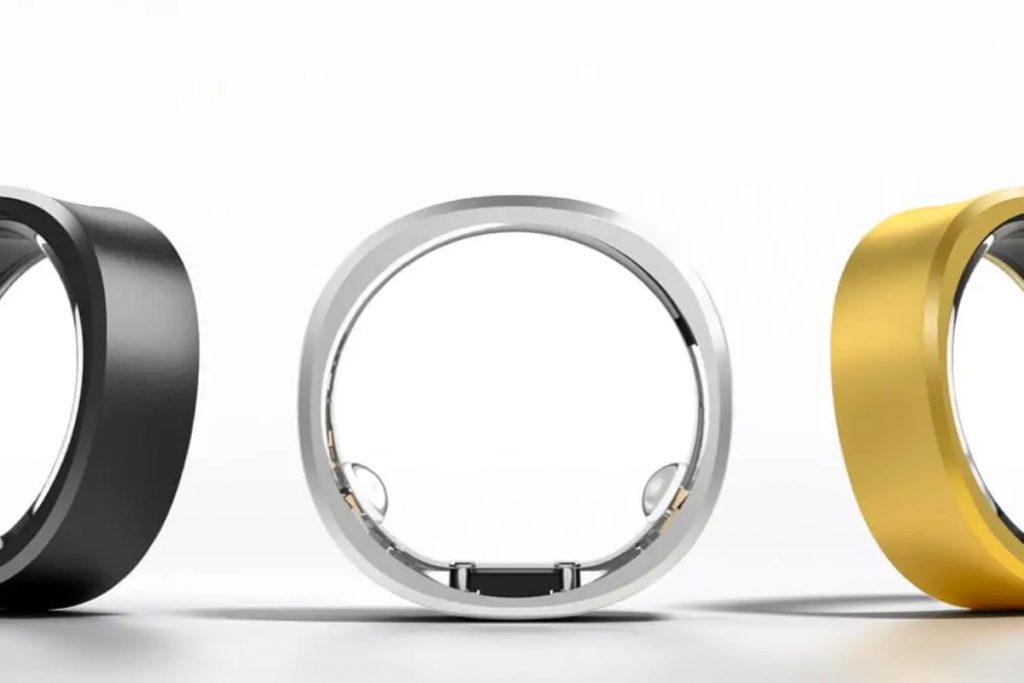 An Oura Ring challenger has finally arrived! After 6 years in research and development and 2 years in crowdfunding, RingConn has shown to be a worthy contender, packed with very familiar features and functionalities. If you have been up to speed on smart rings, looking at RingConn right now, you know that it looks just like another health and fitness wearable coming for Oura. Although there's nothing with that (we love options by the way!), it looks to me like RingConn has some proving to do at this point. How does it stack up?
Well, I dug deeper into the technology inside the smart ring to find out how accurate it is and whether it's worth buying over Oura or other options available on the market. I found a couple of interesting things that you might want to know. So you better read on!
What Is RingConn Smart Ring?
Before diving into the nitty-gritty, what is RingConn anyway? What is it trying to achieve? Simple. RingConn markets itself as a health and wellness device promising to deliver accurate data. Pretty much Oura, to be honest. But of course, RingConn is trying to carve a niche of its own.
RingConn puts heavy emphasis on its no-subscription fee business model. It sounds nice considering premium memberships have become a thing in the past couple of years among wearables. But do not veer away from the real issue here and look at how the device fare. Does it really measure up to its claim as the ultimate health and fitness wearable device? You're about to find out!
Features and Functionalities: What Does RingConn Do?
Sleep Tracking
RingConn can automatically track your sleep, from the moment you turn in until you wake up. It records and analyzes your sleep patterns, including light, deep sleep, and REM stages. RingConn uses 4 temperature sensors and a 3-axis accelerometer to detect your sleep as well as its quality.
Some metrics it produces include sleeping heart rate (your heart rate while sleeping), sleeping skin temperature (your skin temperature while sleeping), sleep duration, and sleep time ratio. RingConn rates how excellent, good, or bad it is based on the data it pulled from your body.
One thing I like about its sleep tracking is the graph showing the number of hours and minutes you spend on the stages of your sleep on top of the shared percentages. This is clearer and more understandable to the average user.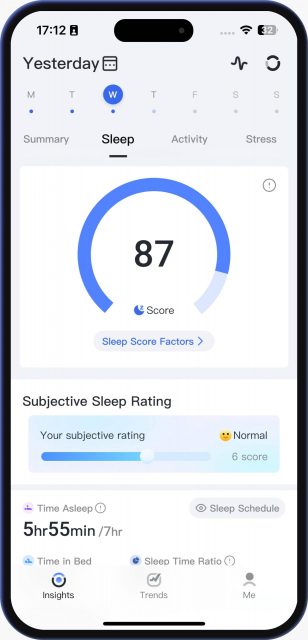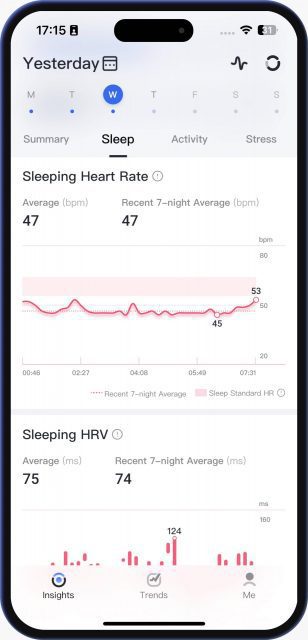 Heart Rate Tracking
RingConn can monitor heart rate continuously and store data 24/7 that you can access at any time. It also keeps track of your resting heart rate (RHR), heart rate range, as well as your average heart rate to make sure you get a comprehensive view of your vitals. If you have a heart-related disease, RingConn is a useful device to help you keep tabs on your heart rate.
ALSO READ: Oura Ring Test – What's the Verdict After Using it for 30 Days
Blood Oxygen Level (Sp02) Monitoring
RingConn is packed with 4 photoplethysmograph (PPG) modules for tracking your blood oxygen saturation levels or simply the amount of oxygen in your blood. The normal blood oxygen level is between 95%-100%, although it may vary among people. For people suffering from chronic obstructive pulmonary disease (COPD), asthma, pneumonia, lung cancer, anemia, heart failure, heart attack, and other cardiopulmonary disorders, RingConn proves useful. Although it's not a medical-grade blood oxygen device, RingConn delivers useful data just like a pulse oximeter.
Stress Management
There's no single sensor that monitors how stressed a person is. Instead, wearable devices rely on a bunch of metrics to deliver data on your recovery. These metrics include ones related to your heart rates, sleep, and activities, that's why the accuracy of each tracking functionality is fairly important to return an accurate interpretation of recovery. On top of those metrics, RingConn uses 4 temperature sensors to assess how your body is feeling, ultimately helping provide better information on blood pressure, heart rate, sleep, exercise, and over-metabolism.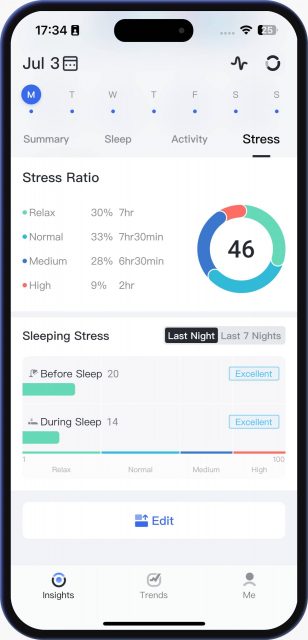 Fitness Tracking
Using a 3-axis accelerometer, RingConn can detect your activities. Unlike many wearables (ahem, Oura), RingConn's accelerometer is accurate enough to automatically detect activities, whether you are cycling, skiing, running, or swimming. RingConn can count your steps and calorie burn. Adding to your active metabolic rate is your basal metabolic rate (BMR) or resting metabolism rate (RMR), which is the number of calories you burn as your body does basic activities like lying in bed or driving.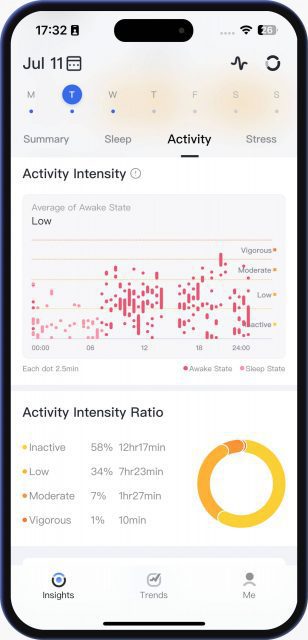 ALSO READ: 5 Best Smart Rings for Payment
RingConn Smart Ring Review: Specs and Design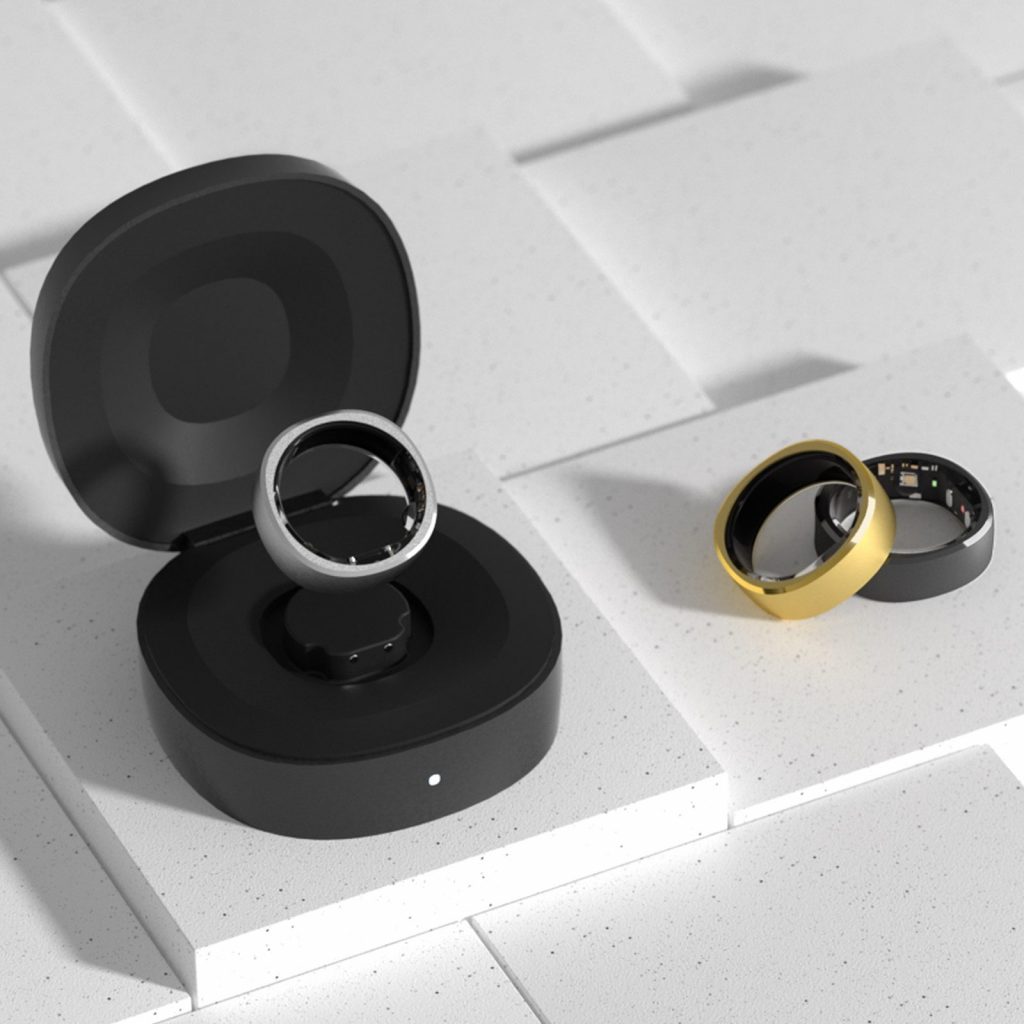 Design
RingConn is made from high-quality PVD-coated titanium metal, that's why it's tougher and lighter only weighing 3-5 grams. Its sleek and slender design is perfect for people who don't want an obtrusive ring, so it looks like your regular ring—only packed with powerful electronics inside.
Battery
Like most battery-dependent smart rings, RingConn can last for up to 7 days. It does come with a portable charging case, enabling your ring to survive for up to 150 days. So even if you don't charge it for months and months, as long as your charging case is there, you're good!
Protection
RingConn is IP68-rated, which means it is water-resistant for up to 50 meters and is dust-proof, hence there is no need for cover to protect the electronics inside the device. This test is usually done on freshwater, so these companies don't recommend freediving or scuba diving with your smart ring. However, I used mine while freediving several times and I had no problems so far. Although, you need to take note that saltwater can quickly erode your device.
Comfort
In terms of comfort, there's no question about it. Smart rings work just like any other regular ring. As long as you are wearing the right size, you should have no problem with it. When used for sleep, a smart ring is always more comfortable than a smartwatch—that's for sure!
ALSO READ: Smart Ring vs. Smartwatch: Which Is the Best Fitness and Activity Tracker?
RingConn Smart Ring Review: Pricing and Availability
RingConn costs $279 with free shipping. For a limited time, they are offering a $30 discount until August 31. The smart ring is available in moonlit black, midnight black, and pale gold, in sizes 6-14 mm.
Each ring comes with a charging case, a USB-C charging cord, and an instruction manual. If you don't know your ring size yet, they can send you a free sizing kit for free before sending the actual ring. Your smart ring will be covered with a 1-year warranty.
Unfortunately, RingConn is not available worldwide. RingConn is currently available to 22 countries and territories, including the United States, the United Kingdom, Canada, Australia, New Zealand, France, Spain, Germany, Italy, Singapore, Japan, Hong Kong, and China. It should be available to more countries and territories soon.
To order RingConn, visit their website.
The Verdict: How Accurate Is RingConn Smart Ring? Is RingConn Worth It?
Since RingConn is still in its early stages, it's difficult to judge whether it's accurate or as accurate as the other wearables of its kind. But I will say this though—RingConn returns very impressive metrics on heart rate variability with an 86% correlation with Garmin and Whoop based on our tests. For sleep tracking, the correlation between these devices is 85%.
If you are considering buying a smart ring for the first time, getting RingConn is a viable option. If you have been using similar smart rings, you're fine without RingConn. Really, it's just another Oura Ring, except it's $20 cheaper.
Is RingConn worth it? Yes, it's a robust health and wellness wearable device packed with features and functionalities instrumental to meeting your overall health goals.
What do you think of RingConn?