What's Oura Ring?
Oura is a sleep-focused health smart ring designed to monitor a user's daily activities and sleeping habits and come up with personalized recommendations based on the collected data. Oura uses a variety of sensors for tracking steps, resting heart rate (RHR), heart rate variability (HRV), respiratory rate, and body temperature, among others. All these things are interpreted through Oura's mobile app, giving users scores on three scales — Readiness, Sleep, and Activity — from 1 to 100, 100 being the highest.
About the Smart Ring Test
We tested Oura for 30 days in regular daily and nightly use. The ring was rated on a scale of 1 to 5 in four categories: Purposefulness, User Experience and Design, Functionalities and Tech, and App and Ecosystem.
Purposefulness ⭐️⭐️⭐️⭐️⭐️ (5.0)
We evaluated Oura's purposefulness — how it helps, if it fulfills a genuine purpose, or if there is a need for the device. Find out
Readiness
Oura's 'Readiness' score measures how prepared you are to take on tasks for the day. It is based on contributors like RHR, HRV, body temperature, previous night's sleep, and previous day's activities, among other things.
My 'Readiness' score peaked at 87 for two consecutive days, which is optimal — no complaints at all.
A few days into the ring test, my score tanked to 59 after a rough night. When I say a rough night, I mean I was able to sleep at 2:40 a.m. and woke up after 5.28 hours. This is where Oura warned me to pay attention and gave me great advice on how to take on the day.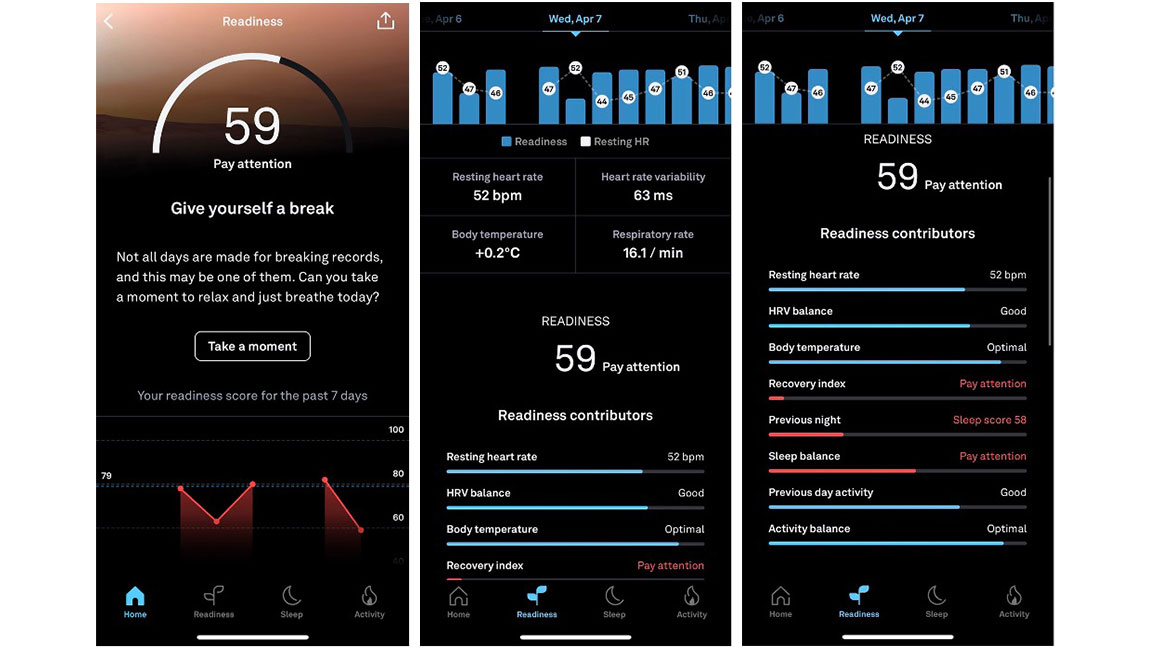 Oura suggested taking a power nap in the afternoon or taking a moment to breathe. I did take short breaks and breathing exercises here and there. Oura has several guided and unguided meditation practices to give your body its much-needed help. But if I have to be honest, I did not feel any significant difference from every time I had restless nights. Although I still felt tired, the breathing exercise I took had somehow helped me keep my focus throughout the day.
Ultimately, Oura is not some kind of voodoo to help users feel good if they need to. It needs some time to understand how your body operates, and most certainly, your body needs more time to heal if it's experiencing so much distress.
Sleep Tracking
The 'Sleep' score evaluates how well you have slept throughout the night. Oura uses factors like total sleep, restfulness, REM sleep, deep sleep, and timing to come up with scores.
As someone with erratic sleeping habits, I figured Oura would give me a clearer picture of this problem. To my surprise, it did not just provide me with sleep data but gave me a blow by blow account of my sleeping stages and which sleep contributor I can improve on. Two nights I only had a little more than 5 hours of sleep, my 'Sleep' score dropped below 60 from the usual 70 and above.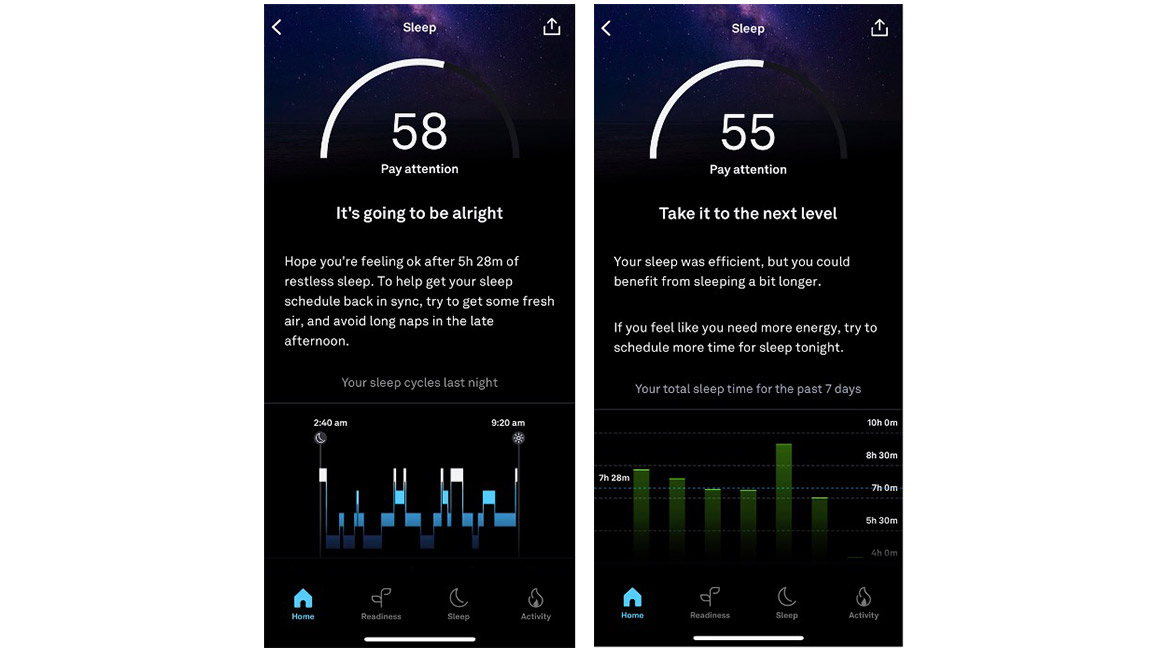 Oura suggested getting some fresh air, avoiding a long nap in the afternoon, and getting more sleep at night, which I appreciated given that I sometimes tend to resort to oversleeping in the afternoon, overeating, and overworking myself.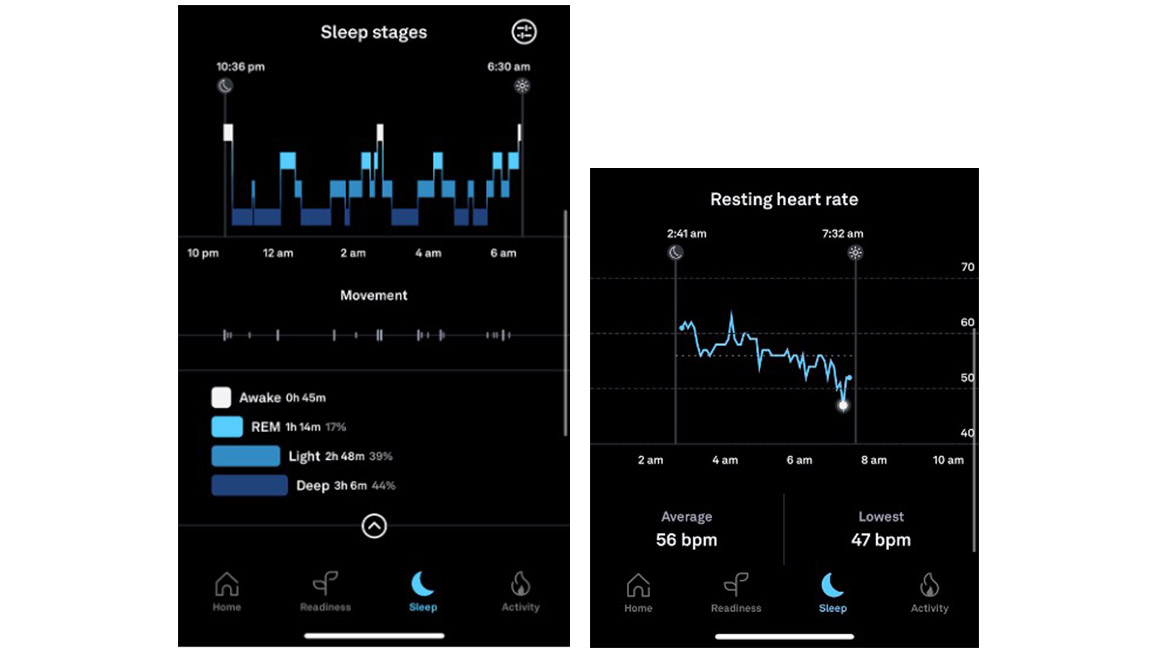 Even more amazing is the detailed sleep stages — what time your REM, light, and deep sleep fall and how long. These also have a huge impact on your readiness. Also, you get a detailed view of your resting heart rate, which can also be useful data for those who are suffering from heart or cardiovascular diseases. Overall, Oura's sleep-tracking is the most useful feature for people with sleep apnea, chronic insomnia, and other sleep-related problems.
Activity Tracking
The 'Activity' score measures how active you are for the day. It is based on your daily goal progress, total burn, walking equivalency, and steps, among other things.
Oura's activity-tracking component is something fitness enthusiasts would love. It functions a lot like a smartwatch or any other fitness tracker. The app keeps track of your daily activities, including steps, movement, and inactivity, to calculate your active calorie burn and total burn.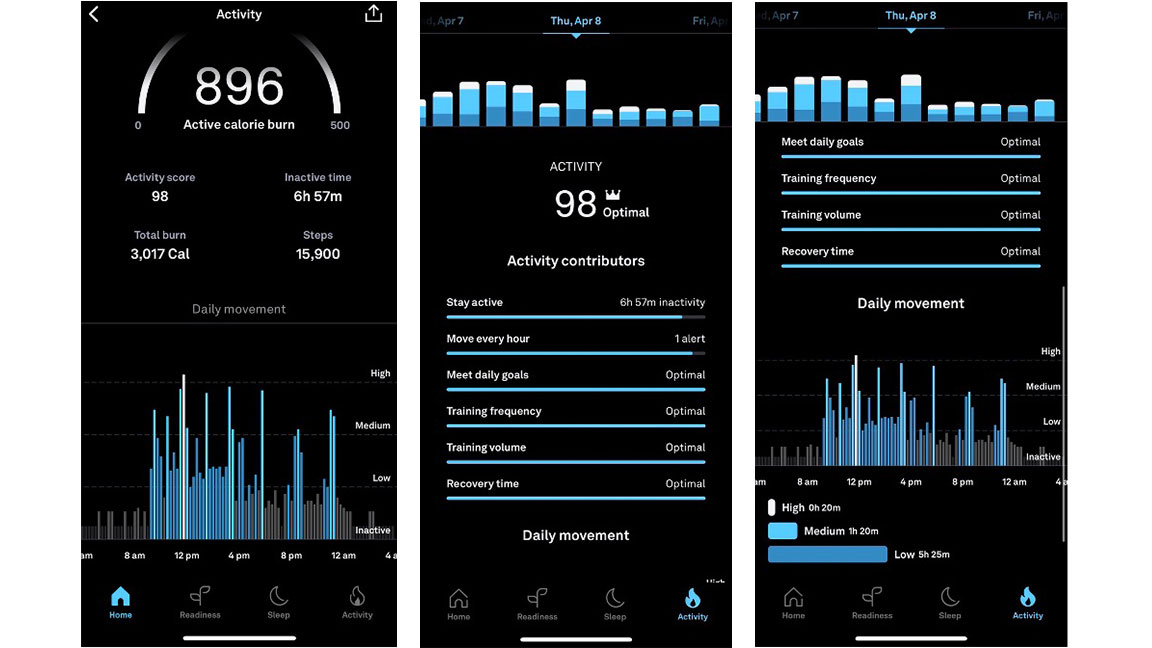 Oura also offers a detailed graph of your daily movements — what time you are or are not moving, walking distance covered, and the intensity of your movements (inactive, low, medium, high). In case you fall below the minimum, Oura gives you alerts. For instance, in the middle photo, I got an alert to move every hour. I was most likely working, sitting on my desk at that time. Overall, it's a nifty feature to help you get moving when you need to.
User Experience and Design ⭐️⭐️⭐️⭐️⭐️ (5.0)
The ring's overall design is impressive. In fact, if you are into a minimalistic, no-frills design like me, you will fall in love with Oura's simplicity. The ring is made of titanium alloy, an ultra-strong metal often used for spacecraft parts, and is covered with PVD coating. Rest assured, you will get a durable ring that can withstand even the most extreme conditions. Although made of titanium alloy, Oura is not invincible against scratches, especially if you are lifting weights. If you want to preserve its shiny, speckless exterior, avoid wearing it while weightlifting. This is also Oura's suggestion.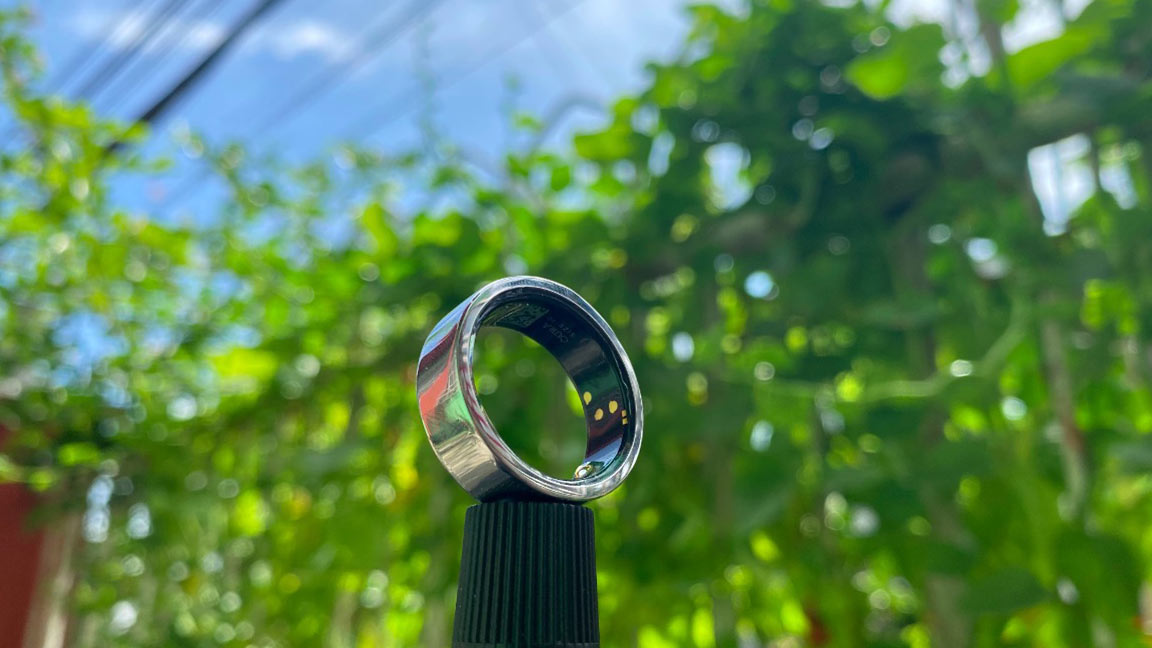 The ring is not as slender as a regular ring, but it's fairly lightweight, weighing 4-6 grams, depending on the ring size. In terms of the interior, the inner molding is non-allergenic. As someone with highly sensitive skin, I never felt any itch around my middle finger at all, not even once.
Most importantly, Oura is waterproof. You can submerge it up to 100 meters deep. I love that you can bathe with it, swim with it, dive with it, wash hands with it, and do pretty much everything involving liquid. The sensors are covered well from water and dust particles, so you don't have to worry about removing and wearing and then removing the ring.
Meanwhile, I have nothing to complain about Oura's iOS app. It's professionally designed to be user-friendly. Overall, it's clean and very easy to navigate around.
Functionalities and Tech ⭐️⭐️⭐️⭐️ (4.0)
Oura is just a piece of metal without the technologies behind them. So I set out to know what goes into the ring itself and found out that Oura, despite its tiny body, is carrying three different sensors responsible for tracking different body signals. These are infrared photoplethysmography (PPG) sensors for heart rate and respiration, a negative temperature coefficient (NTC) sensor for body temperature, and a 3D accelerometer for movements.
What I like about Oura's accelerometer is that it can automatically detect activities like strength training and walking. In such a case, it would ask you to add the suggested data, so your activity tracking is more accurate. I did an apples-to-apples comparison between Oura and my smartwatch's activity data, and the two seem to coincide. Overall, the activity-tracking functionality is reliable enough for anyone to use.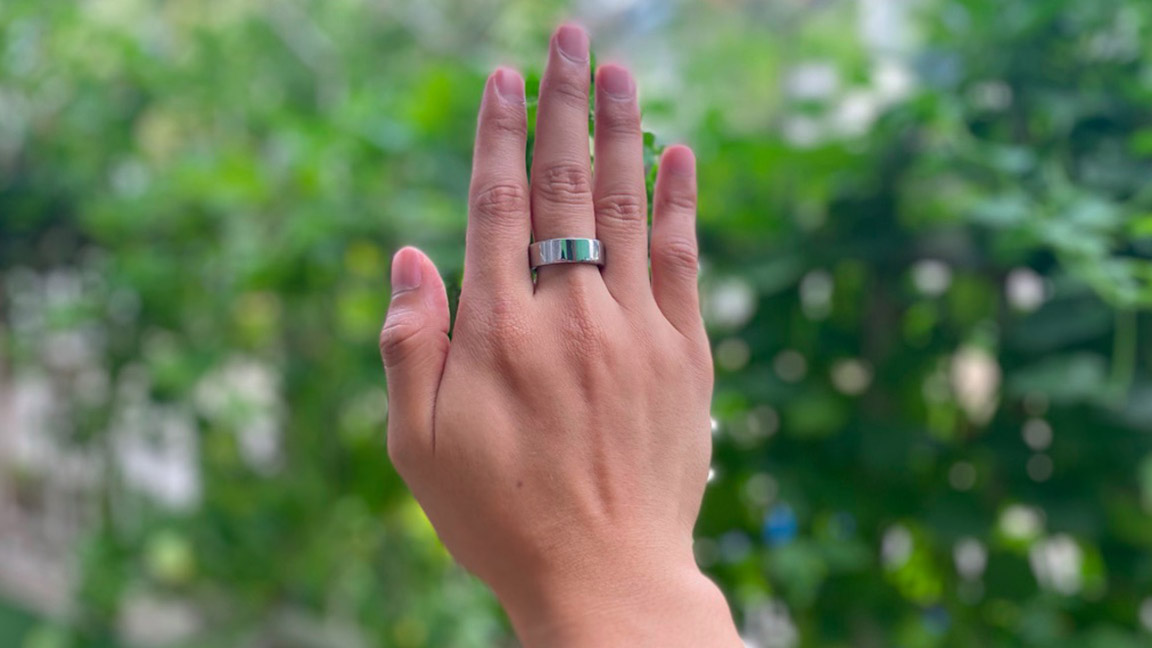 The PPG and NTC sensors are accurate for the most part. Oura for some reason did not track my daytime sleep. It happened a few times, but I was not exactly sure what went wrong until I did a little digging and found out that the ring only tracks one sleep period during each 24-hour segment. Daytime sleep and naps are only counted as restful periods, which are categorized as activities just like walking and strength training.
Also note that if you sleep in a position that causes your hand to go numb, you might see gaps in your RHR and HRV graphs just like what happened to me a few times. Blood circulation is blocked in this case, and the sensors cannot find your pulse. There are, however, other causes for these gaps, such as the ring could be too loose or dirty LED sensors.
In terms of battery life, Oura promises the ring can last for 7 days. And it's quite accurate. Sleep tracking, however, does not work right if it's below 20%. One time I slept with the ring's battery at 17% and woke up at 2%. To my surprise, it did not track anything that night at all. And then I found out later that Oura cannot track and analyze when the ring is below 20%.
In addition, there was one time when Oura failed to connect to my iPhone's Bluetooth. I'm not sure where the problem occurred, but it took me some time to figure out what happened, after trying a few ways to troubleshoot the problem based on Oura's recommendations. Despite that, Oura's Bluetooth connection is reliable in general. The app automatically syncs with the ring, as long as the mobile phone's Bluetooth is on.
App and Ecosystem ⭐️⭐️⭐️⭐️⭐️ (5.0)
The smart ring experience won't be complete without the mobile app, and that's why a well-designed one is imperative. The good news is that Oura has an impressive app for both Android and iOS devices, wherein the ring's collected data are presented and analyzed.
Oura's data like steps, walking and running distance, and active calorie burn can all be synced with third-party apps. It supports a slew of integrations, including Apple Health for iOS devices, Google Fit for Android devices, and Samsung Health for Samsung devices. If you are using any of these apps as a control center for your health data or other purposes, Oura is a great source of information. Oura also supports dozens of other apps like Natural Cycles, HRV4Training, Wattson Blue, Bioloop Sleep, Heads Up Health, and Health Sync, among others.
Oura's Overall Score ⭐️⭐️⭐️⭐️⭐️(4.75)
A lot of Oura's suggestions are really basic if you think about it. However, it pays to have a ring that has concrete data and an app to guide you, because sometimes — admit it or not — we tend to brush off the thought to, say, take a 20-minute power nap after a restless night when we are not told. Although there are a few things about Oura that I would a miss, the ring still did a pretty good job overall.
Do note that the longer you use the ring, the better it understands your body signals. Overall, Oura is a great device for people who have a sleep-related problem, cardiovascular disease, or anyone really who wants to drastically get better at their overall health.
Compare Oura with Other Devices
Based on my experience with Oura, it is perhaps the best device available for sleep tracking. However, the ring form-factor limits its functionalities to pretty much that. If you want to expand from mere sleep tracking to also activity and fitness tracking, smartphone notifications, or GPS, you might want to see how some of the smartwatches compare against Oura. Here are links to some of our most popular blogs:
Oura Ring Alternatives
This test was one more evidence of Oura's superior capabilities in sleep and activity tracking. However, it is not a wearable that everybody wants to use. Our blog on Oura Ring alternatives introduces seven health monitoring gadgets that can provide you with similar functionalities!