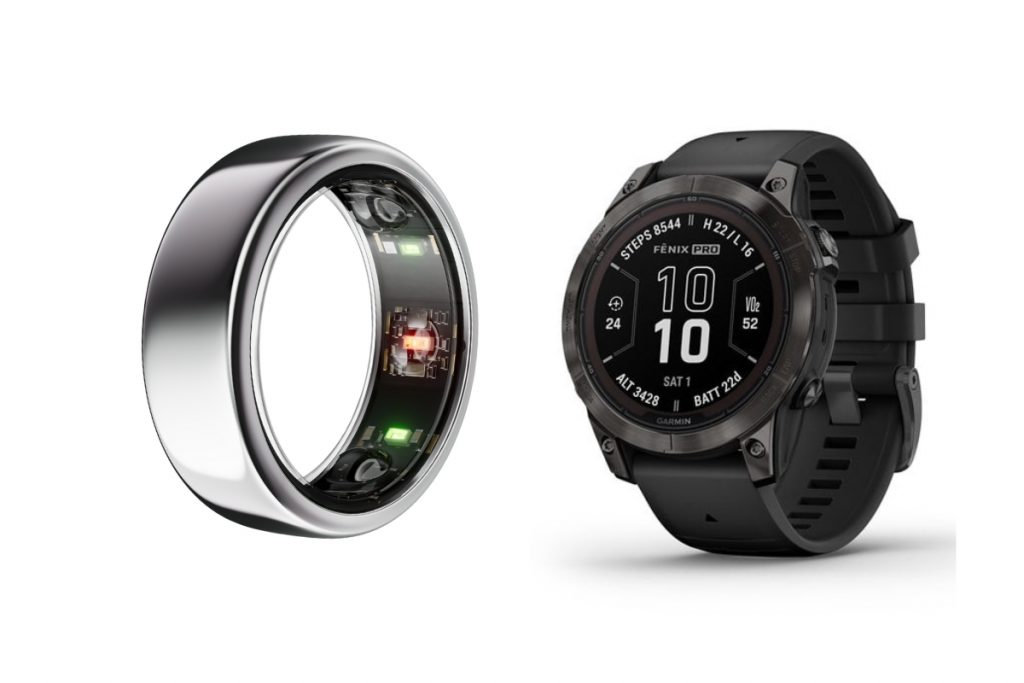 There seems to be a disconnect if we compare a smart ring and a smartwatch, let alone compare a sleep ring with a multisports smartwatch. Despite that, some people can't help but be confused about whether it's worth getting Oura Ring 3 or Garmin Fenix 7.
In this comparison review, I will break down the difference between Oura Ring 3 and Garmin Fenix 7 and find out how each device's common features stack up against each other. It would be a lopsided comparison if we compare the two devices as a whole. So I would like to preface this by saying that I will zero in on the health and fitness front only. Let's get down to brass tacks and talk quickly about the devices that we are about to compare.
Garmin Fenix 7 is considered one of the most advanced smartwatches on the market. Released in January 2022, its versatility is one of its main selling points, often used for running, swimming, hiking, skiing, and cycling. Fenix 7 does have sleep tracking and recovery management capabilities as well.
Meanwhile, Oura Ring is the most advanced smart ring available with sleep tracking and recovery management as two of its core functionalities. Released in November 2021, Oura Ring 3 is the latest generation of the smart ring packed with features in such a tiny form factor. Read our Oura Ring Review!
What Is the Difference Between Oura Ring and Garmin Fenix 7?
Both devices are very different in so many ways. They do, however, share some common features, mostly in the health and wellness department. Here's a quick look at the differences between Oura Ring 3 and Garmin Fenix 7:
| | | |
| --- | --- | --- |
| | OURA RING GEN 3 | GARMIN FENIX 7 |
| Sleep tracking | Yes | Yes |
| Activity tracking | Yes | Yes |
| Heart rate monitoring | Yes | Yes |
| Recovery monitoring | Yes | Yes |
| Stress management | No | No |
| Blood oxygen monitoring | Yes | No |
| GPS | No | Yes |
| Battery life | Up to 7 days | Up to 18 days |
| Water protection | 10 ATM (waterproof up to 100 meters) | 10 ATM (waterproof up to 100 meters) |
| Monthly membership | $6 | n/a |
| Price | $299 | $650 |
| | FIND DEALS | FIND DEALS |
Oura Ring 3 vs. Garmin Fenix 7: Features and Functionalities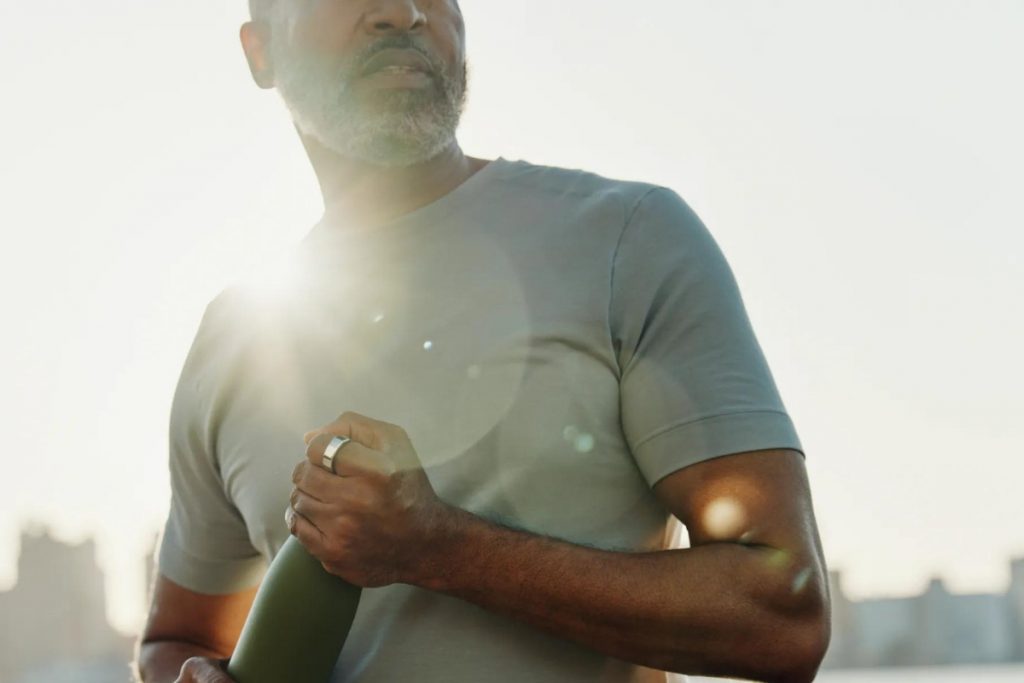 Activity Tracking
In terms of tracking activities, there's a lot to love with Garmin Fenix 7. The watch provides solid data of complex sports, let alone simple activities like walking, running, and strength training. This is what sets Fenix 7 apart. Garmin Fenix 7 is specially built for people into running, cross-country skiing, hiking, climbing, cycling, surfing, swimming, and even HIIT training.
Oura Ring 3, on the other hand, still has a lot to improve when it comes to fitness tracking. If you have read any of Oura Ring reviews, you know that I'm a huge fan—except for its automatic activity detection which is a hot mess at the moment.
If you want to get serious with activity tracking, Garmin Fenix 7 is the most logical choice. It's versatile and more well-equipped than Oura Ring 3.
ALSO READ: RingConn vs. Oura Ring 3 Review: Battle of Health Monitoring Smart Rings
Sleep Tracking
Both Oura Ring 3 and Garmin Fenix 7 have robust sleep tracking capabilities, monitoring data sleep stages (light, deep, and REM) as well detailed insights into your sleep patterns, including the time you went to bed, how long you are in bed, and tossing and turning.
Through their respective mobile apps, Oura and Garmin provide sleep scores based on the data culled from your sleep, plus factors like heart rate, heart rate variability, and body movement data. Oura and Garmin are also able to look at your respiration and blood oxygen saturation (Sp02) for a more in-depth context on your sleep quality as well as training and recovery.
While both wearables have a fairly robust sleep technology, Oura is way more comfortable to wear to sleep. It's less bulky and less restrictive than a smartwatch.
Heart Rate Tracking
Among all health and fitness wearables, heart rate tracking is one of the most important functionalities as it's usually the main basis of many metrics, including sleep and recovery. On top of the heart rate variability and continuous heart rate, Oura Ring 3 is capable of tracking daytime heart rate, workout heart rate, and live heart rate.
Wrist-based heart rate sensors may not be the best to track heart rate, but Garmin Fenix 7 has proven to be a practical device that delivers accurate data. However, it can get quite tricky to use the device when swimming due to limitations that come with the blockage of their sensor. Also, excessive motion can greatly impact the accuracy of the readings.
ALSO READ: Fitbit Charge 5 vs. Oura Ring 3: Which Is More Advanced Health and Fitness Tracker?
Recovery Management
Recovery management is a great addition to any health and wellness wearable. With Oura Ring 3, you get a readiness score (1-100 with 100 being the highest) through the app as you start your day. Garmin Fenix 7 is a little bit different. It doesn't just return a readiness score after a night's sleep but also advises a recovery time after training, whether you are ready for another hard workout.
The Outliers
With a bigger form factor, you can expect Fenix 7 to carry more functionalities. These include a preloaded map, music, preloaded activity profiles, smart notifications, and Garmin Pay, among many others. Garmin Fenix 7 also has features that are particularly helpful for certain sports and activities, such as running, cross-country skiing, hiking, climbing, cycling, surfing, swimming, and HIIT training.
Meanwhile, Oura has a more meaningful use for women. Its Period Prediction allows you to understand the changes in your menstrual cycle, giving you a five-day forecast window. Using the Natural Cycles app, the first FDA-cleared hormone-free birth control app, women can now use their Oura ring to plan or prevent pregnancy and even track menopause.
Oura Ring 3 vs. Garmin Fenix 7: Specs and Design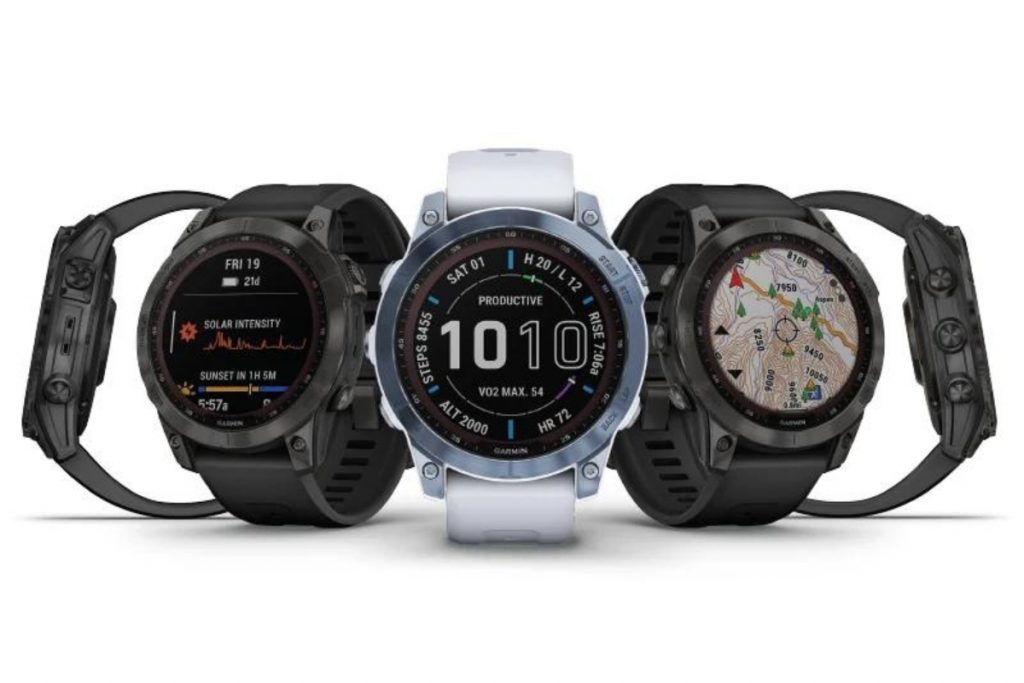 Design
Oura Ring 3 is made from PVD-coated titanium metal, designed to withstand extreme conditions. Its body is slender enough to be comfortable and good-looking enough to look like a piece of fashion statement. Garmin Fenix 7 is available in various displays—42 mm, 47 mm, and 51 mm. So you have options whether you want to have a smaller or bulkier watch display. The smartwatch has a bunch of different buttons with different functions, so keep that in mind.
Battery Life
Garmin Fenix 7 has an internal, rechargeable lithium battery that provides up to 18 days of battery life in smartwatch mode, 57 hours in GPS mode, and up to 57 days in battery-saver mode. The solar variants can give you a battery boost from the sunlight, so you can go longer between charges. Meanwhile, Oura Ring 3 can last up to 7 days.
Protection
Both Garmin Fenix 7 and Oura Ring 3 are classified with 10 ATM protection, which means you can submerge the smart ring up to 100 meters down the water for about an hour. Made from a fiber-reinforced polymer case, Fenix 7 is designed to survive military standards for thermal and shock as well.
Comfort
Before Oura delivers your ring, you will get a sizing kit with sizes from 6-13 millimeters. It is highly recommended to test out your chosen size for at least 24 hours to ensure you have the best-fitting size possible. Regardless, for me, it took me a while to get the hang of it when I first wore my Oura Ring since I was not a ring wearer before. Meanwhile, Garmin Fenix 7 comes with various bands that fit every type of wearer.
ALSO READ: Oura vs. Apple Watch vs. Whoop: Which Is the Ultimate Health and Fitness Device?
Pricing and Availability
The base price for standard Fenix 7 starts at $650 for 42 mm, 47 mm, and 51 mm. The solar variants start at $700, while the pro variants start $900. Get Garmin Fenix 7 here!
Oura Ring is available in two styles: Heritage (price starts at $299) and Horizon (price starts at $349). Colors available include silver, black, stealth, gold, and rose gold. It comes with a free 1-month premium membership, which costs $6 per month after. Get Oura Ring 3 here!
Oura Ring 3 vs. Garmin Fenix 7: Which Should You Choose?
Oura Ring 3 and Garmin Fenix 7 are both incredible wearables that can help you achieve your health and fitness goals. But which is better?
Comparing the two devices is doing us a disservice. Although they share a lot in common, Oura Ring 3 and Garmin Fenix 7 don't quite match up. If you are looking to get better at sleep and recovery, Oura Ring 3 might be the best device for you. If you are looking for an overall health and fitness wearable, Garmin Fenix 7 is the best option. But if you have the means to get both, I highly recommend getting the two to support each other's data.
Which device are you getting? Let's discuss in the comments!