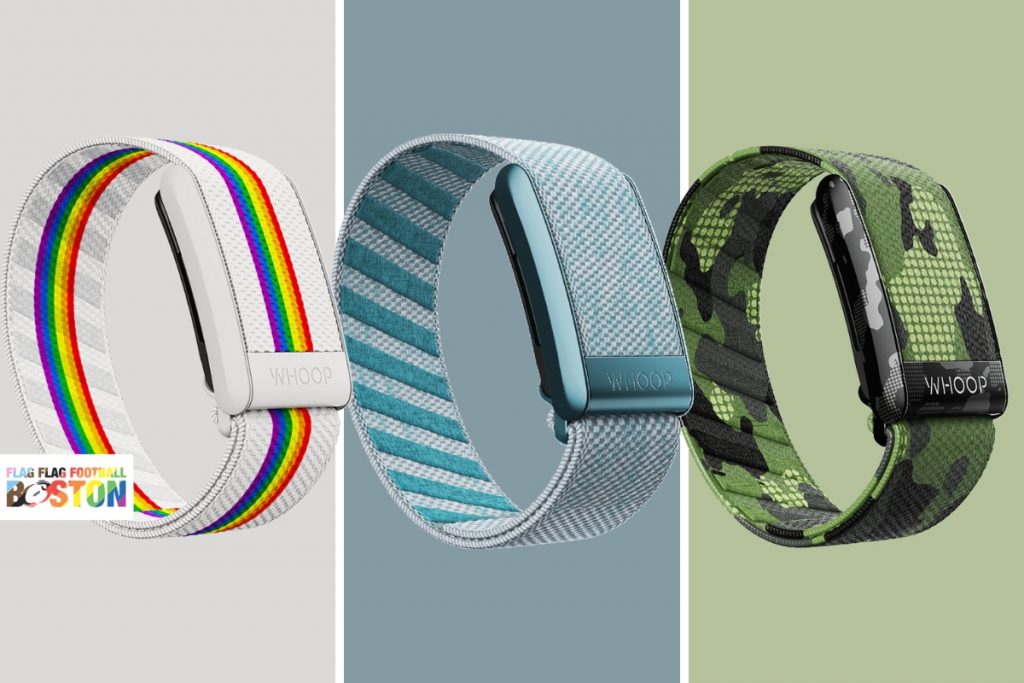 Whoop 4.0 is a health and fitness wearable designed for people who want to get better at their workouts and recovery. As one of the most advanced fitness trackers, Whoop 4.0 has been very popular within the fitness circle. If you want to snag this fitness band, here's everything you need to know about it:
Whoop 4.0 Quick Summary
| | |
| --- | --- |
| SPECS AND FEATURES | |
| Activity tracking | Yes |
| Heart rate tracking | Yes |
| Sleep tracking | Yes |
| Recovery monitoring | Yes |
| Stress Management | Yes |
| Blood oxygen monitoring | Yes |
| Blood sugar monitoring | No |
| Body temperature monitoring | Yes |
| Period Prediction | Yes |
| Contactless payment | No |
| Built-in storage | No |
| Battery life | Up to 5 days |
| Protection | IP68 (Water-resistant up to 10 meters) |
| Sizes | 9.5 inches (one size) |
| Styles | 20 different styles |
| Price | $239 |
| | CHECK DEALS ON AMAZON |
Whoop 4.0 Specs and Features
Whoop 4.0 is much like any other fitness tracker except it does not have a screen display, allowing users to focus on their tasks. It has all the standard health and fitness monitoring functionalities and more, including sleep tracking, activity tracking, stress monitoring, strain monitoring, and recovery monitoring.
The strain monitoring feature keeps tabs on your activities and stressors, particularly strenuous exertion. You also get to know which physical and mental demands affect your strain score on a scale of 0 to 21. This score measures both cardiovascular and muscular load, which is impacted by factors such as exercise, work, chores, errands, even anxiety, and more.
ALSO READ: WHOOP VS. OURA: WHICH IS BETTER FOR SLEEP, ACTIVITY, AND RECOVERY TRACKING?
The stress monitoring functionality is your tool to help identify your daily stressors, even things that trigger them. Like most tools, Whoop 4.0 heavily relies on your heart rate and heart rate variability (HRV) to measure indicators of stress. Whether it's too much caffeine or an overworked body, Whoop 4.0 has the data to let you know.
Whoop 4.0 can last up to 5 days with regular use. It is certified to IP68 standards, which means it is water-resistant up to 10 meters for 2 hours.
ALSO READ: OURA VS. APPLE WATCH VS. WHOOP: WHICH IS THE ULTIMATE HEALTH AND FITNESS DEVICE?
Whoop 4.0 Pricing and Availability
Whoop is unique in a way that it's available on a subscription basis. The monthly subscription costs €30 minimum of 12 months, while the annual subscription costs €264 upfront. Your membership includes a lifetime warranty and access to the Whoop app. But just recently, Whoop 4.0 has been made available on Amazon for $239.
Whoop is available in at least 20 different bands, so you can choose whichever style fits you
If you want to explore the best smartwatches and fitness trackers from other brands, check out these guides:
For the latest wearable tech news and updates, follow Smart Ring News on Facebook, Twitter, and LinkedIn.