ADVERTISE WITH SMART RING NEWS!
Sell more smart rings, boost your crowdfunding signups, and increase your brand awareness. Get our affordable advertisement packages now! LIMITED SLOTS ONLY.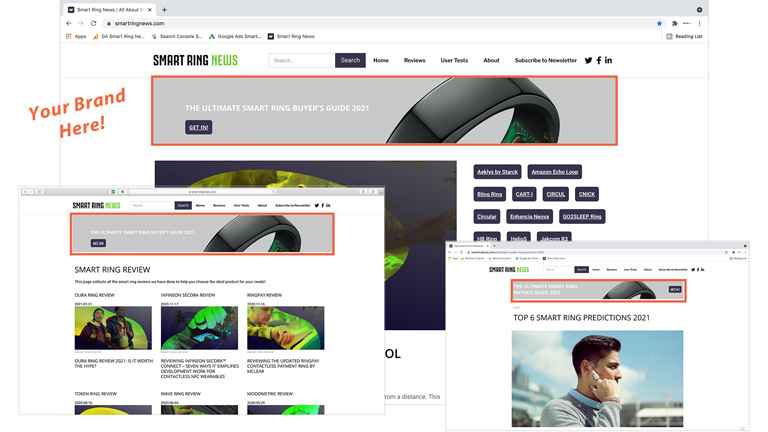 Win the full attention of the web's most targeted smart ring audience base!
‍Smart Ring News is the ONLY news website dedicated to smart ring devices. Over 10,000 people visit our website organically every month via smart ring related keywords that may be very valuable to your segment.

Our articles, reviews, comparisons, and user tests categorically rank at the top of Google's search results for so many relevant keywords, such as 'sleep tracking rings,' 'activity tracking rings,' 'health rings,' 'contactless payment rings,' 'NFC smart rings,' and all smart ring topics people search for. Now this audience could be yours!
HERE'S OUR UNMATCHED OFFER
Take over one or more pages. Choose between tens of pages that best match your product segment(s). Place one banner per page. You and only you can occupy a single page.
Terms and conditions
‍Charging is based on a quarterly price (3 months). Your ads will be published upon receipt of the first payment and displayed for a period of three months (90 days). Each quarterly fee must be paid at the beginning of the period. Invoices are submitted via PayPal 7 days before the breakpoint date of the new 90-day period. The ads are continued to show upon receipt of the payment. In case of an unsettled payment, the ads will be discontinued within 3 days and the ad space is released for sale.
‍Ad artwork
You can create the artwork based on our guidelines and send the graphic files over to us for publishing. Alternatively, we can create the artwork for you for a one-time fee of EUR 167/USD 199.
‍‍How can you reserve the best matching pages?
Just fill in the signup form below and accept the terms and conditions. The first company to sign up gets first access to the available pages.
‍‍‍Front Page - EUR 81/USD 99 per 3 months
Buyer's Guide - EUR 81/USD 99 per 3 months
All Other Pages - EUR 40/USD 49 per 3 months
‍Advertise on two (2) pages - 10% discount on total.
Advertise on three (3) pages - 15% discount on total.
Advertise on four (4) or more pages - 20% discount on total.

‍(Note: No advertisements available on product pages. This pricing is valid in 2021.)

‍ Are you ready to boost your smart ring business? Contact us now! The faster you act, thebetterselection you have.
Here's some fresh data to back up your decision making – the top 20 pages in terms of average monthly views and average page view time. For in-depth background data, download our Annual Report 2020 to assess our traffic. Please note that the branded product pages are not shown because no banners are accepted on them.